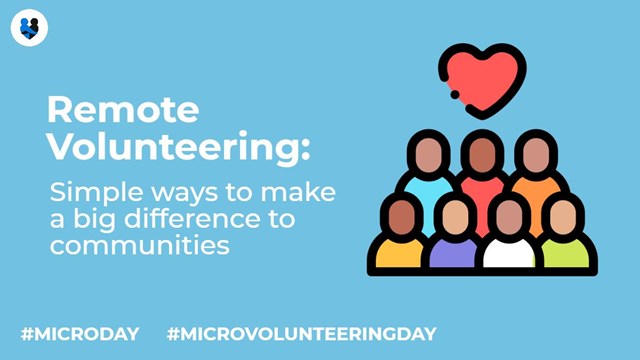 The power of volunteer support across the UK has been vital since the start of the pandemic, with people of all ages stepping up to support all kinds of good causes and charities. Remote volunteering has been an important part of this – with a growing number of businesses enabling their employees to give their time and skills to help good causes from their homes and workplaces.
But with communities continuing to struggle with poverty, hunger, unemployment, and homelessness, we can't afford for this vital volunteer support to stop now. We must maximise volunteering as a critical resource to help our communities to recover and rebuild.
Remote volunteering offers people a simple, safe and flexible way to make a positive impact. It means that employees can support good causes wherever they might be based – all while fitting around other time commitments.
By matching employee's relevant skills with the needs of charities and good causes, businesses can help sustain their support for their community – while also providing their staff with fulfilling ways to make a meaningful difference.
There are a whole range of ways to get involved, including:
Marketing, communications and fundraising: helping charities with their online fundraising, whether that's setting up fundraising pages, or creating a fundraising campaign – as well as practical skills support on areas such as social media engagement.
Employability mentoring: running workshops with young people looking for work, including CV writing tips, how to get into a career, and interview practice – which is a particularly good fit for the skills of HR teams.
Logistical and IT support: with charities stretched for time, providing administrative support to help update their websites, databases or security settings can be a huge help. For example, employees at Danone helped community kitchens set up processes to support their emergency food distribution and volunteer rotas.
Letter-writing companionship: writing letters to isolated people at risk of loneliness, who would greatly appreciate a letter to help provide companionship and comfort. Samsung's staff have pledged to send 1,000 letters to help brighten people's lives, ranging from words of kindness to jokes and poems.
Taking part in remote volunteering helps employees feel engaged and connected to communities, as well as increasing their pride in their employer – all of which is especially important while many continue to work from home. Previous Neighbourly research showed that 80% of employees who volunteered said the experience made them happier – and 100% felt proud to work for their company as a result of volunteering.
Hyper-local causes are the backbone of our communities – from food banks and elderly care services to children's hospices and homelessness groups. But they need continued support in order to keep providing their vital services to people who need it most.
Neighbourly's network of front-line community partners have told us how much they value the support of remote volunteers, particularly as they continue to contend with increased demand for their services alongside reductions in face-to-face volunteering.
To get your organisation started:
Identify the most relevant volunteering opportunities for your employees – what are the areas you specialise in, and what skills can your employees offer from home? Engage with your employees and understand what motivates them.
Establish how and when – how much time do your employees have to commit, and when? Can you make volunteering time formally available and encouraged, if you don't already?
The pandemic has strengthened all of our bonds with our communities – and we all have a crucial part to play as we collectively rebuild from the crisis. By channelling skills into local organisations who are already doing vital work, we can help to ensure the right support reaches the most at-risk people.
Read more about remote volunteering