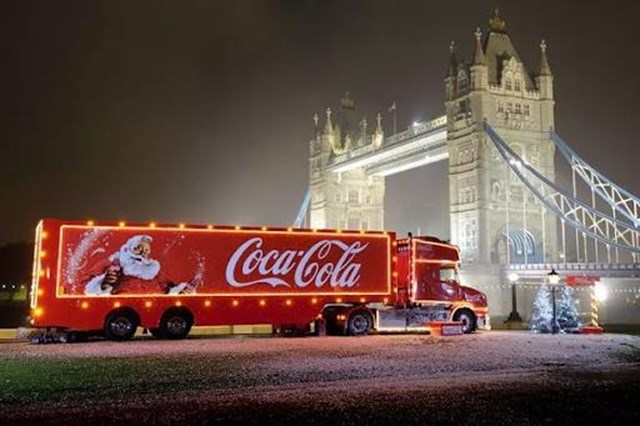 This year we're excited to be working with Coca-Cola on their campaign "The World Needs More Santas", bringing the magic of Christmas to life by encouraging the embodiment of Santa's spirit of generosity, goodwill and kindness.
The Coca-Cola Truck Tour is well known for capturing the attention of the nation, and this year they will be continuing their mission of giving with a host of interactive activities for visitors to the Truck to immerse themselves in. As well as gifting areas, gamified experiences, prizes and photo opportunities, visitors will be invited to take part in the 'Discover Your Inner Santa' quiz, inspired by Coca-Cola's TV advert, to find out whether they are a Jolly-Giving Santa, a Merry-Making Santa, the Neighbourly Santa, or the Heart Warming Santa and inspire individuals to embrace this archetype and the spirit of giving this Christmas.
£100,000 fund to be donated to Neighbourly good causes across the 17 cities that the Coca-Cola Christmas Truck Tour will be visiting
As part of our ongoing partnership with Coca-Cola, they will be further supporting the work of local charities with a volunteering scheme and £100,000 fund, to be donated via the Neighbourly Foundation to social-impact focused volunteering partners and good causes across the 17 cities that the Coca-Cola Christmas Truck Tour will be visiting.
The first stop is Glasgow, on Friday 24th November, where the Neighbourly hero cause is REFUWEEGEE, a charity that has been warmly welcoming refugees and asylum seekers to Glasgow, and Scotland since 2015. At the heart of the organisation is a desire to treat displaced people with dignity and care. The charity does this through providing a safe space for drop-in, emergency food and toiletry packs, a free clothes and household shop, English classes, art-therapy and free haircuts, amongst other activities.
Here at Neighbourly, we're looking forward to visiting the Truck when it stops in Bristol, supporting SENSE FAMILY CENTRE WOODSIDE, a national disability charity that has been helping people with complex communication needs to be understood, connected and valued for over 60 years. With a simple mission to make sure no one with complex communication needs is isolated, left out or unable to fulfil their potential, Sense supports children, young people and adults in their home, the community and at its centres, from education to transitioning to adulthood through holidays, arts, sport and wellbeing programmes.
If you would like to help Coca-Cola and Neighbourly deliver acts of kindness to those that need it most in the local community, you can donate to the fund using the link below or visit one of the Truck Tour stops to donate via the QR codes available. Stay tuned for the full Truck schedule on their socials, @CocaColaEU (Instagram) and @CocaCola_GB (Twitter).