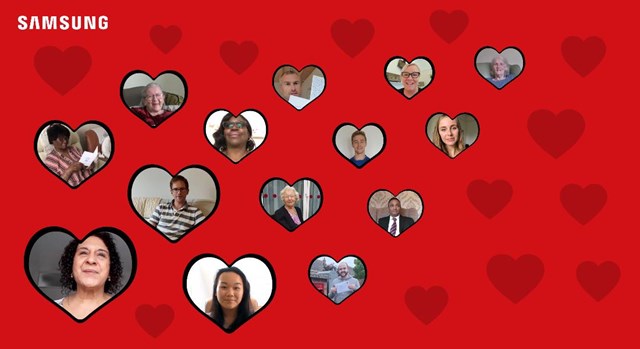 For millions of us, the recent UK-wide and local lockdowns have given us a sense of what it feels like to become more isolated. But as many start to return to interacting more, there are others who still face ongoing isolation and loneliness.
In response, Samsung, whose staff have previously been involved in a variety of face-to-face volunteering programmes, wanted to find a way to connect with their local communities safely.
With that, 1000 Letters of Love was born - a campaign to get Samsung employees writing to people who are linked with good causes on Neighbourly - such as residents in care homes, homeless shelters and social groups in their local communities.
The response has been heartwarming, with over 60 members of staff signing up to take the time to write to those in their local community who might be experiencing feelings of isolation and loneliness.
Samsung's employee volunteers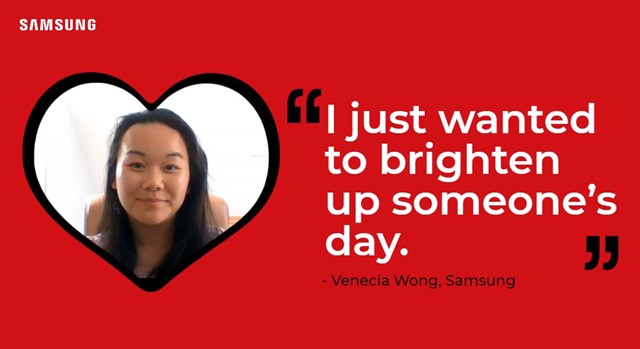 Already, kind employees have been putting pen to paper, such as Venecia Wong who was partnered with Tina, a resident at the Langley Haven Dementia Care Home just ten minutes drive from her home.
Venecia told us: "I chose this cause because it's both local and close to my heart. My grandmother also suffers from dementia so I can understand the heartbreak it brings. I just wanted to brighten up someone's day.
"I've felt really happy throughout the whole process of being matched with Tina and feel really excited when I think about her receiving my letter."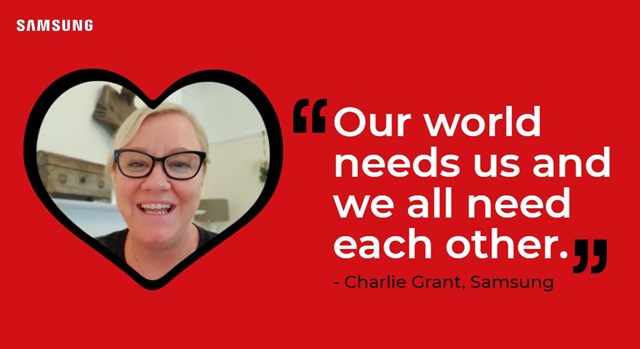 Charlie Grant, another Samsung employee volunteer, has found the experience of writing to others so valuable that she has written three letters so far. She said: "I'm delighted and honoured to be taking part in the 1000 Letters of Love campaign.
"I've already written two letters to two ladies who'd normally visit the United Anglo Carribean Society to socialise with their friends. However, during the pandemic they've been unable to do so and we know more and more that this pandemic has caused much loneliness and anxiety for people who are not able to reach out and see their friends as they normally do.
"So it was an absolute pleasure to be able to put pen to paper and reach out to someone to say hi, ask them how they were feeling and let them know that there are people out there that care.
"I was so overwhelmed by the feelings that writing these letters gave me that I also signed up to become a penpal to a lady at the Langley Haven Dementia Care Home. With that, I'm really looking forward to hearing back from my new friend.
"To my colleagues at Samsung, if you've not had the chance to do so, please reach out. It takes five minutes to put pen to paper and posting that letter is just the best thing to do at this time. Our world needs us and we all need each other."
Penpal Partners
Surprise and delight are the two words most commonly heard by the recipients of the first wave of letters coming from Samsung volunteers.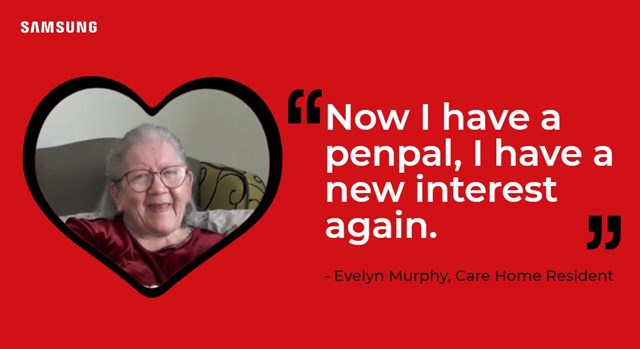 Evelyn Murphy, a care home resident, used to write letters all the time and had a penpal in America, but had lost touch with others in recent years. She said: "I was surprised to receive a letter because these days nobody really writes letters. I found it particularly interesting to read because I know letter writing can be quite hard sometimes.
"It's really nice to have someone writing to me as it's difficult to be in a care home at the moment.
"I enjoy writing and always find something to write about, so now I have a penpal, I have a new interest again. I'm looking forward to receiving more letters and hope that we have many years of being pen pals to come."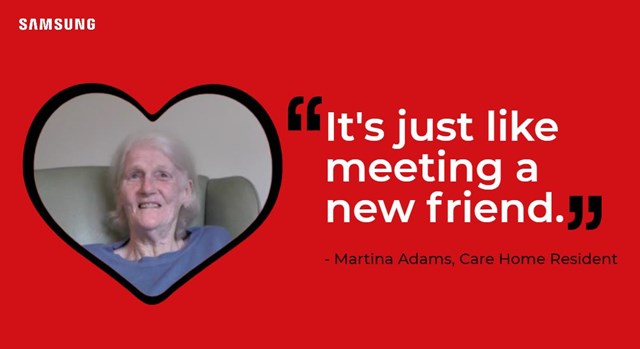 Fellow care home resident Martina, told us she's always enjoyed writing and in the past had started writing her own children's book.
She added: "I had a very interesting letter from a lady who told me all about her life and the city she lives in which I enjoyed very much. The letter writing helps me a lot during the lockdown and I'm looking forward to getting a response. It's just like meeting a new friend."
Local community connection
For the Samsung employees, pen pal matches have been created through charities that are local to them, which offer support to older, vulnerable and isolated individuals. 1000 Letters of Love not only gives employees the chance to reach out to these individuals, but to know that their impact is felt in their local community.
Charities that have already taken part in the programme include the likes of United Anglo Carribean Society, MHA Communities and the Langley Haven Dementia Care Home.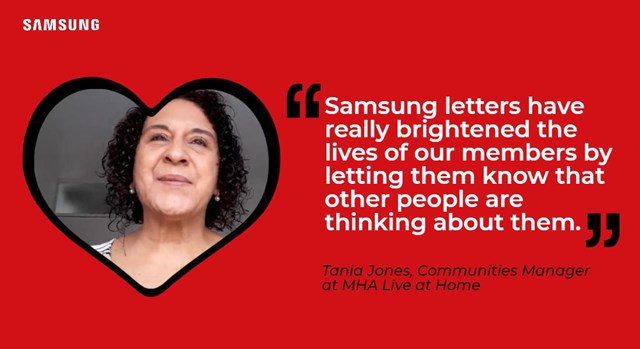 Tania Jones, Manager at MHA Communities, explained: "Covid-19 totally dissipated our face-to-face services but we have been supporting our members with check-in telephone calls, weekly shopping and medication collection, online and telephone activities and our 'busy bags' which are full of activities to keep our members physically and mentally active.
"Samsung letters have really brightened the lives of our members by letting them know that other people are thinking about them."
Letters of love
Throughout the next few months and beyond, Samsung employees will continue to send their first letters (for some, it will be their second or third) to their new pen pals, with the goal of reaching 1,000 letters sent.
It's hoped that the 1,000 Letters of Love will help both employees and those in their local communities to feel more connected and less isolated as the months of uncertainty continue - spreading a little kindness in testing times.
To find out more about 1000 Letters of Love, check out Samsung's campaign page on Neighbourly.
If your organisation is interested in getting staff involved in remote volunteering programmes, such as letter writing, get in touch via our Remote Volunteering page.