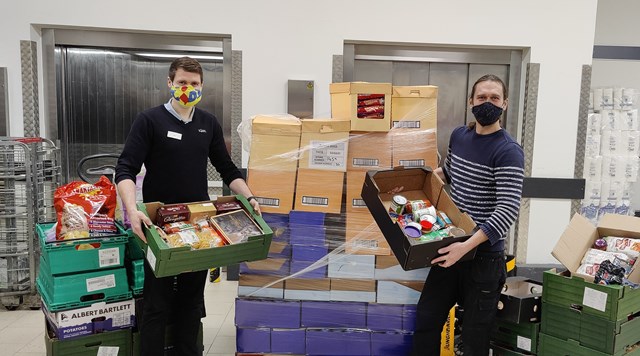 Last week environmental charity WRAP launched it's latest Courtauld Commitment Annual Report which revealed that food surplus redistribution rose by 45% in 2020, when compared with the numbers from 2019.
This represents more than 92,000 tonnes of food, worth £280 million and the equivalent of 220 million meals in one year.
This came with the news that the Courtauld Commitment will be extended and expanded with ambitious changes to support the UK's goal of halving food waste by 2030.
Achieving global environmental goals
The Courtauld Commitment 2030 is a voluntary agreement of over 80 organisations, including the likes of Neighbourly and its food surplus partners Aldi, Lidl and M&S, to collaborate across the entire UK food chain to deliver farm-to-fork reductions in food waste, greenhouse gas (GHG) emissions and water stress that will help the UK food and drink sector achieve global environmental goals.
At Neighbourly we believe that edible surplus food should never be wasted and should instead go to communities in need. With food waste one of the biggest contributors to climate change, we see businesses as playing a key role in tackling not only climate change, but delivering social value to local communities in the process.
As signatories of the Courtauld Commitment we tracked a significant rise in our own food surplus redistribution during 2020 - working with our key partners to help them redistribute over 9,000 tonnes of surplus food, equivalent to almost 23M meals, to those in need - representing a saving of over 34,000 tonnes of CO2. This was through the midst of a global pandemic where need across local communities was greater than ever before.
As momentum increases, we have seen just how great an impact food surplus redistribution can have when communities, organisations, businesses and individuals collaborate and take action for the greater good.
Yet, as the Courtauld Agreement has shown, it's a holistic approach that will help us achieve critical climate objectives and, at Neighbourly, we continue to take this view, engaging businesses in a range of initiatives including product surplus redistribution, employee volunteering and targeted financial donations - along with showing their impact through social value measurement - to ensure progress made against SDGs and climate issues are sustainable and scalable in the long-term.
A commitment to halving greenhouse gasses
It's clear that the Commitment is helping the UK food and drink sector to deliver against the UN's Sustainable Development Goal (SDG) 12.3 to halve food waste - with food surplus redistribution a piece of a much larger puzzle.
The Commitment will now be central in achieving and monitoring progress towards Net Zero ambitions and convening action on water stewardship in at-risk food sourcing locations.
As well as highlighting the important progress that has been made, the Courtauld Commitment's Annual Report revealed ambitious targets for the years ahead which include :
A 50% absolute reduction in GHG emissions associated with food and drink consumed in the UK by 2030, against a 2015 baseline.

A 50% per capita reduction in food waste by 2030 vs the UK 2007 baseline.

To achieve sustainable water management (quality and quantity) in the top 20 most important product and ingredient sourcing areas in the UK and overseas – covering 50% of product ingredients deemed 'at risk' from water insecurity
With only four months until COP26, the UK has taken a bold step forward in reducing the impact food has on the natural world. But the next 10 years will be a critical time for those engaged inside and outside of the Courtauld Commitment and beyond to continue to collaborate and cooperate in order to achieve these goals from businesses right the way across the lifecycle of food.
To read the full report, head over to the WRAP website.