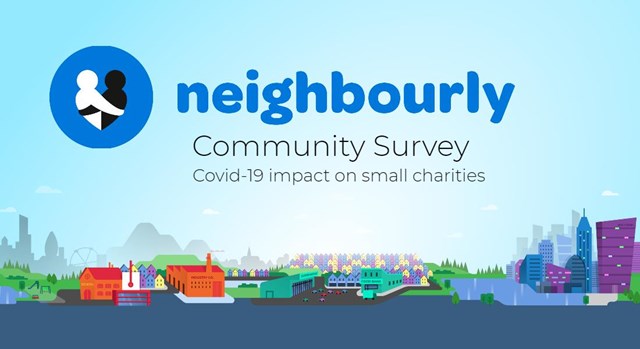 The past six months has been a learning curve for charities, companies and organisations - and it's not been easy.
Knowing that our business partners stand with us in working together to actively recognise the critical importance of grassroots level organisations during this time of crisis has been both humbling and incredibly promising for their futures..
Over the course of March and April, we launched our Community Fund in partnership with M&S, giffgaff, HEINEKEN, Coca-cola European Partners, Aldi, Southern Coop, Lidl and Nutricia (Danone) - raising over £1.2million.
This is being distributed in £400 microgrants across more than 3,000 of our network of vetted charities and good causes, impacting the 700,000+ people they support per week in their local communities.
During the same time period, major publishers Penguin and Hachette UK donated a combined total of over 30,000 books, giffgaff and Doro partnered to donate 500 phones and free credit for isolated older people and combined food surplus donations from our partners M&S, Lidl, Aldi and Innocent reached over 6 million meals during the lockdown weeks alone.
As most of the country now starts to move out of lockdown, we need to maintain the momentum we've achieved together, in working towards a society that leaves no one behind.
A Community Voice
Our latest Community Survey* involved over 1,200 of the good causes in the Neighbourly community to identify both their strengths and their concerns and to get their collective voice heard - so we know exactly where efforts need to be directed in the coming months.
Of those who responded to our survey, the majority were at the very heart of their local community with 32% working in the area of 'Community and Inclusion' and 21% within 'Food Provision'.

Impact of Covid-19
When the government announced the start of lockdown measures in March, businesses, families and communities all had to adapt at lightning speed. But for the many who were vulnerable, unwell, isolated or had little money or access to food, the need for support surged.
93% of small charities and good causes were impacted by the Covid economic crisis and rise in demand. Of that, one third described this impact as 'severe'.
Our network of charities and causes report that they have now more than doubled the number of people they support each week, with the average number rising to an estimated 299 per organisation, per week.

With this incredible surge in demand it wasn't long before charities, communities and teams of volunteers became the biggest innovators of all, working around the clock to get essential food, medicine and support to those in need.

Almost overnight, organisations and their volunteers were coming together to transform their services, with almost 75% completely remodelling and 46% forced to temporarily pause one or more of their usual services.
We saw small charities embracing digital technology to stay in touch with service users, as well as developing their own hot meal and food parcel delivery services and finding clever ways to keep the most vulnerable in their communities both supported and safe.
Volunteering and Civic Spirit
At the start of the UK's lockdown, a surge in volunteering and civic spirit was seen with thousands registering to offer support to both the NHS and local Covid response groups. With the theme of community suddenly at the forefront of the public's mind, 6 in 10 of the charities we surveyed also reported having benefited from a rise in volunteering and civic spirit at this time.
However, with many lives now returning to some semblance of normality, some charities are concerned about the impact of this support dropping off. For example, 60% of the new volunteer recruits charities estimated were furloughed staff - many of whom will have already either faced the need to tackle personal unemployment or return to work.
Schemes such as our Remote Employee Volunteering programme launched in June and supported by businesses including The FA, Danone and Samsung, offers a solution to some of the essential adhoc and ongoing support many charities need - without the worries of social distancing.
But in order to ensure that schemes like this continue to have impact, charities need more companies to come onboard, offering their employees the means to use some of their time and talents to help small charities in their local communities.
Future Outlook
The majority (just under two thirds) of the small charities we surveyed are feeling positive about the future and their ability to continue for at least the next 6 months without needing to close any services.
The future of our small charities needs continued support however, to maintain both positivity and the practical resources required to continue to meet the level of need in their local communities in the longer term.
Continued Focus
As well as the changes small charities have seen, several key societal issues remain at the forefront of our communities.
Our survey asked small charities about their involvement and support of both black and minority ethnic (BAME) communities and children and families struggling with holiday hunger this summer.
BAME support
Black and minority ethnic communities in the UK make up around 13% of the population, yet they are overrepresented in the most deprived neighbourhoods. On Neighbourly, BAME communities represent 25% of people supported across all small charities and community groups.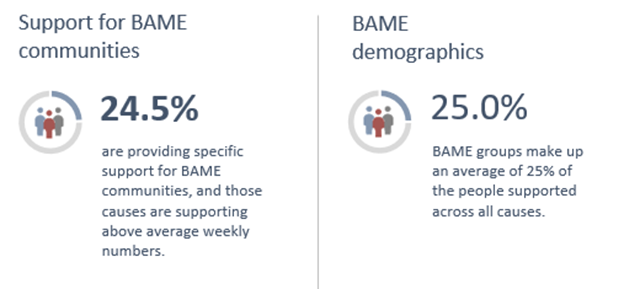 Whilst local grassroots organisations are not and should not be the only solution to the discrimination faced by millions, financial donations and support can help to redress some of the imbalance - allowing charities to continue to support those in the BAME community who are most negatively affected.
Small charities and community groups are part of an incredibly important network of campaigners who never tire. They are voices for the rights of BAME communities and fight to address the specific injustices faced on a personalised and localised level.
Holiday Hunger
The UK is now well into its school summer holidays and, according to the government, around 1.3 million children should be receiving meal vouchers to help cover the free school meals they would've been getting during term time.
However, with 41 % of the charities we surveyed reporting involvement in holiday hunger provision (such as provision of holiday clubs with free meals or food parcels), there is clearly still a gap for many children who are not sufficiently covered by our current welfare system.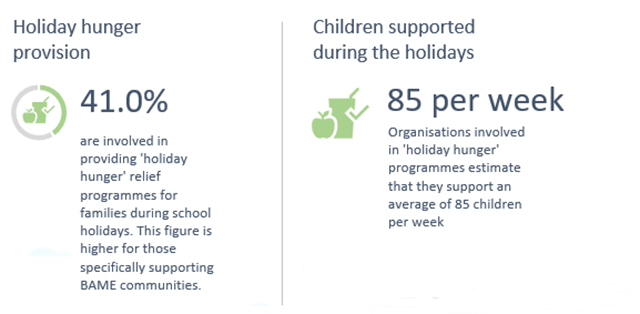 As we recently discussed in our report on the latest research from the House of Lords Select Committee, holiday food provision to children in the UK is a growing issue. A lack of regular and healthy nutrition can mean children on lower incomes lack the concentration and energy to learn, play and grow in line with their peers - deepening generational poverty in the process.
For charities, this need to focus on nutrition detracts from other areas of focus such as provision of additional education support, emotional and mental health support and more. Hunger is unfortunately just one dimension of the difficulties that individuals and families are facing and it is important that we take a holistic view of local community need, considering an individual's need for nourishment and support beyond food.
Build Back Together
Small charities can offer tailored services that meet the unique needs of their local communities in a way that nationwide programmes aren't set up to do. This puts large businesses in a unique position to be able to offer support on a local scale, where impact is greatest.
Supporting small charities kick starts a positive feedback loop for both people and businesses in the local area, reducing issues often exacerbated by poverty and inequality.
Small charities and local causes need more help now than ever before in order not only to survive but to thrive and transform local communities - positively impacting society from the inside out.
The businesses that we partner with are key to providing the specialist resources, time and funds to small charities that help make this happen. For us, they provide one of the biggest solutions to allow us to #BuildBackTogether.
If you're a business that's looking to support local communities or the Neighbourly Community Fund, click here to find out more about donating product surplus, volunteers and funds.
* The Community Survey was carried out between June and July 2020 and had 1,264 responses. All respondents represented small charities and community causes registered on the Neighbourly platform.