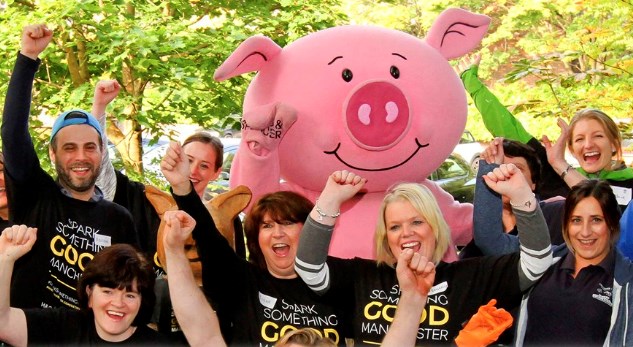 As winter draws closer, the work doesn't stop! Hundreds of people will be volunteering for the final week of 'Spark Something Good' in Leicester and Loughborough this week. That's not to say this fantastic campaign has ended for good, it's just the last one of the year. We've seen communities across the UK flourish through people coming together for a variety of causes, all facilitated by M&S. Each city saw 24 projects transformed over a period of just 7 days, and what a ride it's been!
Here at the Neighbourly office we've been (and still are) incredibly proud of all the work done by every single community, charity, member of staff, and member of the public. You've helped hundreds of causes grow and shine. So far the UK and Ireland has seen Bristol, Swansea, Manchester, Dublin, Leeds and Bradford, Edinburgh, Newcastle, Plymouth and Exeter, London and now, last but by all means not least, Leicester and Loughborough join in — with a huge total of over 3,300 volunteers. The last one is happening RIGHT NOW and you can still volunteer for any of the projects just by clicking HERE!
While we are sad to see it go (for now), the excitement for what comes next is fresh in the air. The next chapter of the Spark Something Good journey may be a mystery at the moment but like a child unable to sleep on Christmas Eve… we can't wait.
From everyone at Neighbourly, we want to say the biggest THANK YOU to everyone who has been involved in any way, shape or form — you have been the driving force to your community's success and that's pretty special.
Until next time…
About Neighbourly
Neighbourly matches charity and community projects with people and companies that can lend a hand. Get support by creating and sharing a project or give support by following, donating or giving a day to volunteer.