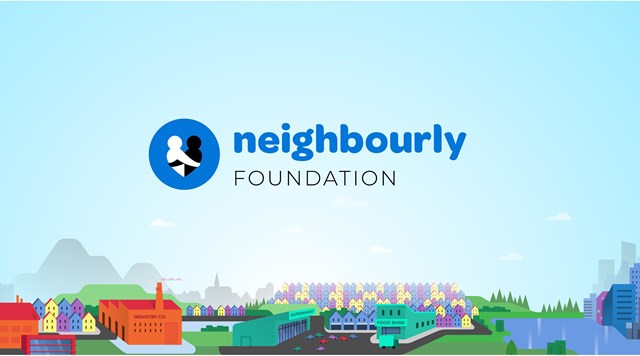 As the most vulnerable in our communities face ongoing hardship as the pandemic progresses, we've been preparing for ways we can offer continued support by launching the Neighbourly Foundation - a dedicated charitable arm of Neighbourly with a vision to provide a permanent means to respond to emergency need in our local communities.
Partnering with us on the launch of the Foundation are Lidl, Aldi, Southern Co-op and M&S through its Sparks programme, all of whom made generous donations to the Neighbourly Community Fund at the start of the Covid-19 pandemic. This saw us distribute £1.2M in emergency funding to over 3,100 local causes who have been keeping people fed, connected and cared for during the toughest of times.
We're proud to partner with businesses like these, which are recognising the need to support local communities and fight for the causes that keep our most vulnerable healthy, happy and safe.
For many good causes, the future continues to look increasingly uncertain. With government grants accessed by just 36% of charities and demand for support continuing to skyrocket, we recognise that there's a need for instant financial grants to support the grassroots organisations that increasing numbers people rely on.
With real-time data coming through from our 15,000 strong community of causes, along with a newly designed grant-making feature built directly into the platform, launching the Neighbourly Foundation puts us in a unique position to be able to respond quickly to emergency need at a hyper-local level.
Community Fund Impact
The Community Fund has proved that quickly deployed micro-grants can make all the difference when it comes to keeping communities afloat - with the response from recipients showing just how essential a longer term solution to future emergencies is.
"Micro-grants like this really make a big difference"
Recipients of the Community Fund grants estimated that the money helped them support around 340 people on average - over 1 million people in total - all the while facing an unprecedented rise in demand and uncertain future.
Where some other forms of support were slower to reach small charities and community causes, particularly during the first few months of the pandemic, the Neighbourly Community Fund acted as a stop-gap, enabling causes to provide for the most vulnerable and marginalised residents, ensuring that no one was left behind.
One of the recipients of the Neighbourly Community Fund was Jo Critch of women's charity Feathers Futures in Great Yarmouth, who said: "Neighbourly's was the quickest grant to come through and was vital in enabling us to respond quickly to our increased demand. It may not seem like much money, but micro-grants like this really make a big difference."
For the majority (61%) of causes in receipt of the community fund grant, purchasing food to make up emergency food parcels was a top priority. In addition, two in every five causes used some of the funds to purchase basic essentials (such as toiletries for care packages), with one fifth using some of the money to pay for PPE.
As well as reducing the level of financial vulnerability charities experienced when faced with emergencies like the Covid-19 pandemic, it has highlighted their importance in being able to adapt to the needs of local people.
The fund touched all ages, genders and ethnicities across the country, with charities able to deliver a range of different support mechanisms, tailored to their unique communities.
With many struggling with stress and loneliness during the nationwide lockdown, the funding allowed 69% of causes to provide comfort to isolated people and 68% to support people with their mental health.
The fund also allowed a large percentage of causes to help people directly in their homes, reach new people in need, help people feel more connected to others, look after people's physical health and to deliver a speedy emergency response - such as hot meal delivery for the elderly and homeless, food parcels for families in need and provision of activities and tech to allow people to communicate with others.
Future impact
Here at Neighbourly, we see the incredible impact causes can have on local communities on a day-to-day basis, and are continually amazed at just how much they can do on shoestring budgets, leaving no-one behind. So it's so important that we remain committed to supporting them through the toughest of times.
Commenting on the new partnership. Carmel McQuaid, Head of Sustainable Business at M&S, told us: "At M&S, we're proud of the role we play in the communities we serve, from our store colleagues delivering for customers to the charitable causes we support.
"Our partnership with Neighbourly enables us to give back to our local communities with ongoing surplus food donations and our recent contribution to help the organisations that need it most. But we know our customers want to do their bit for local causes too, so we're make it easier through our Sparks charity programme. With over 6,300 customers selecting the Neighbourly Foundation as their chosen charity, we can continue making a difference every time they shop with us."
Holly Bramble, Southern Co-op's Community and Campaign Coordinator, added: "Our commitment to support our local communities is incredibly important to us and it's more essential than ever that our funding goes to those who need it the most. Neighbourly enables us to do this. There are pockets of poverty in a number of areas where we have colleagues working in retail stores, funeral care and coffee branches.
"By working together with local causes, Neighbourly and its Foundation, we can help reduce the strain faced by so many families."
The Foundation has been established to ensure that good causes aren't hamstrung by a lack of resources when their help is needed more than ever. This is why we and our partners are urging other organisations to support the Foundation in providing the essential funds charities need on the ground, to keep our communities afloat.