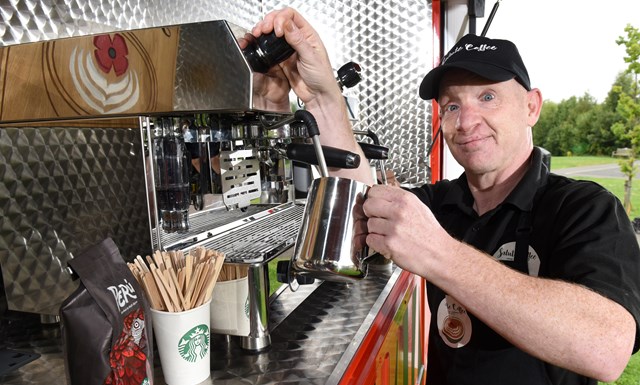 (Image: Salute coffee Truck, Newcastle)
In the past few years there's been a gradual rise of a new player on the caffeine scene – but it isn't quite what you might think. Community Cafes are a not-so-new café-concept that have been popping up in neighbourhoods across the UK. If you've ever come across one, you'll know why they are so special.
It's difficult to put a one-size-fits-all description on Community Cafés – by the very nature of them they come to life in response to the individual needs of a local community, but they typically have a few things in common. Firstly, they are run not-for-profit, with the focus being all about the benefits to the local community. In all cases they provide good quality, healthy food and drink options at reasonable prices or on a pay-what-you-can basis for those who might not otherwise be able to afford. They all tend to be tucked away in the heart of community life, in spaces where people are naturally congregating with neighbours, local residents or just others that they can identify with. And most importantly they all have a strong social angle – acting as clean, safe and welcoming meeting spaces for different community groups – with the focus being on community cohesion and inclusion.
Some of these cafes provide for their immediate community whilst others are a hub for a specific group of people across a town or city. Their services are many, and varied. Many nurture the development of informal support networks, with some providing formal counselling services. Some help disadvantaged people gain new skills, for example healthy eating and cooking or life skills courses. Others bring people closer to nature in the case of community growing spaces, which improve wellbeing. There are cafes that focus on breaking down barriers and reducing stigmas, for example around mental health; some are formal post-diagnostic group intervention spaces like Alzheimer cafes.
About the campaign
Increasingly these cafes are the first signposted port of call for vulnerable people, against a backdrop of state-provided health and social care undergoing a funding crisis that is putting them at breaking point. Despite their importance, it's a sad reality that these small charitable spaces, so embedded in their local communities, have experienced large falls in income from contracts between 2008/9 and 2012/13 (32 and 37 per cent respectively).* From a recent survey of the Neighbourly community, we found that no less than 76% needed more kitchenware items, and there was a universal need by food charities to have access to food and drink donations to help their resources go further.
In response to this, Starbucks latest campaign in partnership with Neighbourly will see the launch of their new #CommunityCafe programme which will offer regular product donations to not-for-profit cafes - including essential items like coffee, tea, pitchers, syrups and cups which can be ordered and collected from their local Starbucks store. The campaign also aims to help these cafes increase awareness of what they do and where they are, by allowing followers to share and make social noise for them.
Cafes being supported
This innovative coffee truck, operated by North Tyneside's veterans' charity Forward Assist is a converted army Land Rover vehicle, used in the Falklands War, and now staffed by veterans trained at a local Starbucks store and serving its coffee. The veteran Land Rover was converted into a working mobile café by members of the charity that offer 'life changing' projects and opportunities to former servicemen and women who are experiencing difficulties in adjusting to a new life as a civilian. Former forces personnel often have alcohol and drug dependency issues and find it difficult to access support in relation to mental health or post-traumatic stress disorder. The charity has been working with Starbucks North East for three years and recently designed a two-week placement that enabled veterans to be trained as Baristas, which acted as a stepping stone to increase their confidence and self-esteem and improve interpersonal skills. Due to the success of the employability programme, they then secured the veteran Land Rover and began to refurbish it into a mobile coffee takeaway. Starbucks Partners will train the veterans who will be working on the coffee truck on barista skills, coffee knowledge and customer service. Profit will be reinvested into Forward Assist to create more and better opportunities for service leavers.
Watch the Salute Coffee Truck film.
Oasis Hub Hobmoor is an inclusive community centre in Yardley, Birmingham. They are working with Starbucks to create a Community Café – a space where their diverse community can meet and chat or just be in safe company. The cafe will act as a focal point within the community centre for people to gather and get to know each other. Running as a social enterprise, volunteers will gather new skills as they learn how to make and serve coffee. People from the community will have the opportunity to run a small business selling food and cakes. The café will sell 'Suspended Coffee' so that people will have the opportunity to buy a cup of coffee for someone in need that they don't know. The cafe will be also portable enough so that it can be available at events to raise money for the community centre and support other charities in the area.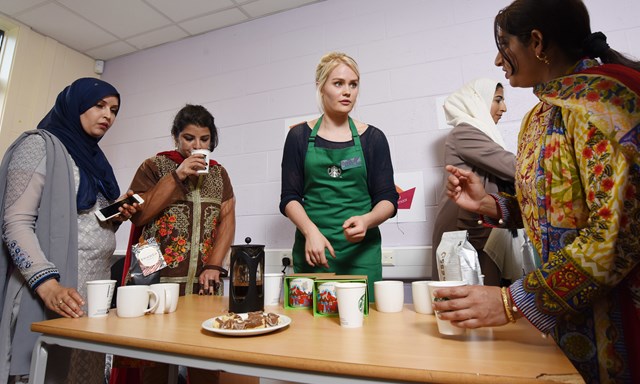 Maggie's in West London is one of seventeen centres at major NHS cancer hospitals in the UK, where patients can find practical advice about benefits and eating well, speak to qualified experts that can provide emotional support, meet other people in similar circumstances, or simply sit quietly with a cup of tea. Maggie Keswick Jencks lived with advanced cancer for two years. During that time, she used her knowledge and experience to create a blueprint for a new type of care. Maggie's Centres are built around her belief that people should not "lose the joy of living in the fear of dying". Maggie's programme of support has been shown to strengthen the physical and emotional well-being of people with cancer and their families and friends. They offer the chance for patients and their families to have a sit down with a hot drink in a relaxed atmosphere while they are waiting for their appointments or just needing a calm space to spend some time alone. Project lead Anna says, 'We're delighted to be working with Starbucks and receiving the wonderful donations of tea, coffee, chocolate and biscuits to offer our Centre visitors. We never know how many people we will see each day, but we do know that everyone who walks through our doors will be going through the most difficult of experiences, and the comfort of a hot drink or treat can really make a difference.'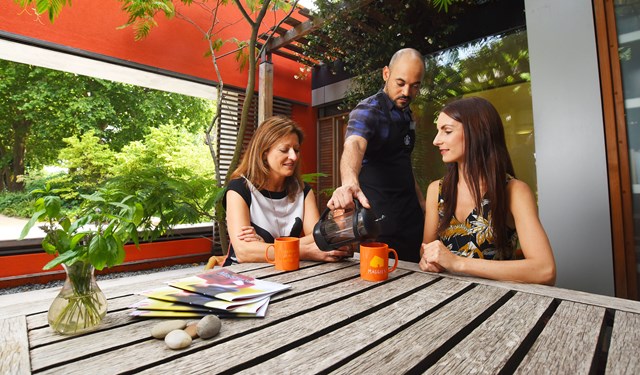 This Community Coffee Shop based at Oasis Academy Connaught school in Bristol was set up in an area of need with the aim of inclusion for all. It has been running for over a year and is steadily growing in capacity and opening hours. It was first started off the back of a survey of local need, and is run on a donations basis, with the main objective of removing barriers for parents and community members of low income being able to access the project. Each person who comes in donates what they can afford at that point – whether it be 10p, 50p or £2. It's staffed by volunteers who create a friendly and approachable environment and help signpost parents to local services they may need over a cup of coffee. One of their aims is to fundraise for a proper coffee machine and train up volunteers to become baristas – allowing them to gain valuable skills in customer service with the prospect of finding employment in the area.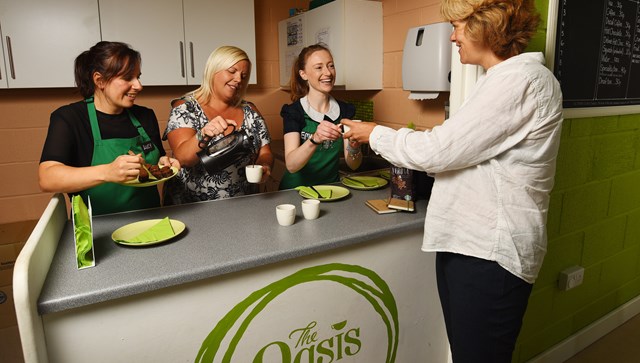 Rediscovering community spirit
The importance of community cafes to individual and societal well-being is fortunately becoming well established and understood. For vulnerable or marginalised people, or those lacking in confidence for one reason or another, there is often nowhere for them to go outside of their own homes that they can call a "safe" space – free from judgement or discrimination. Community cafes are part of the collective response to the feeling that we need to rediscover our community spirit and find a way to pull together to support our struggling social care services. They have such a positive impact on their communities, from providing a hub for the local community, reducing social isolation, providing jobs and skills development and of course providing healthy eating options at low cost, so support from businesses like Starbucks is significant and intrinsically linked to their survival. Free from the expense of many everyday items, they will have more potential to grow and become the launch pad for new projects - like youth and job clubs.
Support the campaign
You can support your local community cafe by popping in for a cup of tea or coffee, or maybe you could buy a 'Suspended Coffee' for a future customer in need. You'll find the cafes taking part in this programme on the campaign page - with more being added in the coming months. Follow and share their project pages across your social channels with the hashtag #CommunityCafe to make more people aware of the essential work they do.
There's hundreds more community cafes up and down the country - from Edinburgh to Manchester to Brighton - just have a search on Google and see what you can find in your area.
And if you're a community cafe looking for support, get in touch: starbucks@neighbourly.com
#CommunityCafe
About Neighbourly
Neighbourly matches charity and community projects with people and companies that can donate time, money or surplus goods. Get support by creating and sharing a project or give support by following, donating or giving a day to volunteer.
Charities & community projects: get your project started here
Businesses: email us about donating to projects: hello@neighbourly.com
Supporters & volunteers: sign up to be part of the Neighbourly network here - or simply find a project you care about and share it to help spread the word!