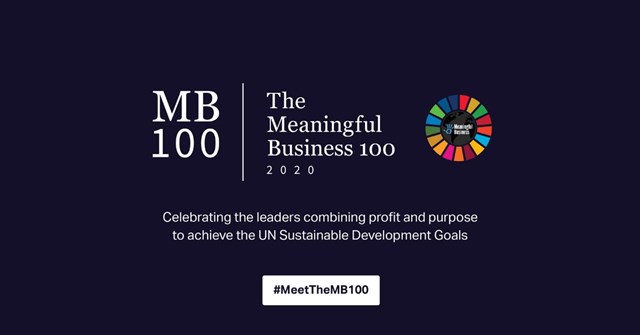 Here at Neighbourly, our focus is on helping businesses to make real and meaningful contributions to their local communities - with the ultimate goal of creating a greener, fairer and more sustainable future.
So we're honored to announce that Neighbourly CEO Steve Butterworth has been included in this year's Meaningful Business 100 list for 2020 - a global platform for leaders combining profit and purpose.
"Meaningful leadership is about bringing people together who are passionate about making a difference."
The Meaningful Business list is devoted to creating a unified platform for leaders around the globe to collaborate and share knowledge in order to amplify their social impact in support of the UN 2030 agenda. This includes the 17 sustainable development goals that gear us toward a plan of action for people, planet and prosperity.
MB100 was curated by an expert panel of 16 judges, following a global nomination process. The platform received over 500 nominations from 70 countries, with each one scored across 5 key areas: Impact, Leadership, Innovation, Durability and Scope.
The 100 business leaders include corporate CEOs, entrepreneurs, micro-entrepreneurs, sustainability leaders, functional heads and impact investors from 34 countries. Industries that dominate the list include agriculture, education, healthcare and technology.
Steve's inclusion in the list further demonstrates Neighbourly's collective commitment to helping businesses become a force for good, strengthening community ties and allowing no one to get left behind.
Commenting on the accolade, Steve adds: "For me, meaningful leadership is not about one single person fighting for what they believe in, it's about bringing together multiple voices and people with experience at all levels who are passionate about making a difference.
"I'm incredibly proud of the Neighbourly team and all the work they do to grow the platform. With each working day we are adding to our 15,000 strong community of local good causes supported by an increasing number of businesses that see the amazing worth that comes with supporting their communities and valuing purpose over profit."