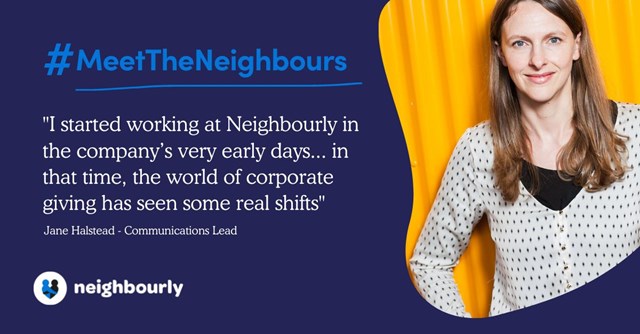 In our new 'Meet the Neighbours' series, where we meet and greet with some of the brilliant team members that work behind the scenes at Neighbourly, we introduce Jane, Brand and Communications Lead.
As one of the business's longest-standing employees, Jane is synonymous with all things communications at Neighbourly. Her extensive knowledge of the Neighbourly brand has seen her lead on high profile PR projects with our business partners, commission innovative research studies on topics such as workplace happiness and successfully lead her team on developing content and comms processes.
How has the world of corporate giving changed since you started working for Neighbourly?
I started working at Neighbourly in the company's very early days - 9 years ago. In that time, the world of corporate giving/impact has seen some real shifts, from the language being used, right through to its increasing value in organisations, and therefore how well it's resourced, prioritised and communicated.
"[Corporate Giving] is now more about action, authenticity and results, which can only be a good thing"
Obviously all companies are in different places but, generally, they are now thinking about corporate impact more holistically and it is more tied to the strategy and purpose of the organisation. We're also seeing forces like investors and the Gen Z workforce creating even more shifts; it's now more about action, authenticity and results, which can only be a good thing.
How does marketing differ at a business like Neighbourly? Is there anything you've learned from working at Neighbourly that you'd like to share with other marketers?
As a B Corp and mission-led business, our marketing approach has always aligned with our values and ethics and that means careful selection of partners, platforms and tactics as well as data management.
Sometimes these decisions are tough, but an ethical stance will always be beneficial to the longer-term integrity of the brand and the company's growth. Marketing for a scaleup business also requires a different mindset to marketing in larger organisations - flexibility and an agile approach is key.
Can you name one Neighbourly good cause whose work particularly inspires you and why?
There's so many brilliant causes in the network it's hard to choose. One that particularly inspired me recently was the Caenhill Countryside Centre that we filmed in October as part of the M&S' Gifts that Give Christmas campaign. Caenhill is a not-for-profit community project, set within a 70-acre farm in Wiltshire, that aims to support young people and those in care.
Run by a team of volunteers aged between 4 and 86, Caenhill runs courses focusing on well-being and education with a mission to bring countryside learning and sustainability messages to young people and the local community at large, all whilst caring for abandoned and unwanted animals. See the film we produced here.
Enjoyed this blog? Stay up to date with Neighbourly news and insights by signing up to our newsletter.