In February we decided to participate in a little bit of volunteering ourselves! Over two weekends, we went down to Redland, Bristol to help 
BCR NP Streetscene Group
 undergo a community clean up!BCR NP Streetscene Group (Bishopston, Cotham and Redland Neighbourhood Partnership) has been running for about three years. Set up by locals who wanted the area to be a better place to live, work and play. Issues regularly faced by the team are graffiti, fly tipping and fly posting. Initially the project was focused on Gloucester Road to help maintain its nationally recognised position as one of the most outstanding and diverse shopping streets in the country, but why stop there? They soon extended their range of activities to cover the rest of the area much to the benefit of its residents.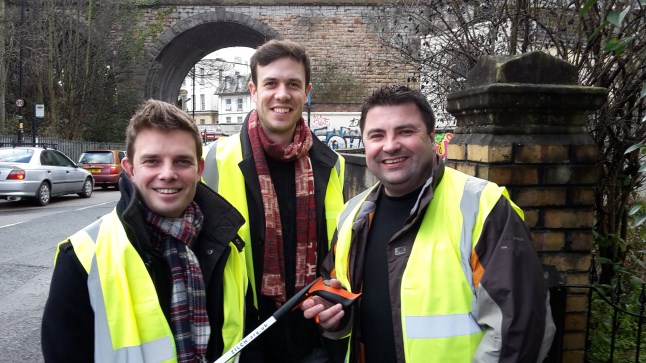 Will and Ryan (from neighbourly) with Rob (from Streetscene)
Two members of the neighbourly team met with Rob Umphray (part of the Streetscene Group) together with the rest of the team they picked up 14 bags worth of rubbish!
Our group is extremely relaxed and aims to have fun whilst we are volunteering. There is no minimum time, people can join in even for an hour. - Rob
Streetscene Group is made up of two smaller groups 
Street Champions 
and 
Streetscene Volunteers
. Champions are residents who keep watch of their local area and report issues to the council such as graffiti or fly tipping. Volunteers, people like Rob, go out onto the street in groups and tackle the problems by painting over graffiti, litter picking the area and even cutting back vegetation blocking pathways.
I'm often surprised by how many people turn up to the volunteering events and then say how positive they feel after joining in! - Rob
After the team's community clean up success, I decided to take part in the next one and took another neighbourly team member down with me. We donned our hi vis vests, took up our litter pickers and set off with our bags to clean the area. It was astonishing to see how quickly you could fill a refuse bag with the odd bits of discarded rubbish laying here, there and everywhere! We then helped Rob clear a particularly rubbish filled area he refers to as '
grot drops
' - just behind a fence by the Redland Railway Station.
It's amazing how quickly fly tipping reduces when people report it. - Rob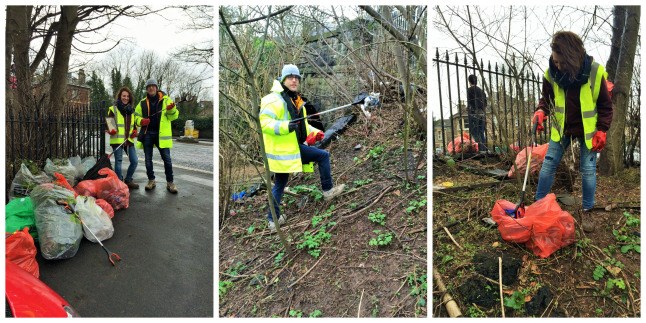 Photographs by Rob Umpheries
It was almost like a treasure hunt! Except nothing was shiny anymore... we found old beer cans with designs that went out of fashion long ago, I found a walk-o-meter from Walkers crisp packet that I remember as a kid as well an assortment of oddly paired shoes and other clothes!By the end of the morning, the group had recovered over 50 bags of rubbish! That's a gigantic amount for the small area we combed! Well done to the Streetscene Group who go out regularly to clean up their local community! Their commitment deserves recognition and applause for their hard work. One thing that became clear to me during my time with the group was that offering your time or 'volunteering' doesn't have to be a chore - the whole team at neighbourly had a great time!- Sophie
---
Follow this project on neighbourly