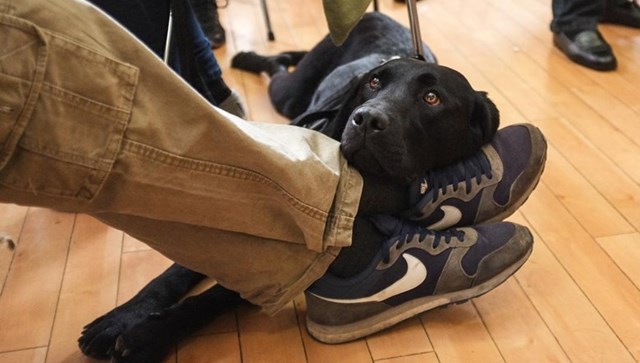 This month marks the second anniversary of the Starbucks Community Café programme, launched in partnership with Neighbourly in August 2017, as a way to support small not-for-profit community spaces across Britain with donations of tea, coffee and other café essentials.
To mark the occasion we've been back to visit one of the original 20 cafés being supported by the scheme – the K9 café in Ely – to speak to the Starbucks store manager and some of the people involved.
The K9 cafe - a free, volunteer-run drop in centre for people who love dogs - started life as the brain wave of Chris Kent. She had been running employability training for adults and began the café as a welcoming and safe place for the group to continue to meet, practise and develop skills and confidence in a supportive environment.
Gradually a team of volunteers emerged, who now run the café with Chris' support. Local people drop in to the café to meet other people – some bringing their dogs and others coming along to have some company. The centre supports those with physical and mental learning difficulties and those suffering from social isolation. For many, coming to the café helps alleviate loneliness, with the dogs acting as a bridge between people.
Sadly, the project doesn't get any regular funding – their only income is through proceeds from the tea/coffee sold, and they try and keep prices as low as possible as most visitors are on low incomes. The Starbucks support, which gives them free donations of essentials like coffee, tea, biscuits, cups, syrups and the like - is delivered through a partnership with their local Starbucks branch in Ely, and is an important factor in their continued survival.
Around Britain there are 19 more cafés being supported by the programme - from the Mint Lane Café in Lincoln all the way up Possobilities in Glasgow. They are all not-for-profit cafés, based within close-knit community spaces, with the focus being all about the benefits to the local community – providing good quality, healthy food and drink options at low prices or on a pay-what-you-can basis. They are all mostly volunteer-run and have a strong social angle – acting as sociable, safe and welcoming meeting spaces for many different local people – with a focus on community cohesion and inclusion.
In the past two years, the 20 cafes taking part have supported over 2,300 people every week and benefitted from donations of around 50,000 cups of tea, 45,000 cups of coffee, 30,000 cups of hot chocolate, and 64,000 biscuits!
How to support the programme
You can support your local community cafe by popping in for a cup of tea or coffee, or maybe you could 'pay-it-forward' for a future customer in need. You'll find the cafés taking part in this programme on the campaign page. Follow and share their project pages across your social channels with the hashtag #StarbucksCommunityCafe.
If you're a community cafe looking for support, get in touch on starbucks@neighbourly.com.