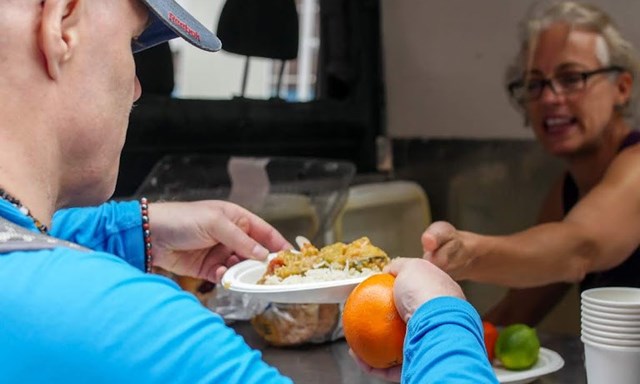 Here at Neighbourly we know now, more than ever, how important it is to support local communities. That's why we've set up a new Community Fund, backed by our partner businesses, to support the Neighbourly causes that will be most affected by the Covid-19 outbreak.
M&S Family (including M&S Bank and M&S Energy), Lidl, Aldi, Danone UK & Ireland and Coca-Cola European Partners have created a new fund to support community organisations helping those most at risk during the Coronavirus crisis and are urging other businesses to join them.
The Neighbourly Community Fund will funnel vital funds directly to community causes across the UK to ensure they can deliver essential services to those most at risk during the crisis. Our partners have committed a combined total of almost £500,000 to the Fund, to provide immediate micro-grants to community organisations that are helping the people most affected by the outbreak, including the elderly, those on low incomes and people at risk of food insecurity. And they are calling on other businesses to join them and contribute to the fund to build a coordinated response.
We know that many small charities and community groups face severe disruption to their services as a result of Covid-19, following a reduction in the number of volunteers and donations. These unrestricted grants will initially go to existing Neighbourly members across the UK and Ireland, including foodbanks, homeless shelters, care homes, youth groups and health charities. Some charities have told us they need urgent support to carry on running their core services, while others are adapting and starting new services to support people in the community.
Community causes supported through the fund will include organisations like The Moorlands Community Charity, which provides Meals on Wheels services for older people near Hull. Jacky Crawford, head of service there, told us: "The need for our services will increase over the coming weeks as many older people self-isolate, but without urgent help to get hold of more supplies, we just won't be able to sustain our support."
The immediate micro grants of up to £400 will go towards food provision, emergency supplies, practical support, running costs, transport and other essentials. By co-ordinating the emergency response, we will be able to assess where the most urgent gaps in support are, and where to direct funds to.
Steve Rowe, CEO of M&S, has commented:
"One of the things that makes me most proud to work at M&S is the role we play in our local communities. Not just through the brilliant service our colleagues give to our customers, but through the time and energy they give to helping those most in need. We can't do this on our own and so we partner with organisations like Neighbourly who link our stores to local causes so we can donate surplus food and non-food products to the people who really need it. This fund will help mobilise over 1,000 local charities and organisations across the UK to support the most vulnerable members of our community. The whole M&S family is getting involved - including M&S Bank and M&S Energy – so we can keep up the support communities need most as events unfold."
Christian Härtnagel, CEO at Lidl GB, said:
"We are living in unprecedented times, and it's essential that we look after those who need it most – that's why our 'Feed it Back' scheme with Neighbourly is more important than ever. Through our store connections, and through this additional donation, we are able to directly support groups who are out in our communities doing an exceptional job of looking after the most vulnerable."
Fritz Walleczek, Managing Director of Corporate Responsibility at Aldi, added:
"Neighbourly makes a huge difference in the communities they support, making sure surplus food and other donations get to those who need it most. That's why, as a long-term partner, we're committed to helping them throughout the year. The additional support provided through this fund is critical in ensuring Neighbourly causes have the support they need to continue making a positive difference to the most vulnerable in our society during this particularly difficult time."
Leendert Den Hollander, Vice President and General Manager at Coca-Cola European Partners commented:
"There is nothing more important than communities at a time like this, and we fully support the excellent work Neighbourly is doing to ensure those of us most at risk are equipped with essential supplies and services through this difficult period."
James Pearson, Managing Director of Danone UK & Ireland, said:
"Working closely with communities has always been important to Danone and forms a core part of our 'One Planet. One Health' vision. We are committed to supporting our local communities and are proud to be a founding member of the Neighbourly Community Fund to help organisations on the front line in this time of uncertainty."
The launch of the fund follows a new survey of Neighbourly's front-line charity and community partners, which showed:
77 percent of charities supporting older people expect services to be disrupted, with 75 percent of organisations who support young people fearing the same
More than 60 percent of charities have already seen a reduction in food surplus donations in recent weeks.
75 percent of organisations expect to provide emergency provision after schools close
According to government statistics, 3 million children are at risk of going hungry while they are out of school; 1 million children who receive free school meals during term time, and another 2 million children who are ineligible for free school meals but are growing up in households in in-work poverty. Our network of charity partners estimate that with the additional pressures created by coronavirus, they expect to support an average of almost 180 people each week with emergency provision such as food and basic essentials.
We know that what is needed by community groups and charities today will be very different over the weeks and months to come. Through our nationwide network of vetted good causes we will work closely with our partners to ensure the right support is directed to those places in most urgent need.