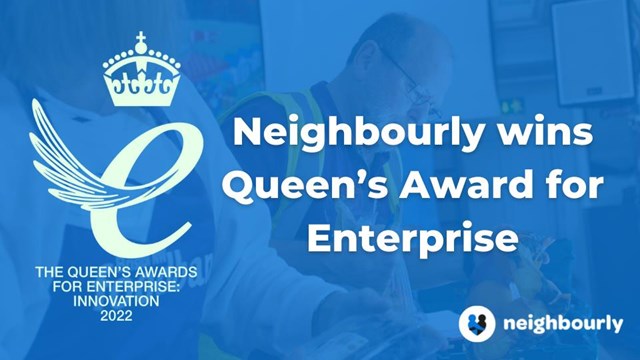 We're proud to announce that Neighbourly has been awarded a 2022 Queen's Award for Enterprise in the Innovation category.
The Queen's Awards for Enterprise, established in 1965, are the most prestigious business awards in the UK - so it is a privilege to be amongst those recognised by the awards for their contribution within key categories such as International Trade, Innovation, Sustainable Development and Promoting Opportunity through Social Mobility.
The awards celebrate the success of exciting and innovative businesses which are leading the way with pioneering products or services, delivering impressive social mobility programmes or showing their commitment to excellent sustainable development practices.
Steve Butterworth, CEO at Neighbourly said: "It's an absolute honour for Neighbourly to have been recognised with a Queen's Awards for Enterprise.
"The last few years have been incredibly tough for local communities and businesses alike. To have been able to grow a technology solution that has helped organisations to have a positive impact at a local level during this time is testament to a changing world in which being a successful business is being one that is a force for good."
The Innovation award recognises businesses that demonstrate strong commercially successful innovative products or services with the application covering all elements of business including sustainability, social value, technical development and profitability.
For Neighbourly this encompassed some of the company's biggest achievements - from becoming one of the UK's founding B Corps and partnering with M&S to launch the platform's first food surplus redistribution programme in 2015, to launching the £1.2M Community Fund in response to the Covid-19 pandemic and closing of a £3M round of Series A investment in March 2021.
Achievements aside, it's equally if not more important for us to recognise the people and organisations that we would not have been able to do this without.
Steve adds: "Huge thanks must go not only to our corporate partners and investors, whose unwavering commitment to social and environmental impact in local communities has enabled us to build and scale an award-winning technology platform, but to our 20,000+ network of local good causes and our talented team who make critical local impact possible every day."
Find out more about the Queen's Awards here and follow Neighbourly on LinkedIn and Twitter to stay up to date with the latest news and insights.