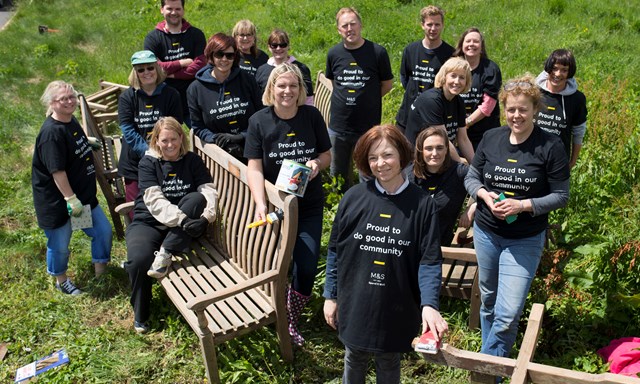 This June, M&S teams from more than 600 store and office locations will be giving their time and skills to causes fighting for the well-being of children, young people and families. Their week of action, from 3rd to 7th June will see employees work with more than 400 schools, food banks, scout and guides groups, youth clubs, health and education charities on Neighbourly to create positive outcomes for thousands of young people across the UK.
With child poverty set to reach a record high in 2019 and with increasingly stretched schools, healthcare services, food banks and youth services, there's never been a greater need to invest in young people. The events that have been created will all create a lasting benefit to a local organisation and a huge range of events have been planned – from revamping youth centres, to garden makeovers to skills workshops. Overall, the programme is delivering opportunities for over 4,500 M&S colleagues, committing over 38,000 volunteer hours to 442 community projects – from Scotland all the way down to Cornwall and across to Ireland. Each charity is also being given a donation to help make the event a success.
Building on the success of Making Every Moment Special in 2018, 298 stores will join together to collaborate on volunteer efforts with other nearby M&S stores. This will maximise the manpower impact for community projects as teams collaborate towards the shared goal to invest in young people.
Offering much needed people power and resources to schools
Schools will be the largest group of beneficiaries comprising 25% of causes supported and totalling more than 100 nurseries, primary and secondary schools. This comes at an important time with many schools significantly lacking the core resources they need to operate effectively. M&S employees will be volunteering in classrooms, offering employability training, promoting healthy eating, rejuvenating school halls and developing outdoor classrooms. In Bristol, the Avonmouth and Imperial stores will come together to revitalise the grounds of Hartcliffe Nursery School and Children's Centre through painting, clearing, repairing and planting – a project that will have a big impact for the local children in a deprived Bristol community, and one that the school would not otherwise be able to complete.
Transforming youth community spaces
Over 200 projects will see M&S staff getting stuck in to transform much loved community spaces through hands on activities – increasing the accessibility of outdoor space for well-being, repairing and painting playgrounds, brightening up youth centres. Children's services are under increasing pressure and the work done by M&S to boost the vitality of physical environments will have a lasting impact for areas not otherwise resourced. In Sutton Coldfield three M&S teams will work with The Streetly Academy to turn a 'dead space' into a sensory garden for open mic sessions used by 150 SEND students to explore and express themselves musically.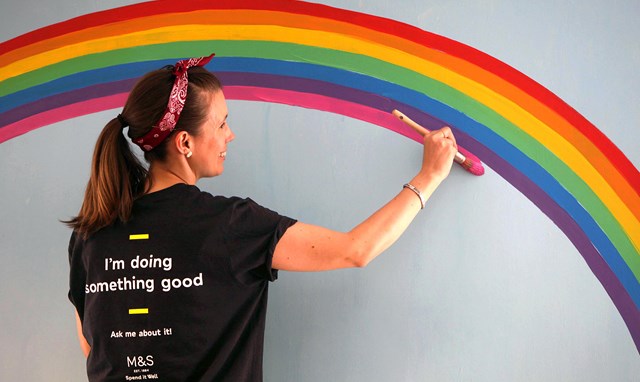 Promoting health and well-being for children and youth
90 projects will see the good work of young people's physical and mental health services supported by M&S teams including many that have been put forward as a result of the personal experiences of M&S employees. The volunteers will be working with young people to run creative well-being workshops, rejuvenating family areas in hospitals and children's hospices and helping to set up and run family fun days, fetes and events. At The Tanyard Youth project in South Wales, a team from Haverford West will be creating a courtyard and BBQ area to promote young people's mental health and to create a long-lasting safe place for them to go within the community.
Tackling hunger for children and their families
Building on the M&S food redistribution programme through Neighbourly, more than 50 M&S food charity partners will receive 80 store and office teams across the week. Staff will be able to contribute beyond their weekly food donations to help those families in food poverty and the important work of the charities who support them. Food bank usage is at an all-time high with more than half a million emergency food parcels going to children last year from one food network alone.. Employees will be serving hot food to those in need, stocking shelves with essential supplies and rolling up their sleeves to carry out important maintenance work in order for the charities to continue to operate. In North West London the Harrow team will be working on the community allotment at My Yard Watford – one of our longest running food surplus partners who joined the scheme in 2015. They'll be harvesting crops in the community garden, hosting a community meal and seeing first hand why M&S food surplus is so valued within the local community.
Sharing skills and helping young people into employment
With partners including CLIC Sargent and the YMCA, 30 store and office teams will be sharing their experiences of the working world with young adults and children, supporting CV writing and job skills workshops and investing their retail skills within their communities. Across 4 learning centres 8 teams will work with Young Enterprise to teach students about the skills and qualities required to be successful in the workplace, building a broader understanding of routes to employment amongst students.
For the charities, schools and groups taking part, we hope M&S Volunteer Week will be a wonderful experience and we can't wait to see the photos!
Follow all the action on #MarksInAction