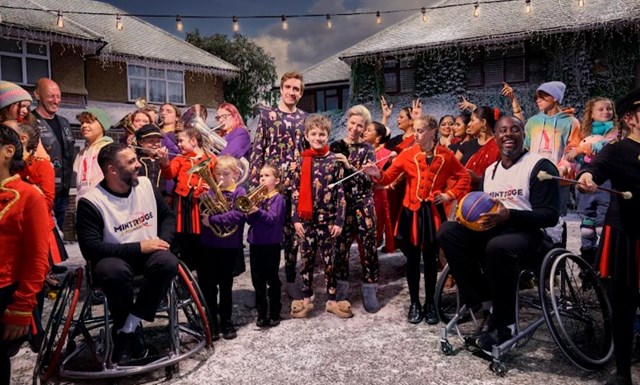 This Christmas M&S has teamed up with Neighbourly to deliver a Christmas campaign with a purpose. As winter can be a difficult time for the most vulnerable in our local communities - with small charities and causes often seeing a big spike in demand and the Cost of Living Crisis adding further strain, M&S wanted to help by launching their Gifts that Give initiative.
M&S has given £1 million across 1,000 small charities and community groups in the UK and Ireland through the Neighbourly Foundation (charity 1189514). The donations will contribute towards supporting each organisation through what is set to be a difficult winter period.
To mark the festive campaign, M&S has brought together a number of these hardworking groups to feature in their Christmas TV advert, which you can watch on our website.
You'll also be able to meet and find out more about three of the good causes in the advert: the Kaotic Angels, Caenhill Countryside Centre and the Y Centre Skaters. These charities invited Neighbourly to visit their hometowns to film them doing what they do best, helping their local communities.
How the grants will be used this Christmas
From food banks and homeless support to disability charities and schools spanning the UK, the 1,000 recipients are using their grant money for a variety of reasons. Amongst the beneficiaries are Scout and Rainbow groups who will be using the money to heat their venues through the winter months and a refugee charity called 3D Drumchapel in Scotland who is using the money to "run sessions to help with the cost of living and an after school club to bring families into the warmth, allow children to do their homework and also to provide families with a hot cooked meal".
Whiterock Children's Centre Christmas Appeal in Northern Ireland will be using their grant money to help people in their local community struggling with the cost of living by "giving some support with the non essentials like toys or clothes for Christmas". Also being supported is England community transport charity, Please Take Me, whose aim is to give those suffering with cancer in their community "free, regular, net-zero, non-emergency transport to and from their hospital appointments."
You can find out more about the inspiring causes receiving the grant here. You can also find a list of all of the charities and good causes featured in the advert at the end of the blog.
About the M&S and Neighbourly Partnership
In 2015, M&S became a founding Neighbourly partner as they were leading the way in delivering their pioneering Plan A Sustainability strategy. M&S's first campaign engaged thousands of staff in fundraising £900k for local causes in its first year, a success that led them to working with Neighbourly to develop a number of innovative and evolving programmes over many years.
M&S went on to launch mass employee volunteering, a network-wide back-of-store food and product surplus redistribution, and further rounds of targeted fundraising and grants programmes with wide-reaching social and environmental impact - supporting over 6,000 local good causes which help an estimated 2.3 million people every week.
"M&S's Christmas campaign is a brilliant celebration of kindness and a timely reminder of the importance of community at a time when support at a local level is needed more than ever.
"Findings from our recent community survey found that 83% of local groups are already experiencing a rise in demand on their services yet 69% reported they've found it harder to find funds in the last three months. We're delighted to have partnered with M&S on the distribution of this £1million fund which will make a huge difference to groups in our network over the winter period. This campaign builds on a long-standing community strategy that has seen M&S support over 6,000 good causes in the Neighbourly network and donate nearly 50 million meals worth of surplus food."
Steve Butterworth, Neighbourly CEO
Charities features in the TV ad: The Kaotic Angels Club, The Y Centre Skaters, UK Soul Choir, Mintridge Basketball Club, Kearsly Brass Band, Caenhill Countryside Centre, Paddington Arts Dance Group, Valley Invicta Primary School at East Borough Majorettes, Bengali Dancers.