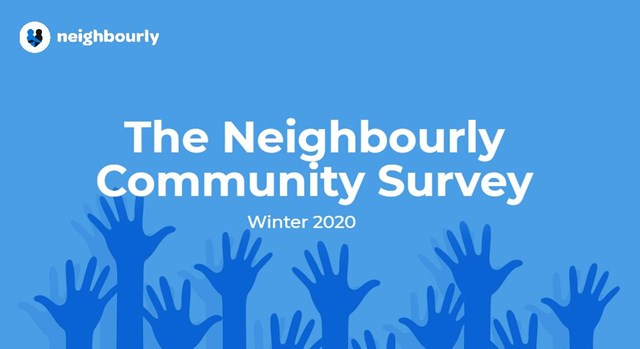 The last time we last surveyed a section of our community of over 15,000 good causes, one thing which stood out was the speed at which small charities, food banks and community organisations had adapted through the pandemic despite the immense challenges faced.
Our latest survey results come six months after Civil Society reported that the charity sector's income was expected to drop by £6.7bn whilst demand for services rose by the equivalent of £3.4bn.
As we head further into winter, demand for food banks and support groups is expected to double as young families and vulnerable people struggle with the economic and social impact of Covid-19.
Good causes remain the beating heart of thousands of communities, providing support and care that is unique to the needs of local people - but as demand continues to rise through the winter and beyond, our survey highlighted a number of concerning trends.
Rising need
In November, over 1,100 local good causes responded to our winter Community Survey. Respondents included food banks, homeless shelters, disability charities, community centres, youth charities and more.
Almost 70% of these groups said they were supporting young people, with over 70% supporting adults and older people. The average number of people each organisation reported supporting was 363 per week.

Access to funding
Whilst half of responding good causes were able to access emergency relief funding to continue their operations, two thirds have still suffered an income loss to some degree and 6 in 10 are expecting a further drop in income over the next 3-6 months.
Of the organisations who were unable to access emergency grants, the majority (71%) said it was because they were not eligible. Just over half also said they just didn't have enough time to find out what was available to them, whilst over a third felt the application process was too time consuming.

In order to survive through the pandemic months, around 50% of organisations enlisted help from the community. At the same time just under a third were forced to dip into financial reserves and over a quarter enlisted extra help from friends and family.

Support through winter
In part, the economic impact of the Covid-19 pandemic is expected to have an effect on the number of donations received by small charities over the festive season, with over half of good causes expecting a drop in Christmas donations this year.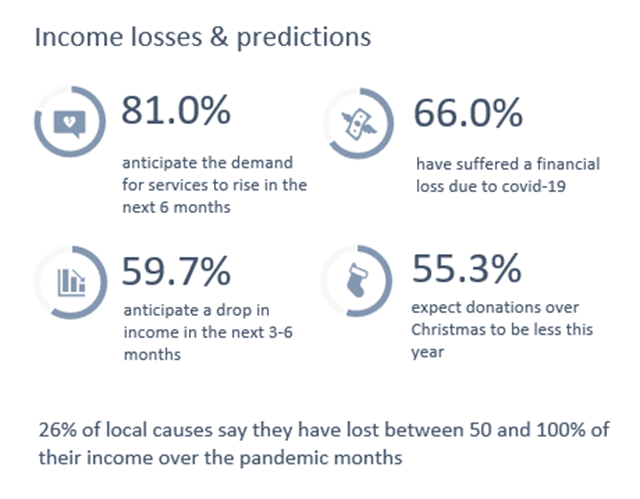 What's more, 81% of good causes said they were expecting a further increase in demand over the next 6 months.
Despite this, over 50% of the organisations we surveyed are planning to provide food and/or activities to children during the Christmas holidays - supporting an average of 112 children a week.
Concerns for the future

For most good causes, this increase in demand is one of their biggest concerns, followed by a drop in funding and mental health issues amongst service users.
Despite the worries and uncertainty, small charities have continued to be some of the greatest innovators of the pandemic - continuing to adapt and evolve to changing regulations, fluctuating funds and rising demand.
When these small community causes were asked what was needed to keep them going in the next 6 months the top three answers were around support - in the form of continued donations from the local community and businesses and an increase in support from the government.
Looking forward
For Neighbourly, getting to know the strengths of the small charities and local good causes using our platform, as well as the challenges they face, is integral to our mission to ensure they have the right support to continue to provide the unique and essential services required by people in their local area.
In the coming months we will continue to assess the impact of Covid-19 and the immediate needs for good causes, building on knowledge we hope will lead to better and more sustained support for local communities in the months and years to come.
Part of that support will be delivered through the newly launched Neighbourly Foundation (charity 1189514) - a dedicated charitable arm of Neighbourly, created to provide a permanent means of administering grant programmes and to enable us to respond quickly and efficiently to emergency need within our local communities.
The Foundation will directly support causes that look after the health and happiness of our communities, facilitated by new grant-making functionality on the platform that will ensure funds are deployed in real-time.
Stay up to date with our latest research and more by following us on Twitter @nbrly or via the Neighbourly LinkedIn page.