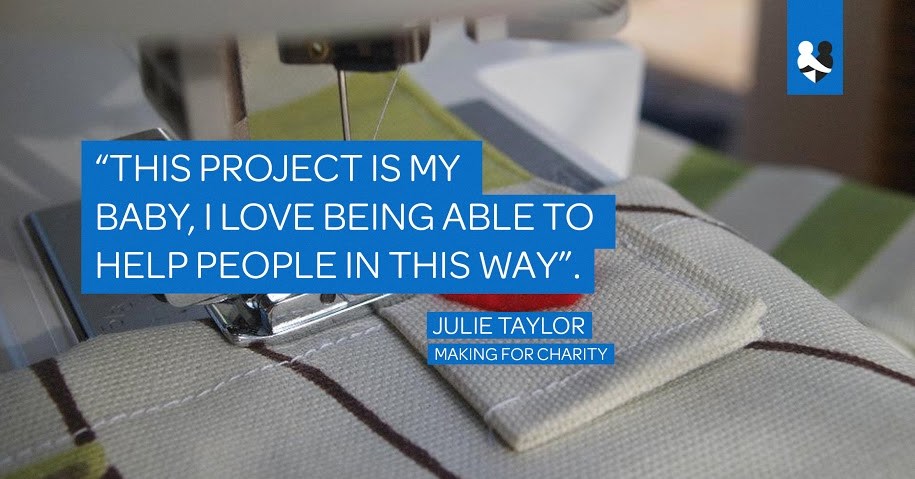 What is volunteering? To some of us, volunteering is just 'helping out' or 'lending an extra hand', be it for a cause, a charity or a local community project. What we often don't realise is just how essential lending that hand is. Some charities depend on volunteers to stay afloat, some people in need depend on volunteers for their support, interaction and help. When we 'help out' we don't always know how much of an impact we're actually having.
'Spark Something Good' is a campaign M&S have been running where they visit cities all over the UK and help charities with particular projects or challenges by providing volunteers - both employees and customers. We talked to Julie Taylor from '
Making for Charity'
about her experience with volunteering and how Spark Something Good has helped.
------
Nbrly: Hello Julie, Before we start, could you explain a little bit about what Making for Charity does and how it all got started?MFC:
Hi, of course. Making for Charity is a non-profit social enterprise. It started with a small notice in a fabric shop from the Macmillan Nurses at the Liverpool Women's Hospital. The notice asked for volunteers to make syringe driver bags for their ladies at the hospital. They were using plastic carrier bags to carry the drivers and the nurses wanted something better for their patients. A syringe driver is a battery operated pump with a syringe containing medication such as pain-relieving drugs in palliative care or anti-nausea drugs for chemotherapy. The driver is about the size of a pencil case and is attached to the patient subcutaneously via a tube so they can't put it down, it has to be carried.
I spoke with the nurses and designed a bag to fit the drivers. They asked for a shoulder strap and I made it reversible. It can also be used to carry drainage bottles following surgery. I was helping out at a local primary school at the time and was able to make the bags with the children, often using recycled material. We put labels on each bag that say 'handmade by' and then the name of the person who made it. We put together over 200 bags and they were exceptionally well received by the patients.
The project grew, I got other schools and craft groups making the bags and started to supply other hospitals in the Mersey region. We had requests from the nurses for other items such as personal effects bags for the bereavement suite at the Liverpool Royal, and comfort pack bags for the Linda McCartney Cancer Care Centre.
Then I did the website, where people could download instructions for free and the project went national. I now spend most of my time matching people who want to make the bags with their local hospital or hospice who would use syringe drivers. All items are made, often using recycled material, and then donated free of charge.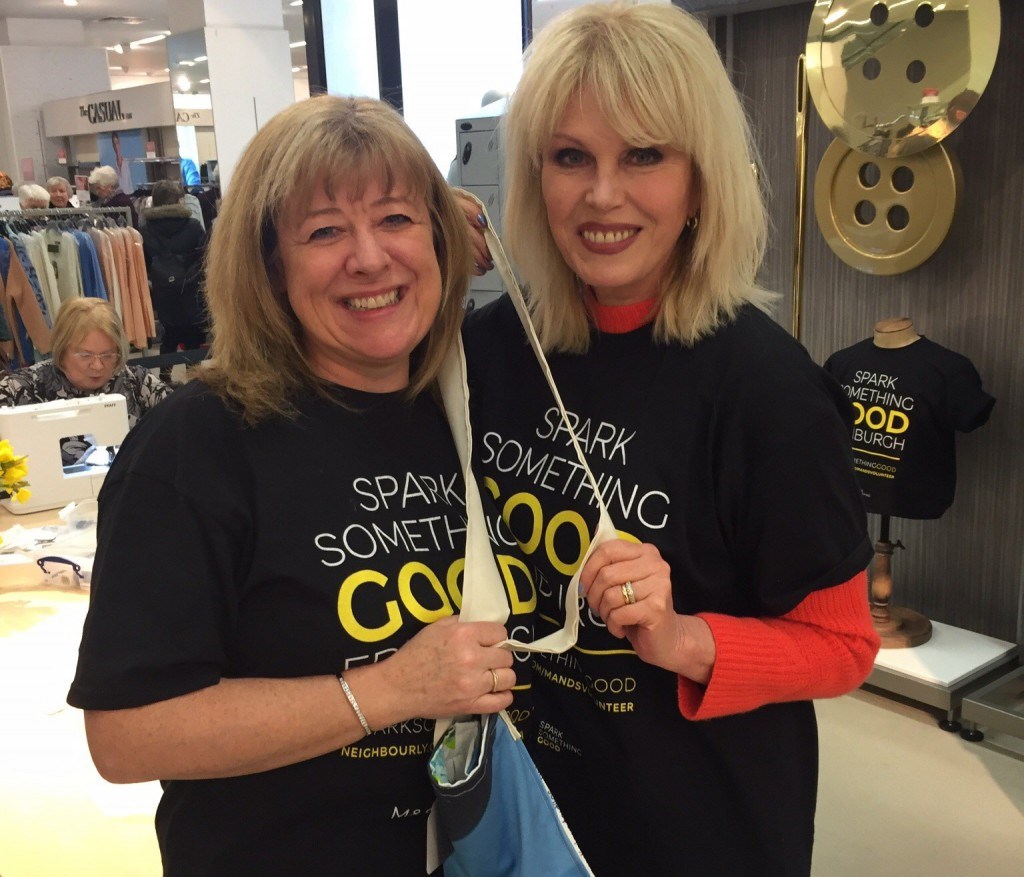 Nbrly: Why do you feel volunteering is so important? Not just to Making for Charity, but to life in general.MFC:
Volunteering is a win win! People who volunteer their time can make a real difference to the lives of others. There are so many ways to volunteer, people can choose an area which interests them or an area that they would like to learn more about. It's about helping others and making the world a better place. So much of society benefits from the millions of people who volunteer all around the world.
Volunteers themselves get huge satisfaction from 'doing their bit'. They can feel like they are a part of a community, pass on skills and enable others to benefit from their talents whilst connecting with people. Volunteering can help relieve stress, loneliness, boredom, and build up a feeling of self esteem and self worth.
Nbrly: What is it about M&S and their Spark Something Good campaign that excited you the most when you first heard about it?MFC:
I was approached last August by M&S asking if I could join them in Manchester for Spark Something Good. I love the idea of showcasing volunteering locally and encouraging people to volunteer within their own community. I immediately knew that my project would be a perfect fit and was hugely excited and proud that they had asked me to be involved. M&S were already partnering the Macmillan Nurses at a national level and the syringe driver bags had been requested by the nurses in Manchester. I knew that by doing the workshops in store we could inform people of the need for the bags and by getting people involved in the workshops we could teach them how to make the bags, and hopefully encourage bags to continue be made after we had left.
Nbrly: Has Spark Something Good altered your approach to the way you work in any way? MFC:
I have been involved in the Spark Something Good campaign now in Manchester, Swansea, Edinburgh and London and we are about to have two days of workshops in Leeds. For me it has been an amazing journey. Bringing the project out to different cities has meant I've been able to connect with both sewers/sewists and the hospitals and hospices in a way I could never have dreamed of. I try to visit where the bags will be going prior to our days in store and meet the nurses. This helps me to find out exactly what is needed and where. In Edinburgh when I visited the oncology ward at the Western General they were not only desperate for the syringe driver bags (one of the nurses was taking the ones they had home to boil wash them), they also asked if we could make heart shaped pillows to give to patients recovering from mastectomies.
Actually visiting the hospitals and hospices makes a big difference to my own knowledge and how I can pass information onto others. The bags themselves are made from recycled M&S decor (posters) and the pillows out of 'ex-display' duvets that had been washed and cut up. It's great that we can up-cycle these items that may otherwise go into landfill and in such an amazing way. It makes the project itself very sustainable.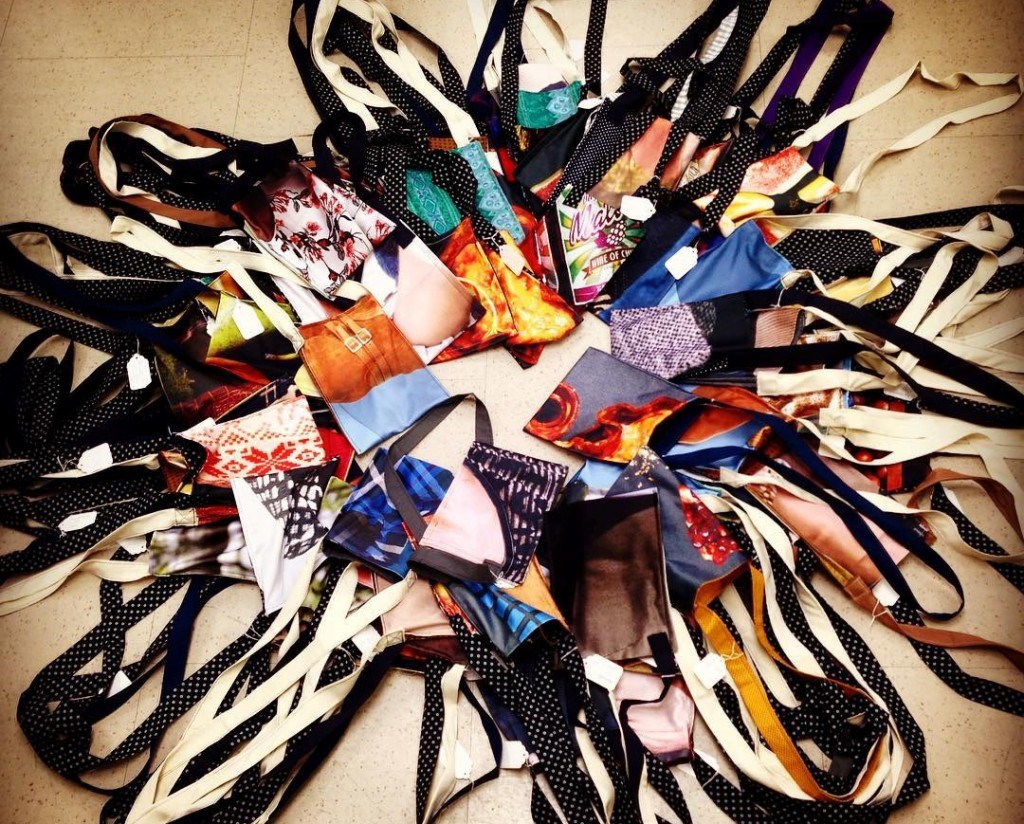 Nbrly: What would you say has been the biggest success Making for Charity has seen since being involved with Spark Something Good?MFC:
Without a doubt being able to take the project to the different cities. The workshops provide a platform to tell the people in each locality about the bags and where they can donate them to. In total we have sewn over 500 bags and pillows, these have been delivered to the oncology wards, palliative care teams, community nurses and hospices in the cities we have visited across the UK. Every single one of those items will be given to a patient and will give them a lift when they need it most. That's over 500 patients!
The biggest success is often that after we have gone, there are people who want to carry on with the project. From local fashion students, to a bridal company, to quilting groups - all who have wanted to continue with the project after we have left. In partnership with M&S we really are Sparking Something Good.
Nbrly: And lastly, on a personal level what was the one moment that made you decided to start Making for Charity? What happened that nudged you from thinking about it, to acting on it?MFC:
I'd been invited to Liverpool Women's Hospital with the children from the school where I had been making the bags. We'd made about 200 bags by this time and the response from the Macmillan Nurses was phenomenal. The bags had been so very well received, both from a practical point of view and also from the psychological lift that was given to the patients. The main comments were that it was lovely to have something home-made in a clinical setting, and how much it meant to know that people had taken the time out to make the bags. One lady, who had two small children was given a bag and said that when she went home the children didn't notice the syringe driver, mummy just "had a new bag". 
There were many other stories like this and I knew then that I couldn't just keep the need to myself.
It was then that I decided to do the website with the instructions so people could download them free. That's really when it all started. I had a directory of all the palliative care wards and hospices in the country and so when people emailed me I would find a local contact for them. I'd send out free starter packs and I'd help them to get going. Soon I had sewers/sewists and contacts from Aberdeen all the way down to Cornwall. I've never advertised. But now I have a Facebook page, Instagram and Twitter. Social media plays a huge part in attracting sewers and sharing stories. Now when you Google 'syringe driver bags' my site is the first to come up. 
People are making bags using my pattern in Montreal, New Zealand and America, that is the way of the web!
------
So there it is, Some real insight into how volunteering can impact charities and causes. When you lend a hand, you're playing a huge role in positive change without realising just how much it matters!
Feeling pumped and ready to go? You can find projects to help by visiting neighbourly.com/volunteering and look for a cause you care about. You
can 
make a positive impact, and we can help you get started.
- Matt
*Hearts pillows are made and gifted by Scotland-heidiheartpillowproject, if you would like to get involved click here