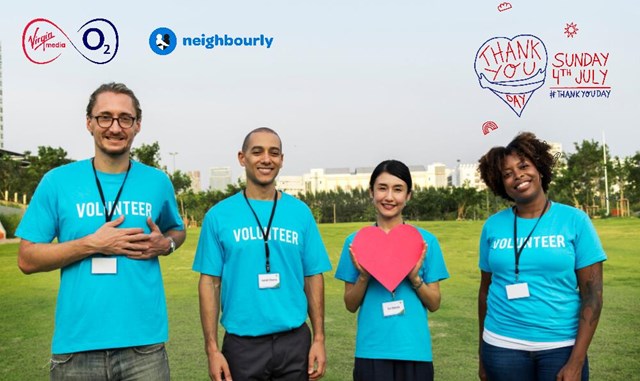 This month we were pleased to announce an exciting new partnership with Virgin Media O2.
At the start of June, Virgin Media and O2 formally combined to form Virgin Media O2 - now the UK's largest mobile network with a broadband network - and they've set up a brand new 'Together Fund' worth £500,000 to support local charities and good causes as the nation begins to emerge from the pandemic.
Neighbourly is incredibly proud to be partnering with what is now one of the biggest businesses in the UK to help them deliver much needed funds to local causes championing community spirit, belonging and togetherness across the UK.
Following a round of applications, 400 local good causes have been allocated a grant from the fund - with many of them nominated by Virgin Media O2 staff themselves.
Thank You Day
To kick things off - Neighbourly, Virgin Media O2 and all the good causes involved will be supporting the nation's first Thank You Day, coordinated by the Together Coalition on the 4th July.
Thank You Day is where millions come together in a small way in their local communities to give back and say thank you - to friends, family, neighbours, volunteers, postal workers, NHS staff and everyone in between that has helped us get through what has been an unprecedented time.
As part of this, many of the good causes in receipt of a Together Fund grant will be hosting their own micro-events to say thanks.
One cause taking part on the 4th July is The Spitz Charitable Trust which enriches opportunities for participation in live music in care homes and day centres.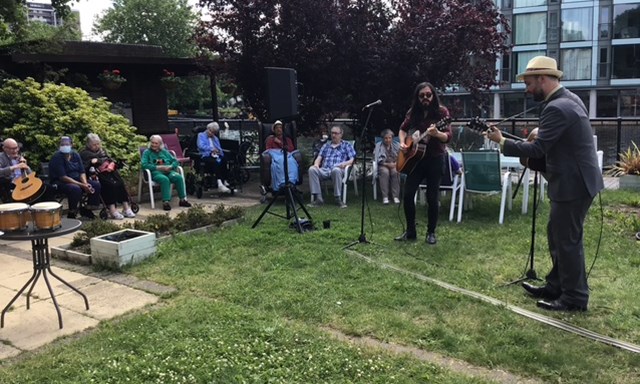 In Bridgeside Lodge Care Home (BSL) in Islington, where the charity's office is based, Spitz has been running outdoor live music sessions for elderly residents - using a tablet to relay the music to those unable to be outside - helping reduce feelings of isolation and loneliness.
" [Spitz staff] have ensured the continuity of happiness, emotional recreation and well-being"
Fatma Makalo, General Manager at BSL explains: "We've seen the special bond the Spitz staff have built with our residents. During the pandemic it's been a very dark time so it's been really important that we have some sort of joy. We knew the residents and staff loved music, that's why I felt the Spitz needed to spend more time at Bridgeside Lodge. It's ensured the continuity of happiness, emotional recreation and well-being."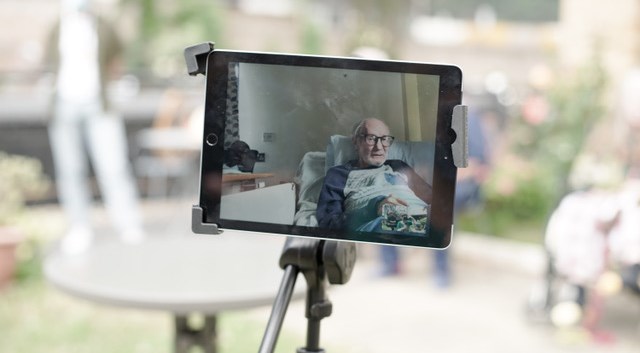 Spitz will be using part of the grant they received from the Together Fund to purchase two more tablets so that their live broadcasts can reach more isolated people unable to attend their sessions in person - including a special Thank You Day music event at the care home on the 4th July itself.
Bringing communities together
Not only will the Virgin Media O2 Together fund enable good causes to celebrate and say thank you on the 4th of July, but the fund will enable them to invest in initiatives that will bring communities together and improve wellbeing in the longer-term.
Live Unlimited, a charity that supports looked-after children and young care leavers in Barnet, will be using the funding towards their Outdoor Club.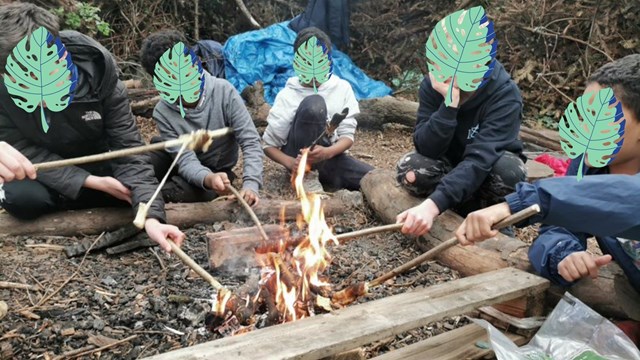 Outdoor Club gets looked-after children aged 9-13 outside enjoying forest school activities. These include using tools, making fires, cooking on a fire, climbing trees, swinging in hammocks and generally hanging out and having fun. The added benefit for these young looked after children is that Outdoor Club enables them to be around others who've experienced trauma and understand what they are going through.
"This is the first thing he has loved doing in a group"
Despite being only recently piloted, Outdoor Club has had a tremendous impact on the children involved. Foster Carer Mellie said: "He is absolutely loving it. It's the highlight of his week. He is autistic and doesn't join in things, preferring to be by himself, and this is the first thing he has loved doing in a group.
"The first time he went it was raining and I was worried he wouldn't like it, but he came back muddy and filthy and talked about all the things he'd done. It's just what he needed and has made a real difference to him."
Get involved
Whilst the Together Fund grants have now been fully allocated and applications closed, good causes and community groups can still get involved by celebrating Thank You Day on Sunday 4th July.
For inspiration, head to the Thank You Day website for guides and ideas for creating a special day. If you are doing something to celebrate Thank You Day, don't forget to shout about it on social media with the hashtag #ThankYouDay and tag @nbrly and @VMO2news on Twitter or NbrlyUK on Facebook.
If you're a business that's looking to find out more about the Neighbourly platform and our grant management programmes, please click the blue 'Info for businesses' button below.