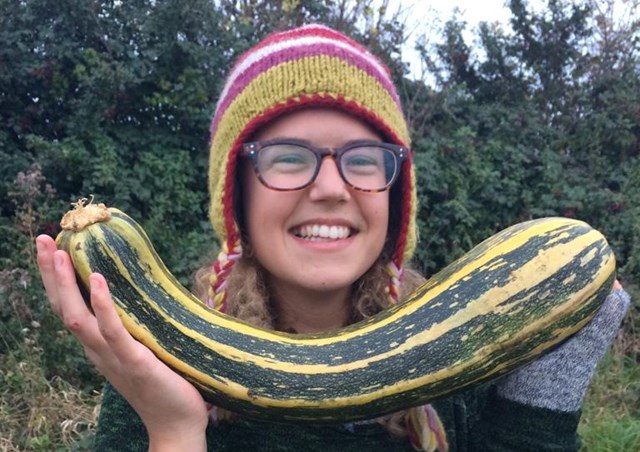 Here at Neighbourly we live and breathe local communities and good causes. So, naturally, one of our most cherished staff benefits is unlimited volunteering.
Yep, you read that right. Provided we get our jobs done, Neighbourly employees can take unlimited paid volunteering days every year.
It's something we take huge pride in and, whilst we're helping other businesses implement employee volunteering for themselves - it makes sense that we get stuck in too.
Shedding some light into what an employee volunteering day might look like, Alice - Neighbourly's Digital Marketing Manager, shares her day in the life, volunteering at the Community Farm near Bristol.
Volunteering at the Community Farm
The Community Farm is a not-for-profit social enterprise and community owned organic farm based in Chew Magna, near Bristol. As well as producing and delivering nature-friendly and nutritious organic veg boxes to hundreds of people in and around the Bristol area, they run a huge number of educational and wellbeing activities for all ages.
9am - Travelling to the farm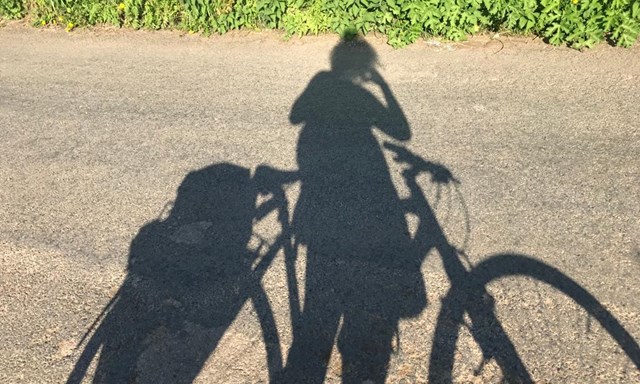 The Community Farm is set amongst beautiful countryside, right by Chew Valley Lake - about 10 miles from Bristol. As I don't drive, I hop on my bike and cycle over to the farm following a lovely quiet (and largely off road) cycle route (thanks Sustrans!). It's about an hour's ride but the weather is sunny and I'm glad to be outside enjoying the fresh air.
10am - Meet at the community farm yurt
About six people are volunteering at the farm today. Some have been coming for years and volunteer every week, others pop down when they can - but it's rare to see someone volunteer for the first time and not want to keep coming back.
We usually start our day by meeting at the yurt. The yurt is a space used for many different farm, volunteer and community activities. It's a fantastic space and even has its own pizza oven outside. There's lots to do today though, so we don't hang about.
Gardening gloves are donned, sun cream applied and water bottles filled, we get ready to start the day.
10:15 - Broadly speaking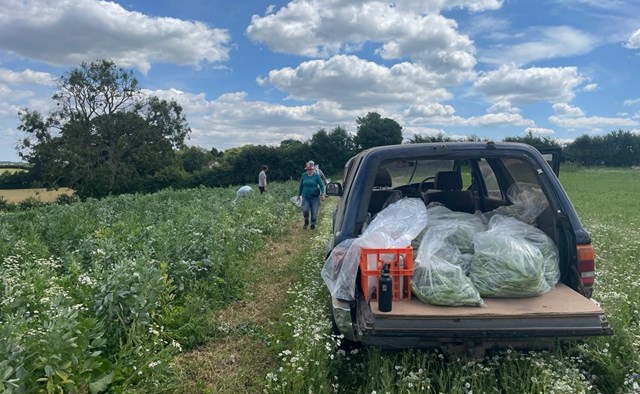 The first big job of the day is picking the broad beans. Despite having been picked by volunteers just a few days before, the smaller ones are already plumped up. After a quick lesson on picking technique and how to spot the biggest and plumpest broad beans, we get to it.
There's always some good chat from volunteer coordinator Ian whilst we're working on farm tasks. Today he is telling us all about this book he's been reading called 'Immense World' by award-winning science writer Ed Yong which talks about the amazing power of animal senses.
His favourite fact from the book was the discovery that just 1mg of Atta Texana (Texas leafcutter ant) pheromone could theoretically lead a column of ants round the world three(!) times.
Ants aside, I find picking broad beans quite peaceful and meditative and before I know it we've plucked over 80kg of broad beans between us. Time for some well-earned lunch.
1pm - Lunch (and cake)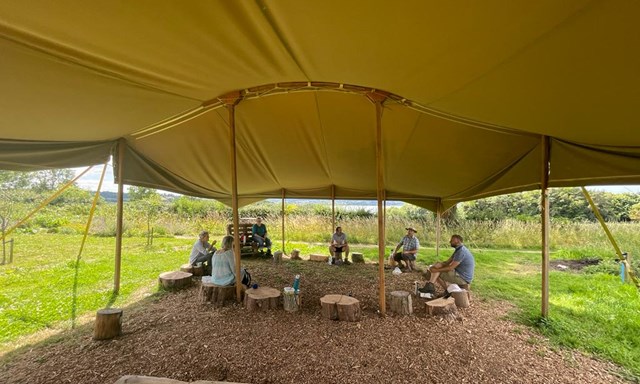 Sitting under the garden shelter we eat our lunch whilst chatting to some of the farm staff, one of whom brought cake as this was his last day working at the farm before moving on to pastures anew.
Not long into our lunch break, another team member comes rushing out of the kitchen. She's found a baby shrew in the sink! The farm is full of wildlife but this particular find is especially cute. Whilst little shrew doesn't seem too impressed about being removed from the sink, we feel it's in its best interests.
2pm - Heave hoe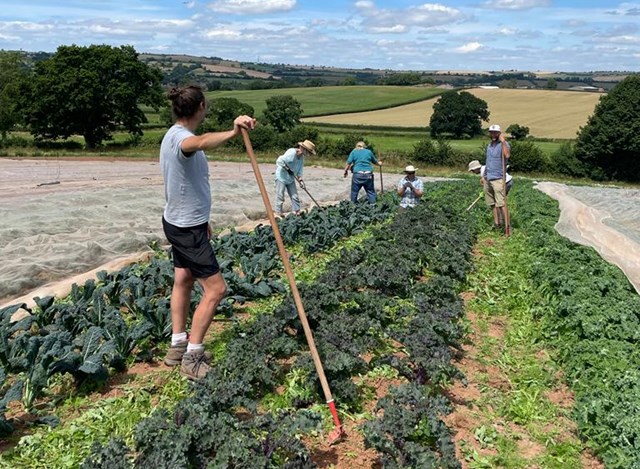 After lunch it's off to the brassicas. In organic farming, some weeds can be useful as they keep the pests out - but these lanes of purple kale and cavolo nero have become a little overrun. Time to give them some space with a round of hoeing.
Hoes are a tool that efficiently scrape away the weeds in between the plants and, with weak roots, proved quite a satisfying task. In just a few hours, we've cleared the weeds and it's time to wrap up for the day.
4pm - Get yer veg on the edge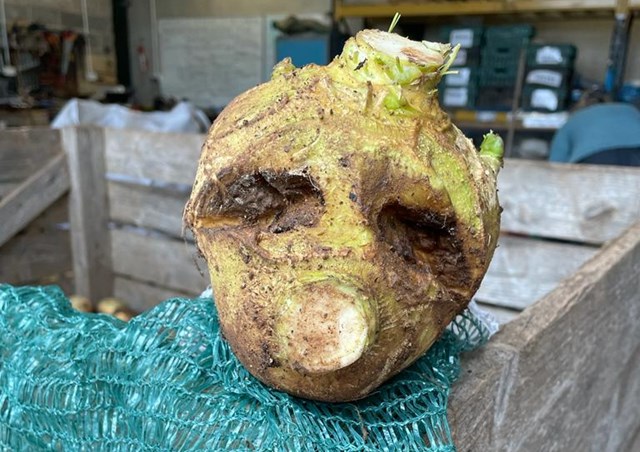 The Community Farm aims for absolutely nothing to go to waste. Their walk-in fridge contains a shelf called 'veg on the edge' which is a free-for-all for staff and volunteers to collect anything that's wonky or needs using up quickly.
I grab some courgettes, a green pepper, some broccoli and an amazing looking conjoined cucumber as my 'earnings' for the day.
Outside the fridge often sits a crate of veg that's gone a touch too far or is a little woody. This gets sent off to be fed to the pigs.
There is also a community of pickers called 'gleaners' in the UK that come to the farm to pick whatever's been left in the field. Home growers know that sometimes you just get such a huge glut of something (courgettes and runner beans seem to be common ones) that you just can't pick and use it all up - and it's the same at the Community Farm.
The gleaners that come to the Community Farm come to pick all that's left and transport it to be distributed by local food banks and community kitchens.
4:30 - Rolling home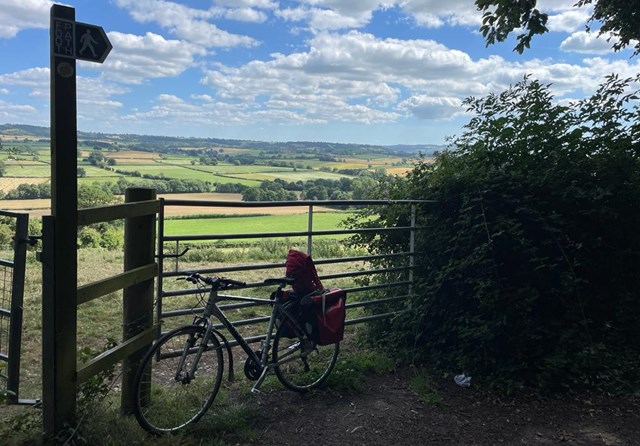 It's been a tiring but fulfilling day at the farm and I leave for the cycle back to Bristol with a smile on my face.
With the heat of high summer, I can't resist a little stop for rest and water at the top of this hill - plus it gives me time to enjoy the view.
Reflections
Being able to volunteer is incredibly important to me as an employee at Neighbourly - enabling connection to my local community to be something I can experience not only in my spare time but as part of my working life. At the same time, it's extremely concerning to see and hear about the impact the cost-of-living crisis is having on the most vulnerable people and the organisations that support them.
The Community Farm has been hitting the local headlines of late. Having lost 50% of its organic veg box subscribers in the last year, as many households cut down on spending, they are now on the brink of closure. Along with the thousands of small charities and good causes across the UK and Ireland, this crisis is already taking its toll - and it's the contribution of volunteer time, funding and the support of customers that will help prevent the collapse of this incredible web of community support.
It's also why it's ever more important for businesses to embrace or further embed their employee volunteering programmes. Not only so that staff can see that their employer is invested in the causes they care most about - but to enable real action by real people in communities during a time of immense suffering and hardship, allowing us all to weather the storm.
This year Neighbourly has released a brand new guide 'Volunteering: The Key to Employee Engagement' - if you'd like to find out more about employee volunteering or how to create scale and maximise a corporate volunteering programme, it's a great place to start.