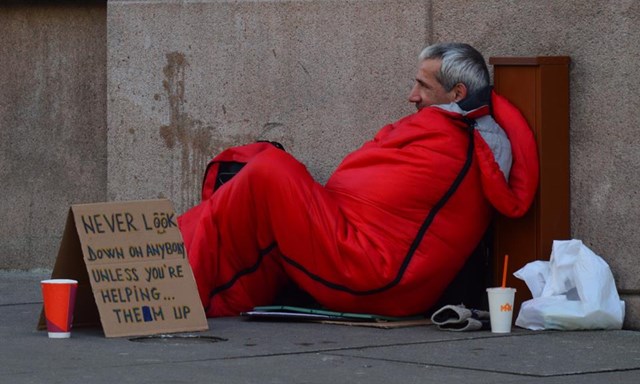 No Place Like Home is our new campaign aimed at helping anyone without a permanent home this Christmas, from those sleeping rough to those being provided for by foodbanks, temporary shelters or refuges. The Neighbourly website will provide a platform for more than 55 charities and projects across the UK, enabling them to reach local individuals who want to help. The requests for support range from funding for food items, warm clothing and sleeping bags and tents, as well as bags for belongings, toys and games.
Watch the campaign film.
Homelessness is currently at its highest rate since the 1990s, and local organisations (many of which are run by volunteers) are being forced to do more with their dwindling resources. Further pressure is being exerted because of local council cuts and less funding for homeless organisations, as well as cuts to mental health provision which has also led to a rise in homelessness.
Having a safe place to call home enables us to focus on our wellbeing, employment and social lives, but homelessness (or the threat of it) can happen all too quickly and easily. What has hit hardest is the reduction of support for local authorities, meaning that councils have had to cut back on support for those working with the most dispossessed. This campaign aims to support projects delivering essential services to people who, for whatever reason, need emergency support from a local charity - bringing them together in one place so that individuals and companies can contribute
We devised the campaign following feedback from our community asking for specific help this year as homelessness levels are anticipated to rise to the same numbers seen in the 1990s. We're hoping that business backers, keen to lend their brand to help raise awareness, and local individuals will contribute to the projects they care about through individual donations.
The homelessness crisis is currently at its worst. Officially, more than 4,130 people slept rough every night in the UK in 2016, a 16% rise on the previous year and more than double the 2010 figure. The true figure is many times higher. It is estimated that 62% of homelessness is 'hidden' because it includes people who become homeless but find a temporary solution such as staying with friends or living in a squat.
How to get involved:
Homelessness organisations who need funding or donations are welcome to join the campaign – please email hello@neighbourly.com for more info.