This weekend Bristol celebrated its new title of
European Green Capital
with a high wire stunt 100ft above the city! Bristol is the fifth city in Europe to be awarded the title, following on from Stockholm
(2010)
, Hamburg
(2011)
, Victoria-Gasteiz
(2012)
, Nantes
(2013)
and Copenhagen
(2014)
.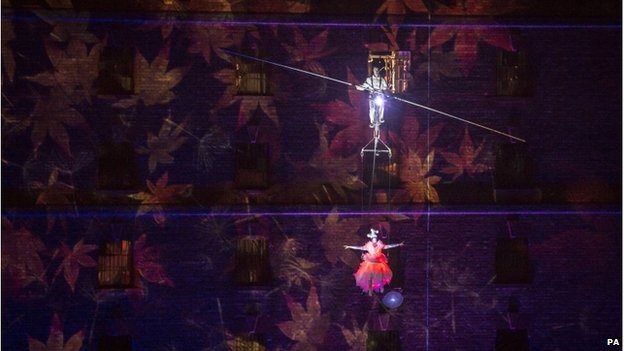 Image credit: http://www.bbc.co.uk/news/uk-england-bristol-30971105
World famous stuntman Jade Kinder-Martin and Hollywood stuntwoman Karine Mauffrey took to a high wire that ran 400ft between two landmark buildings in the Cumberland Basin - with Jade cycling across as Karine dangled beneath him in a trapeze. The daredevil stunt was called 
Bridging the Gap
, symbolising the difference between Bristol's green intentions and their actions.
European Green Capital is a 'prestigious annual award' designed to promote and reward the efforts of cities to improve their environment.
For
Bristol as European Green Capital
,
neighbourly
 provides the opportunities to bring together a connected society of voluntary organisations, local individuals, businesses and local government that can collaborate to improve the city's well being and sustainable future.Bristol (the first city in the UK winner so far) was awarded the title not only because of its ambitious goals for sustainable development, but for its high environmental standards, acting as a beacon of inspiration for other cities nationwide.
Image credit: http://bristol.studyinternational.com/
Over 40 years of pioneering environmental efforts have proved successful for Bristol's sustainable living. In the UK, Bristol uses less energy per household and has the highest cycling rate. A third of the city is devoted to green or open blue spaces and landfill has been reduced by 75%. In fact, 25% of Bristol's energy is sourced locally from its waste!
Check out the website for more brilliant local initiatives.
- Sophie