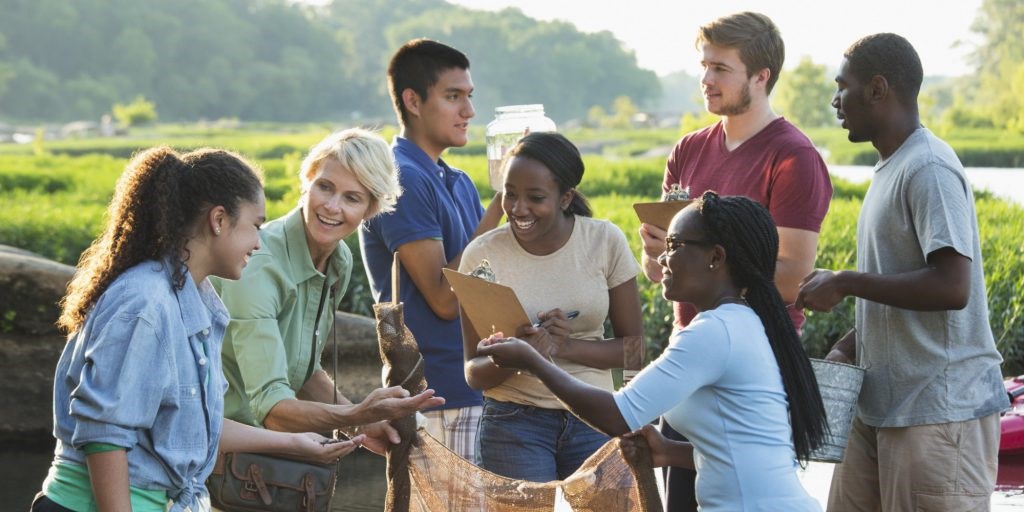 A guest blog by Louise Wratten, Volunteer Coordinator at Volunteer Bristol
1
-
12 June 2016 saw organisations across Bristol celebrating Volunteers' Week with afternoon teas, street parties, and even an assault course! So much of what Voluntary & Community Sector organisations do across the city is dependent on the time, energy and dedication of volunteers, from all walks of life. #BrisVol16 gave organisations an opportunity to thank volunteers publicly as well as to encourage others to give volunteering a try.
Volunteer Bristol @ Voscur pulled together listings of different events across the city as well as running a few of our own. There were loads of fantastic things going on, but here are my five highlights of the 12 day "week":
1.
 Meeting families and commuters during the Volunteer Bristol @ Voscur's #BrisVol16 launch at Junction 3 library in Easton. This event brought together local volunteer-involving organisations such as
Julian House Bike Workshop
, food courtesy of
Food Cycle
 and music from
the Gin Bowlers
getting everyone dancing. It was great to talk to people about how they could get involved during Volunteers' Week across the city, as well as to give people a chance to try micro-volunteering.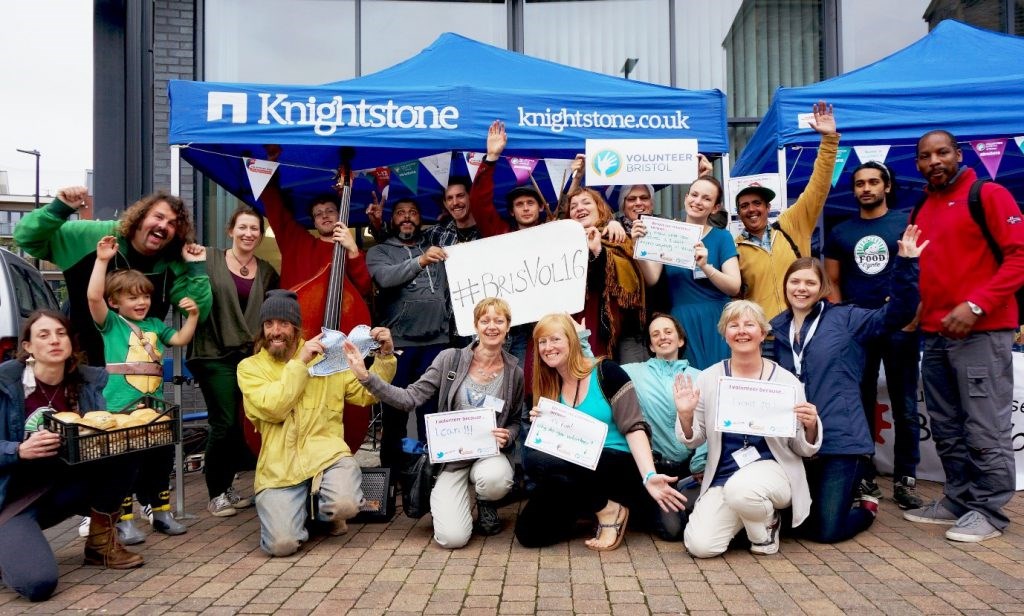 Junction 3 celebrations
2.
Interviewing local organisations and individuals about volunteering live on
Ujima Radio
.  Hosted by Volunteer Bristol's Yaz, we had a 2-hour takeover show to talk about the difference volunteering has made to people's lives and to organisations across the city.  Time flew by as we spoke to representatives from
Bristol Wood Recycling Project
,
Empire Fighting Chance
,
Kinergy
,
St Mungo's Broadway
,
Bristol Libraries
and the
Boost!
Programme. It was inspiring to hear volunteers talk about what motivates them to support a local cause, and exciting to hear about the sheer variety of volunteer roles that exist across Bristol.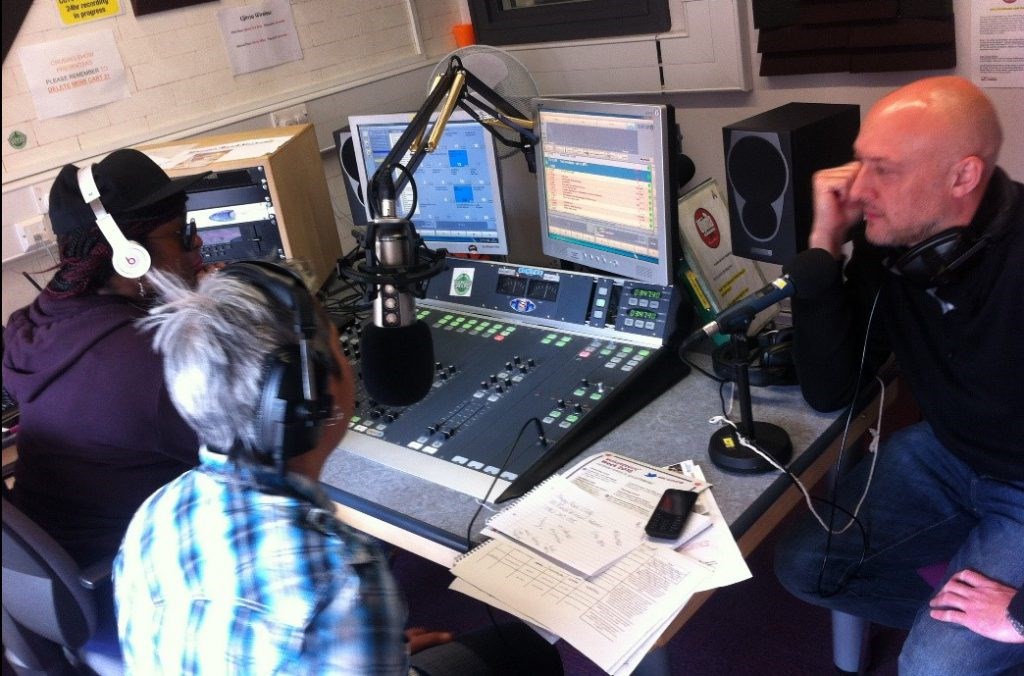 Yaz with Martin from Empire Fighting Chance
3.
Joining the celebrations of other local volunteer-involving organisations. The sun came out on 3
June as we opened the volunteer celebration on behalf of the 7 organisations based in and around Brunswick Square (
Second Step
, 
Bristol Drugs Project
, 
Bristol Women's Voice
, 
Big Issue
, 
Oxfam
, 
DHI
(
Golden Key
) and 
NACOA
. With 57 different volunteer roles and 813 volunteers, collectively they've benefited from 43,031 hours given by volunteers in the last year – that's 1,793 days! With sun, cake, stalls and live music we celebrated the contribution of all of those volunteers, who've incredibly been able to collectively support 3,499 service users in the last year.
4.
Touring the Bristol area throughout the 12 day "week" by running a series of volunteer recruitment events in partnership with Bristol Libraries. A particular highlight of these was heading to
Avonmouth Library and Community Centre
where we spoke to passers-by in the sunshine about volunteering in the Avonmouth area. It was great to meet the volunteers who set-up and run various clubs at the community centre, including the knitting club who decorated the community garden with colourful pompoms as a thank you to the centre manager, and the octo and nonagenarians who give their time every week to organising the short mat bowls club.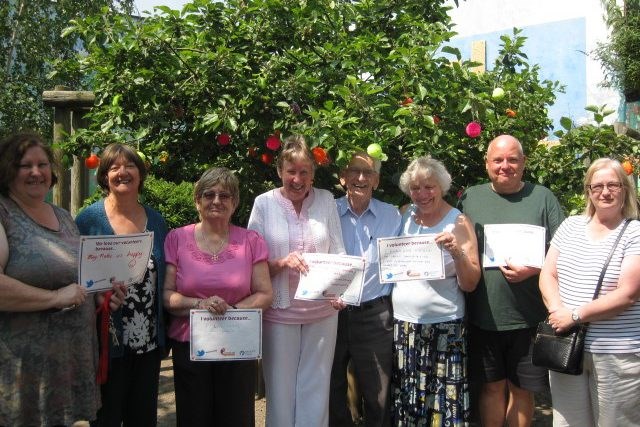 Avonmouth Community Centre manager Jac and volunteers around a pom-pom tree
5.
Celebrating our own volunteers with coffee and cakes to thank them for all they give to support the work of Voscur. We are a small team but very gratefully receive the time that our volunteers give to help us with evaluation, monitoring and research and to supporting people interested in volunteering through our Volunteer Centre drop-in and
Sustain project
. Many people come through the doors of the Volunteer Centre keen to support their local community but not sure where to start. It may be that they are new to the city, lack confidence, or are simply looking for a friendly face to talk them through the opportunities. Advisors at Volunteer Bristol provide just that at the public drop-in which is open Tuesdays and Wednesdays 11am-3pm at Royal Oak House near Queen Square.
It's thanks to their hard work that Volunteer Bristol @ Voscur was awarded the NCVO Volunteer Centre Quality Accreditation award, so a huge thank you to Angee, Barbara, Carol, Chris, Evelyn, Jon, Meri, Rosey and Sharon for all that you do! Nationally we celebrate volunteering for a week, but it's a fact that volunteers are great all year round!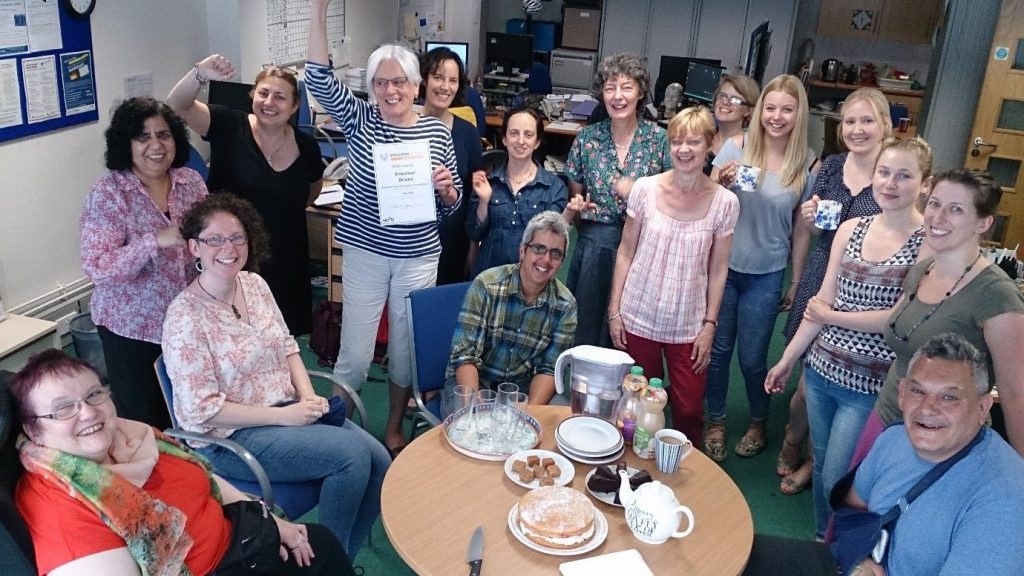 Voscur volunteers and staff celebrating the VCQA award during Volunteers' Week
For an overview of volunteers' week events across Bristol, check out #BrisVol16 on Twitter
here
.
- Louise Wratten, Volunteer Coordinator at Volunteer Bristol