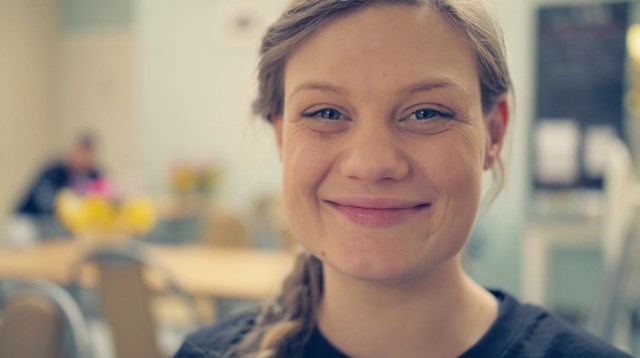 Every day, people all around the country are being neighbourly.
People like Marva at the Globe Community Centre in Old Trafford, a partnership of organisations who run activities for local families, in a place where local people can enjoy a moment of peace away from the stress of daily life. "We believe Globe means somewhere they can belong to" says Marva.
Marva's work is about people, about all those intangible things that make the biggest difference.
Places like the Globe Community Centre, people like Marva. This is what we're calling the 'glass half full society'.
And we need these people and these places, because sometimes it's hard to be an optimist.
This year's NCVO Almanac, which monitors many things about the voluntary sector, found that we're not making the time to help each other, with no material change in volunteering rates. And by far the biggest reason we are not volunteering more is because we feel that our work and home commitments mean that we don't have the time.
The Jo Cox Foundation, whose Great Get Together we are supporting this year has found that over 9 million people would describe themselves as always or often lonely. The answer to this problem couldn't be simpler. But the reality is that we're too busy to respond to this modern mental health epidemic, with one in five admitting to not properly listening to others.
And it's not looking like it's getting much brighter, with recent comments by the head of Ipsos MORI telling us that there is a sense of pessimism about the future in western Europe and increasing demands on our time, leading to a battle for attention.
Perhaps I'm being to harsh, taking a day out to volunteer might seem like a lot of effort, and maybe we don't want to get caught up in each other's troubles in case they end up taking up a lot of time. But how about the finding from The Eden Project Communities' recent report that 53% of us have never said hello or good morning to a neighbour. When did we stop having the time to say hello?
This can't go on. Disconnected communities are costing us £32bn. Which is why it's not just a matter of doing nice worthy things in the margins, but vitally important to come together to solve this malaise.
We know that with everything else on our plates, the red tape and apathy that holds us back, it's not going to be easy.
But we are unbowed by the challenge. Because there is a way of living that means that we're all more satisfied with our life. And it doesn't necessarily mean eschewing everything we love for a simpler existence, but finding ways to be more neighbourly.
Essentially, we are social animals and our ability to empathise is core to our being. Societies have always survived and flourished by pulling together as a group, identifying our skills, strengths, expertise and combining these to be stronger together. And we are all capable of living together in harmony by working together to find a constructive way forward to meet our common needs.
There was something in The Big Society idea that can re-materialise. A way of working together that blurs the lines about who should be doing what and starts asking how can we make it happen together.
So we've set up a platform where each of us can act. And every day, we're trying to find a way to make it easier to pull together, by giving people tools to be more, well, neighbourly.
We know that the debate rages about whether social media is connecting us or disconnecting us from each other, so why have we chosen to use technology to increase neighbourliness? Because it's not enough to be connected, we need to have high quality relationships. And, to us, this means finding ways to not just donate once, but to give people the opportunity to act often to support each other.
So, perhaps counter-intuitively, we'd like Neighbourly to help people get offline more, and to get involved in their communities. Our aim is to pull people together in the Cloud to bring them together on the ground.
We want giving to be much more than a moment of worthiness where we might do a good turn, put a coin in a collecting tin or volunteer once a year. We want it to be a way of life.
And we think that the more we all do good things, the more we can propagate and hard code doing good, to the extent is becomes habitual, rather than exceptional. And that means we can get back to what brought us together in the first place, supporting each other.
Day by day, each small act, done often, begins to add up into a place where each of us uses our resources to reshape how we live our lives. A chain reaction of good. Because we know that when you do just one thing, we're more likely to do the next. As the Institute of Fundraising found 63% have taken additional positive actions as a result of donating to charity.
We want to find ways of making this our comfort zone, our 'go to' approach, for all of us, every day.
So here's our six point plan for the 'glass half full' society:
· Get started: say hello to your neighbour
· Get involved with your community and find out what you can do
· Get connected to the opportunities that do good where you are
· Give your time, your money, your surplus things
· Do it again
·

Pass on the feeling




Perhaps that sounds too easy? Well that's because we don't think it is just about individuals digging deep - it's about a more sustainable approach, a deeper connection with our community through everything we do, and pushing together for a more responsible approach to the world around us. And it's better for all of us - the cost of isolation and disconnected communities is costing us £5.2bn on healthcare alone. Isn't that much better spent on the things that bring us together?