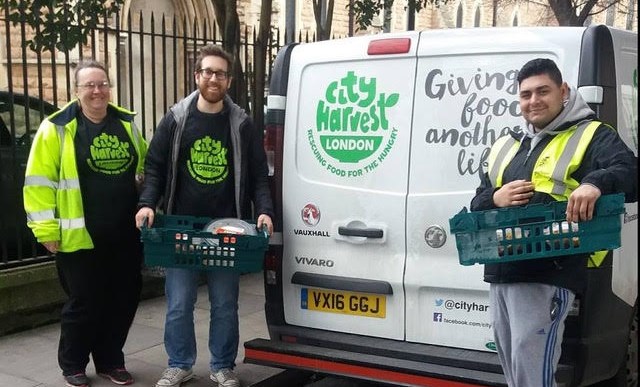 City Harvest's refrigerated vans are greeted with excitement – that's because they're bringing some of London's best food produce to help serve up a healthy and nutritious meal to those who need it.
"The chefs at soup kitchens and other community food programmes take as much pride in their cooking as chefs at any restaurant," says Laura Winningham, City Harvest London's CEO. "They appreciate good food, fresh produce and the chance to enable people facing adversity to eat great meals with dignity."
And City Harvest is just one of the recipients who's had a share of Neighbourly's one million meals – that's over 930 tonnes of surplus food that the platform has redistributed. Neighbourly's technology links retailers with surplus to organisations that need it, helping to keep perfectly edible food out of the bin and into hungry bellies.
The food that City Harvest collects and ultimately delivers in the community enables these chefs to "work with fantastic ingredients, that otherwise would have gone to waste, and for people to get nourished and turn their lives around."
Launched in the capital in 2014, the non-profit distributes to organisations that feed the hungry, from homeless shelters and soup kitchens to after school programs and centres for veterans.
Among other donors, Marks and Spencer helps City Harvest put high quality food on the table, and the technology has made this process simple and efficient, says Winningham.
Crucially, the surplus alerts - detailing what foods are available - give City Harvest a chance to do some advanced planning. "Each charity recipient has unique food needs and dietary requirements so we need to allocate food accordingly. When food donors don't give us advanced notice, it is more challenging for our drivers on their routes."
M&S stores across London alert City Harvest's logistics team whenever food is available – usually several times per week - and then drivers add these deliveries to their daily routes. Just one City Harvest van delivers 1,000 meals each day.
Winningham says that technology is an important step in valuing food in the circular economy in London. "By the end of the day, this nutritious food that might have been wasted has been delivered to deeply appreciative community meal programs and served in meals to vulnerable individuals whose lives are enhanced by the donations."
Surplus food donations have enabled City Harvest to feed thousands of people nutritious meals and continue to add more routes across London. "As we do this we hope to connect with more stores and make an even greater impact."
And it's important to City Harvest's drivers too, with many having at some point experienced adversity, food poverty or homelessness. "Our drivers appreciate the high quality of food collected and are proud to be making the deliveries," says Winningham.
Not only does this help the charities that City Harvest delivers to keep food budgets down, but these funds can be redirected into other vital services for their clients.
About Neighbourly
Neighbourly matches charity and community projects with people and companies that can donate time, money or surplus food.
Currently, the Neighbourly Food scheme sees between 90,000 and 100,000 meals donated per month.
Charities: join us! You can get your free project page started here
Businesses: email us about redistributing your surplus on hello@neighbourly.com