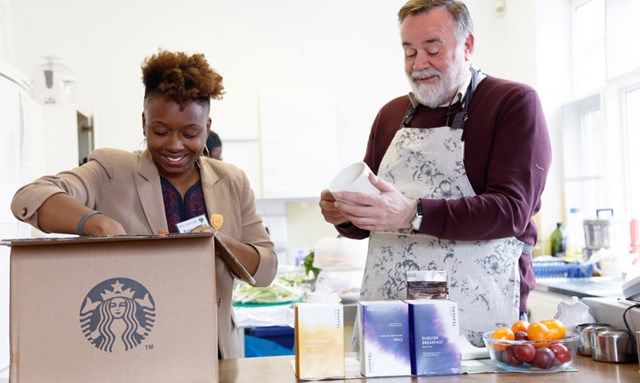 This week sees Starbucks UK, in partnership with Neighbourly, launch the second phase of its successful Community Café programme. This latest expansion will add a further sixteen cafes to the four already being supported by the scheme since August 2017.
The projects being supported are all not-for-profit cafes, based within community spaces up and down the UK – you can see the latest ones to join the scheme on Neighbourly. Starbucks will be supporting each one through their local stores with donations of essentials like tea, coffee, milk jugs, syrups and cups – for which they will be able to make regular orders. Local stores also hope to offer the support of their staff teams through training and volunteering.
Across the country, these community cafés have come to life in response to the individual needs of a local community. They are all run not-for-profit, with the focus being all about the benefits to the local community – providing good quality, healthy food and drink options at reasonable prices or on a pay-what-you-can basis for those who can't afford. They all have a strong social angle – acting as sociable, safe and welcoming meeting space for different community groups – with a focus on community cohesion and inclusion.
The K9 café in Ely – one of the latest 16 to be supported by Starbucks – started life as the brain wave of Chris Kent who had been running employability training for adults; 'The café gave us all a continuing safe place to meet, a chance to practice and develop skills and confidence in the real world – but in supportive environment. Gradually a team of volunteers emerged, who now run the cafe with my support and we've been going for over 3 years. People drop in to the cafe to meet other people – some bring their dogs, some do not have a dog of their own but love them, so they can come and share other people's dogs. We get a wide range of people come the cafe – from elderly people with dementia, young people on work experience, people learning difficulties, physical disabilities, mental health problems, social isolation, wheelchair users, people with autism, homeless people. Many have lifelong conditions and coming to the cafe helps alleviate loneliness and social isolation. Of course, the dogs are the bridge between the people – the glue that holds it all together, the ice-breaker, the thing everyone can talk about and enjoy being with. We don't get any regular funding – our only income is through proceeds from the tea/coffee we sell, and we try and keep our prices low as most of our customers are on low incomes. Starbucks support means we can maximise the incomes from hot drinks which will be such a help.'
Over in Lincoln, the Mint Lane Cafe is a social eating café that uses retail surplus food, cooked and served by volunteers. Part of the growing "Superkitchen" network, the Café receives deliveries of food which is destined for waste, from local suppliers. From this they prepare and serve fresh nutritious lunches at affordable prices three days a week. It also offers surplus food for sale on a "Pay as You Feel" basis. As well as this they have a highly successful "Pay it Forward" scheme through which customers can donate a meal to someone who cannot afford it themselves. Vouchers are issued for every £3 donated, then distributed through partner agencies to people at risk of food poverty – giving them a free 3 course meal from the day's menu at the café. The café is open Thursdays, Fridays and Saturdays between 10am and 3pm, with the menu changing daily according to what rescued food arrives.
Charles Cooke, the Mint Lane Café manager tells us; 'The primary purpose of the cafe is to provide a warm and welcoming environment for people who use the centre, as well as reducing food waste and fighting food poverty. The café relies on many volunteers undertaking a variety of roles; cooking, serving, managing food donations, cleaning, collecting local food surpluses and in the back office. I love watching the transformations of people… staff, volunteers and customers as they grow, become more confident and develop new friendships. We give a warm welcome at the door for everybody and especially those who might be a bit nervous about new places and new people. Large tables encourage people to sit together and make friends.'
Possobilities, further north in Glasgow, is a small social enterprise café which caters to everyone in the community, but mainly people with disabilities. The café serves 70 people each day and offers a safe place for local people to come and meet without any prejudice. Jim McCabe runs the café with 10 volunteers; 'Our café is not for profit, so any generated income is always a bonus. Many of our members and customers are on low incomes so a Starbucks coffee is seen as a real luxury. We have won the Glasgow Evening Times Community Champions Award for our initiative and we're about to launch a specially adapted Gym for people with disabilities that we have been fundraising nearly 4 years for.'
Support the campaign
You can support your local community cafe by popping in for a cup of tea or coffee, or maybe you could 'pay-it-forward' for a future customer in need. You'll find the cafes taking part in this programme on the campaign page - with more being added in the coming months. Follow and share their project pages across your social channels with the hashtag #StarbucksCommunityCafe to make more people aware of the amazing work they do.
If you're a community cafe looking for support, get in touch: starbucks@neighbourly.com