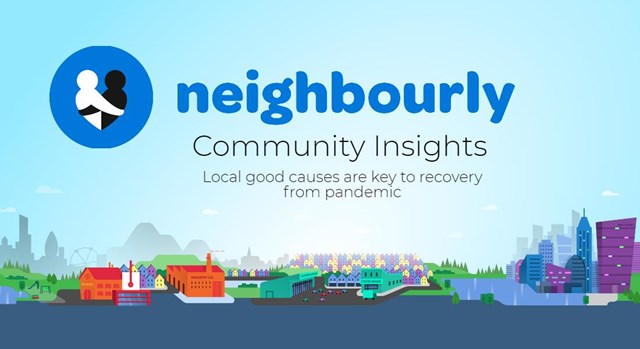 This Spring, over 1,200 of the small charities and local good causes registered with Neighbourly got involved in our quarterly Community Insights survey - offering a birdseye view of the impact and challenges faced by community organisations across the UK and Ireland.
Responding groups ranged from food banks, community centres and homeless shelters to disability charities, youth clubs and religious organisations.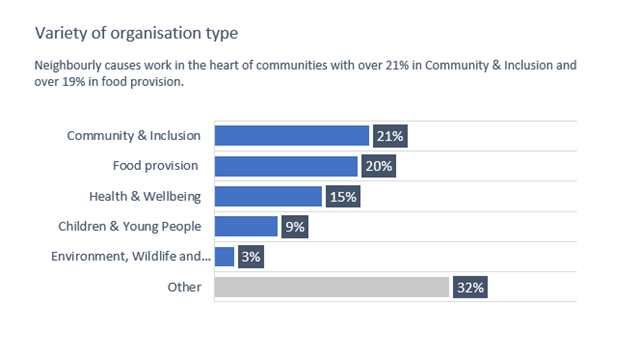 Whilst the results of these community insights highlight ongoing challenges - they are also incredibly empowering as they show us the types and scale of support that is needed to build healthy, thriving communities across the country.
Demand continues to rise
Previous Community insights from across the last year have put into numbers the devastating impact of the Covid-19 pandemic on the most vulnerable in our communities, which has been demonstrated by rising demand for services offered by community organisations.
Whilst the UK is now moving out of its third lockdown, demand for support has not slowed. In the last 3 months, almost 7 in 10 local community causes have experienced a further rise in demand for services.

In terms of how this translates into numbers, in November/December 2020, the average number of people local good causes were supporting every week was 365. By March/April 2021, this average had risen to 393. This equates to an increase of over 7% in just four months and 171% increase since before the pandemic began.
Looking forward, three quarters of organisations expect that demand will continue to rise over the next 3-6 months, reflected in rising concern over increased levels of poverty, food insecurity and mental health problems that in many areas have worsened during the pandemic.
Recovery from the pandemic
Despite the immense challenges faced by those on the frontline of our local communities in the past year, the majority of local good causes (62%) feel that their organisation is beginning to recover at least a little and 7% feel like their organisation is starting to recover a lot. For almost a third (31%) however, they do not feel their organisation has started to recover at all.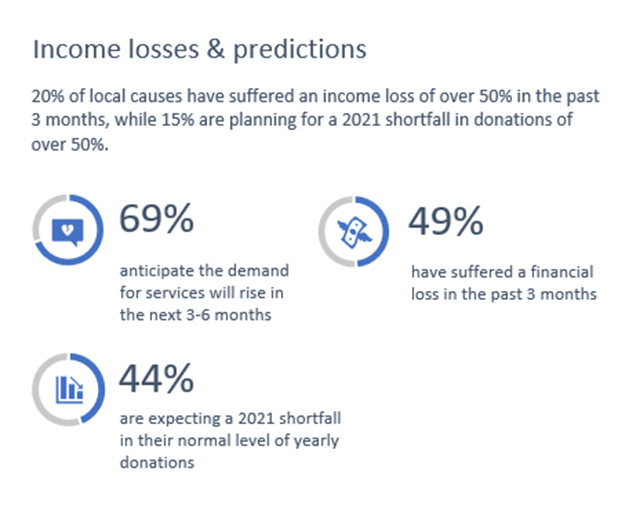 Many community organisations are planning for a large drop in donation income, with 6 out of 10 organisations expecting at least a 25-50% shortfall in financial donations compared with normal levels. 3 in 10 are predicting financial donations to remain steady, whilst only 10% are expecting a rise in donations.
Sustaining communities
One of the key solutions to ensuring these essential organisations have the resources to support our communities is understanding their needs.
According to these community insights, the greatest requirement for these groups is funding for running costs, followed by funding to purchase items to support service users, food donations, regular volunteer support and donations of other non-food items.
Future concerns
With the pandemic putting many communities into extremely difficult situations, local good causes are playing a critical role in supporting the most vulnerable with basic services, as well as building upon the structures that will nurture our wider communities back to health.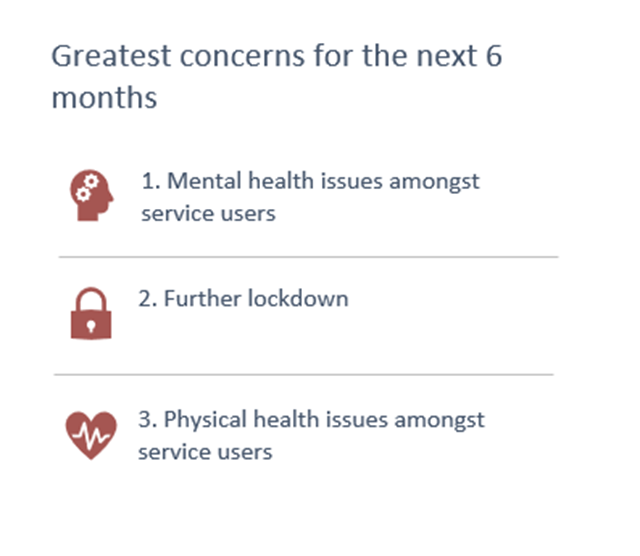 For these organisations, the mental health of their service users is their number one concern. It's no surprise that, after months of isolation, rising poverty and insecurity, this concern spans all types of community causes - whether mental health focussed or not.
Last month, the Royal College of Psychiatrists warned of a worrying rise in both adults and children referred to NHS mental health services in England - including a 20% rise in children and young people referred for emergency mental health treatment.
As well as mental health concerns, organisations fear further lockdowns and worry about the physical health issues of service users, increasing numbers of people to support and the financial stability of their organisation.
What is evident is that with public health and local authority services facing huge levels of strain, more of this vital work is being taken on by small charities and local good causes who are stepping up to support those who are struggling the most.
Collective action
Whilst the concerns raised by community organisations pose a challenge - they also offer an incredible insight into the direct action that can be taken.
Local good causes and small charities are unique in that their tailored approach to individual communities, which means that even the smallest amounts of support and funding can go a long way - generating a phenomenal impact on the health and happiness of society, the economy and the environment over time.
Keeping critical community services not just running, but thriving, is more than possible with collective action.
For many of the community organisations registered with Neighbourly, food insecurity in their local area has become a huge focus.
In part two of our Community Insights (Spring 2021), we will share more of the insights from these groups and from the latest government research to paint a clearer picture of how we can best support the vital work of our local good causes going forward.