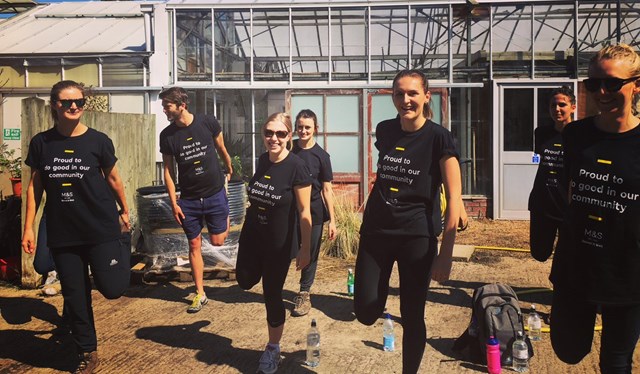 You may have noticed teams of hard-working volunteers from Marks and Spencer out and about in a community hub near you. Perhaps you've seen them building a new accessible seating area at your grandchild's school or decorating a local hospice that has earned the thanks of M&S customers and employees alike... Intrigued? Read on to learn the incredible story behind this UK and ROI wide celebration of community!
Good deeds build great communities. Every hour we spend volunteering for a community organisation is another hour they can spend helping someone in need.
During 1-10 June, 7000 M&S teams from over 650 stores are donating their time and skills to transform essential community projects up and down the nation. Many of the chosen projects have already received donations of surplus food or raised funds alongside their local store. Now they are going to benefit from some free helping hands, which makes all the difference in a sector where resources are being stretched further every day.
Here are just some of the inspiring causes that have been chosen to take part in the activity.
On 1st June, to kick off #SpendItWell, Brixton Soup Kitchen welcomed volunteers from M&S Brixton Road to make-over part of their building that had not been painted in over twenty years!
This is the second time the soup kitchen has received helping hands from their local M&S store. In 2015, a team of passionate local people and staff members helped to transform the food bank in just 24 hours. It was heart-warming to see the surprise and delight on the faces of people who rely on this community space for food and support.
In the words of Solomon, the dedicated Brixtonian behind this remarkable project: "This means a lot to the Brixton community because a lot of people don't believe that companies like M&S will come down and help them out."
Knowing that people from a nearby store are willing to give up their time to improve their environment makes a massive difference. It shows that people from all parts of society care about their well-being and want to come together to support them. This is a real boost for those experiencing food poverty and for the regular soup kitchen volunteers who give their time day in, day out to help rebuild the lives of their fellow Brixtonians.
These days, even more 'affluent' areas of the country are home to families that are struggling to support themselves. The Dalgarno Food Bank prepares weekly bags of groceries to help people living in hardship in Kensington and Chelsea. You may be surprised to hear that the project regularly sees up to 90 recipient customers weekly. The inspiring team behind the food bank works tirelessly to help people find their feet again.
As George from Dalgarno Trust explains: "We live in an amazing society, but there are increasing challenges in making sure everybody has the chance to participate." Collectively, individuals and businesses can give more people the opportunity to feel part of society again. Dalgarno receives regular help in the form of financial and surplus food donations from nine local M&S stores who have combined their support for such a wide-reaching cause in their community.
The volunteers visiting this important food bank as part of #SpendItWell are certainly not afraid of hard-work! They'll be carrying out a deep clean of the 5000 square foot community building that houses the foodbank along with the Trust's other essential projects. The team will also get stuck in clearing and maintaining bushes and creating a neighbourhood garden with surplus flowers from M&S that have been brought back to life with some green-fingered TLC. This just goes to show - all lives have the potential to thrive if they are given a second chance!
Royal National Lifeboat Institute
The Royal National Lifeboat Institute in Durham and M&S Dalton Park Outlet have been organising collections in the store for the last two years. Although this is only a small outlet team, they have raised an incredible £33k+ together, showing what can happen when different parts of communities come together for a common purpose.
At the helm of the RNLI branch in Durham is a heroic fundraiser named David, who remembers the first day he went into an M&S store and the manager told him he could collect there any time: "She may not have quite realised what she was letting herself in for!" David jokes. Since then, they have held 82 collections in the store and nurtured a friendship that will last well into the future.
To celebrate #SpendItWell, volunteers from M&S Dalton Park will join David and RNLI mascot 'Stormy Stan' at Seaham for a big beach clean to raise awareness of this essential charity that saves lives at sea. Good luck Stan!
M&S Birstall is working with the local community to run a Great Get Together inspired by former Batley and Spen MP Jo Cox, who was killed nearby in Birstall on June 16th last year.
As Jo Cox said at her first speech to parliament: "We are far more more united and have far more in common than that which divides us." The Great Get Together believes there is a groundswell of people who reject divisive politics and simply want to bring communities together and celebrate all that unites us. There are over 100,000 get togethers already planned for the weekend.
As part of Spend It Well, the Birstall store will invite customers and family members into the store for a delicious coffee morning with activities for all ages to enjoy. Bringing neighbours together in one place to make shared memories is how we can all play our part in helping communities feel closer and more united. Why not organise a gathering yourself?
This charity on the Isle of Bute was set up by the family of a courageous boy called Calum. Families can visit the cabin to make lasting memories and stay in a safe and warm place, which is important for children who have cancer and cancer-related diseases. The charity also pays for the ferry to Bute and makes it possible for them to take part in activities whilst they are there.
The whole thing was Calum's idea. After all, he and his family lived in a beautiful part of the world. Wouldn't it be great to have children suffering from cancer come to Bute and make special irreplaceable memories?
So his family set to work. They rallied the whole community to make Calum's idea come to life. A local electrician donated his time to wiring up Calum's Cabin. Lots of other people got involved by donating materials, time or gifts of money.
This week, volunteers from Marks and Spencer will be completely re-vamping Calum's Cabin Charity Shop in Paisley, a busy store that raises a significant amount of money for the cause. Not only will they give the whole shop a new lease of life, but the volunteers will use their expert visual merchandising skills to make the most of every single donation ready for the grand re-opening.
M&S Head Office aren't going to miss out on this opportunity to help their local communities! Volunteers from the London office are heading to Certitude's Activity and Resource Centre, a space where people with learning disabilities can enjoy arts and crafts, music, cooking, gardening, sport and explore the local area.
Volunteers from M&S will help to develop the beautiful sensory garden and build a pizza oven that will be used to cook meals for Certitude's Food for Thought group, a pioneering mental health project based at the ARC.
As Sam from Certitude explains, "If you have Down Syndrome or autism, that becomes a bit of a lightning rod for all your support; it's all around that disability, because it's the most obvious to anyone looking in. Many people we support find it hard to manage stress and bereavement, things escalate and someone's quality of life can begin to deteriorate."
Food for Thought is a small group of people with learning disabilities coming together with a trained therapist, making a meal from scratch together with food grown at the project and talking about their lives. During the sessions, they discuss coping strategies and how these can be applied to real-life situations. At a time when services for people with disabilities are becoming increasingly important, truly unique projects like these are worth shouting about.
LOROS Hospice – ColourFun Mile Run
The Colour Fun Mile in Hinckley is a fantastic example of how lots of people from different walks of society can gather their combined forces to make a big splash. LOROS has seen more and more people throw themselves into this fundraising extravaganza, somehow making it even more colourful every year!
The run has a real fun, family-friendly feel to it, with a focus on "brightening" people's lives. This is something that LOROS rightly prides itself in being able to do for people who may be going through a very a challenging time. The power to bring a smile to someone's face when they or a loved one is experiencing terminal illness is a very precious gift.
This year, the ColourFun Mile Run is part of #SpendItWell and it's shaping up to be even bigger and better than before. We're sure the M&S volunteers will do themselves proud by throwing even more colours into the mix!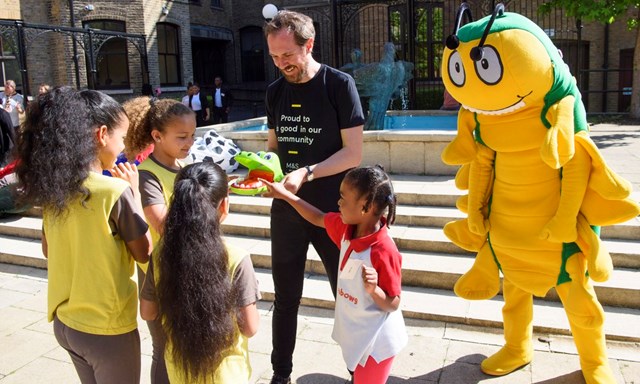 The volunteering events happening during 1-10 June are part of something very exciting. By 2025, M&S want to ensure that everything they do has a positive impact on people's collective well-being, communities and the planet. Each store is committed to making a marked difference where its employees live and work - from helping 10 million people live happier, healthier lives, to helping to transform 1000 communities, to becoming a zero-waste business.
If you're feeling inspired by the energy and compassion being poured into communities every day, you're not alone. Here at Neighbourly, we see more and more people signing up week upon week to support causes that mean something to their community. Could this be the perfect moment to think about how you could get involved in making your local area a better place?
You can help right now by getting these stories out there, making more people aware of the work being done to improve people's lives. Follow these Neighbourly project pages to show your support and share their pages with your friends, family and colleagues.
Together, we can help everyone choose a way to #SpendItWell. Great communities are being built – one good deed at a time...