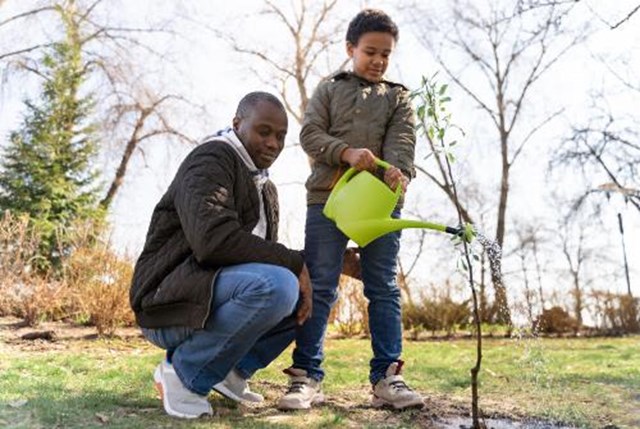 Neighbourly has today launched its new Seeds of Change programme, bringing together support from Southern Co-op, RSA, Cadent, Coca-Cola EP, Danone and M&G to help small charities and good causes have a bigger positive environmental impact for local communities.
"Seeds of Change gives businesses and local communities a way to come together in the lead up to COP26 and beyond"
Seeds of Change will enable businesses to donate volunteer time and/or grants to small charities and local causes across the UK, helping causes to create green spaces for local communities and reduce their CO2 emissions.
It's critical to involve community causes in accelerating responses to the pressing environmental and societal challenges we face", says Steve Butterworth, CEO at Neighbourly. "Seeds of Change gives businesses and local communities a way to come together in the lead up to COP26 and beyond – translating the enormity of the climate crisis into meaningful action at a local level."
Holly Bramble, Community Lead at Southern Co-op, adds: "Urgent action is needed to tackle climate change. We already have our own ambitious goals across our retail, coffee and end of life businesses but we can't stop there. Co-operation is essential and we hope this latest funding will act as a springboard for lots of local causes and charities to take action and have a direct impact on carbon reduction. We're excited to be working with Neighbourly to make a positive impact on all of our futures."
"Our employees are itching to get back to supporting the charities close to their hearts"
Support will be directed to a wide range of vetted local causes – including mental health charities, community centres, youth organisations, schools and environmental volunteer groups – who can deliver measurable, high-impact outcomes.
Green spaces are proven to support people's wellbeing by reducing depression, anxiety and stress. But only 35% in the lowest-earning households in England are currently within a ten-minute walk of a natural green space, compared with 59% of the highest earning households.
Delivering seeds of change
Seeds of Change will enable national businesses to direct targeted support to communities where environmental changes are needed the most by engaging and supporting local causes and community groups in these areas.
Micro-grants will be directed to local causes for planting and environmental activities, using an existing seed-fund of around £100,000 from a selection of Neighbourly partners. In response to almost two thirds of local charities in Neighbourly's network saying they need volunteer support with their greening programmes, businesses will provide their employees with opportunities to give their time and skills to help with environmental projects. Businesses will also engage with good causes to support them with climate education programmes.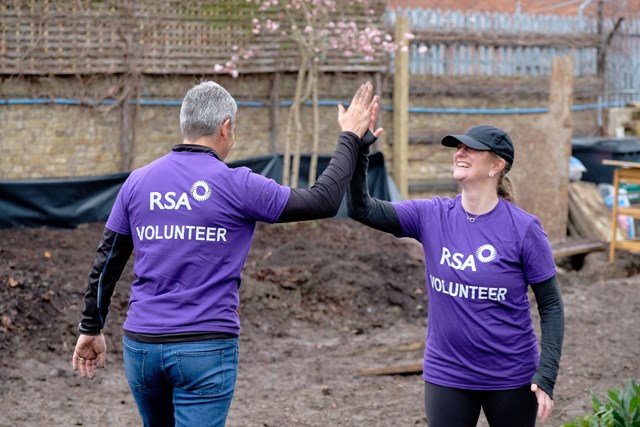 Head of External Communications at insurer RSA, Alex Jones, tells us: "Our employees are itching to get back to supporting the charities close to their hearts by volunteering their time, skills and fundraising efforts to make a real difference to their communities. Seeds of Change is a fantastic scheme to facilitate this work and by targeting the creation of green spaces can enhance communities across the UK."
Commitment to carbon reduction
New Neighbourly research also shows that over two thirds of local charities (66%) think it is very important that they commit to carbon reduction or carbon offsetting measures.
For businesses, Seeds of Change presents a real opportunity to offer support at a local level. Hannah Cornick, Head of Sustainability & Social Innovation at Danone UK & Ireland, says: "We believe the health of people and the health of the planet are interconnected, so we're proud to back Seeds of Change as a tangible way to ensure greener neighbourhoods while also providing important wellbeing benefits for local people.
"Danone UK & Ireland is taking action to accelerate a low carbon, greener future across our operations. And while we may be a global business, our approach is fundamentally local – so we know it's important for responsible businesses to look beyond their own operations to support charities and local community organisations to drive change from the ground up. Collective actions like the Seeds of Change programme can really make a measurable positive difference for our communities."
Environmental Grants
As part of Seeds of Change, environmental grants will be administered by the Neighbourly Foundation, launched in 2020 as an independent charity arm to respond to an increase in local need during the pandemic. Since launch, the Foundation has provided more than £3.6 million in micro-grants to over 4,800 local charities and community causes, supporting an estimated 1.6 million people each week.
Successful causes will be vetted and selected through an application process on the Neighbourly platform. Grants will be awarded for activity delivered from October 2021 to Spring 2022 that will have a sustainable and direct impact on carbon reduction, or will protect natural habitats and local biodiversity. All activity and outcomes will be measured and reported.
Steve comments: "If we really want to build back greener and better, we must prioritise local action built on local insights. We're confident that Seeds of Change can help to ensure healthier, happier and thriving communities and we're calling for any other businesses wanting to support local communities through environmental programmes to join us. To deliver big goals and achieve maximum impact we must think local."
Neighbourly and its business partners are calling for any businesses that want to support their local communities to back the Seeds of Change programme. To get involved, click the blue button below and get in touch or visit the Seeds of Change campaign page for more information.