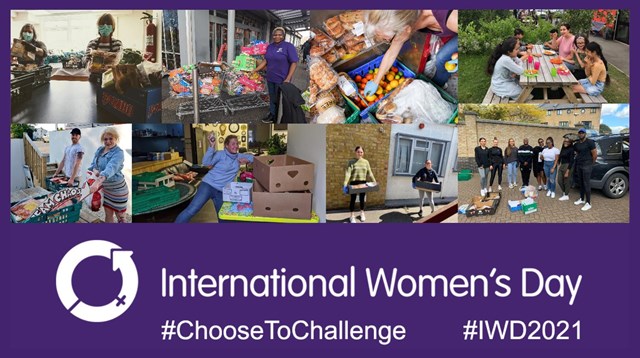 Today is International Women's Day - a day for celebrating the achievements of women in a world that has a lot of work still to do to overcome gender inequality. This year the theme is #ChooseToChallenge.
Aptly put on the International Women's Day website, "a challenged world is an alert world and from challenge comes change."
In response to this year's theme, we wanted to take a moment not only to celebrate the successes and achievements of women in the small charity and community cause sectors - but also to take note of the challenges they face as they work to support those in need in our local communities.
Our most recent community survey of over 2,200 local good causes registered on Neighbourly took a deep dive into the makeup of the people that run the charities and groups through the platform.
The results showed that it's majoritively women running these grassroots community causes with 73% of group leads identifying as female.

It would be easy to assume that all these women are volunteers, carrying out this vital community work in their spare time. In fact, 17% of female respondents were the founders of their organisation.
What's more, if you add together the most senior leadership roles within organisations (e.g. founders, directors, trustees and senior managers etc), women take up almost half of those roles (43%). A further 20% are working as managers and 20% as staff members. Just 11% of female respondents are volunteers.
For females from a black or minority ethnic background, the shift to leadership roles was even greater with 53% in senior leadership roles.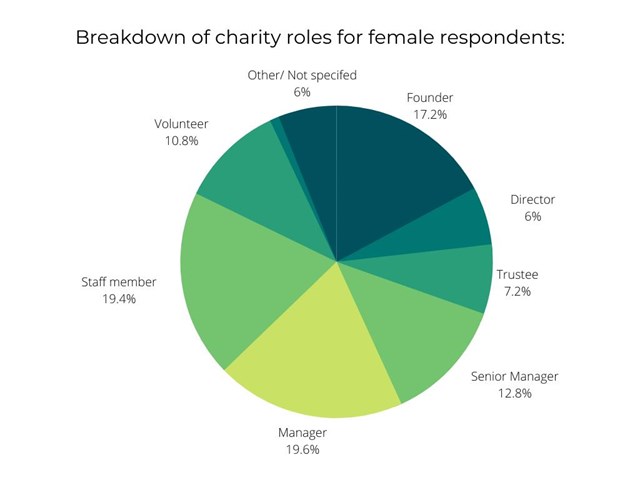 That is in stark contrast to the for-profit business sector where, according to the gender statistics database, even some of the largest companies in the European Union have poor female representation in leading roles. In 2020, just 19.3% of executives and 7.9% of CEOs were women - and that's not even accounting for other factors such as race and ethnicity.
Of course, community organisations are not immune to this bias. Male respondents only made up 26% of respondents of our survey - yet a greater proportion (60%) are in a senior leadership role.
That said, in an industry that works at a local level, it's critical that the support structures in place - whether through small charities or informal community groups - are reflective of the communities they serve. So it's incredibly encouraging to see that these grassroots groups are able to defy bias and self-organise in a more representative way to fight for the changes that matter to their communities.
Unofficial contributions
Whilst the leadership makeup of small charities and good causes is showing promising progression in this sector, it's important to consider the extent of the work that's being done.
For example, 34% of female respondents (excluding trustees) reported that they were not paid for the work that they do. With around 9% carrying out some paid and some unpaid voluntary work.
When looking solely at women in senior leadership roles overall, the percentage who are unpaid actually increases, to 41%. For female good cause founders, just 16% reported that they are in a paid role.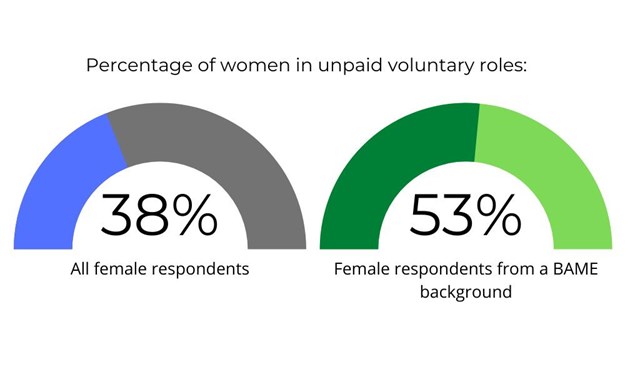 Structural inequalities run deeper than gender however, with 53 % of women from BAME backgrounds carrying out solely unpaid voluntary work for their organisation. For BAME women in senior leadership roles, this increases to 57% in unpaid voluntary roles.
Full Time Community Heroes
When it comes to the number of hours worked by women in community organisations, those who are unpaid do typically work less than those who are paid. However, that's not always the case.
Over half (62%) of female unpaid volunteers work 20 hours or less for their organisation, whereas the majority (61%) of female paid staff work 31 hours or more.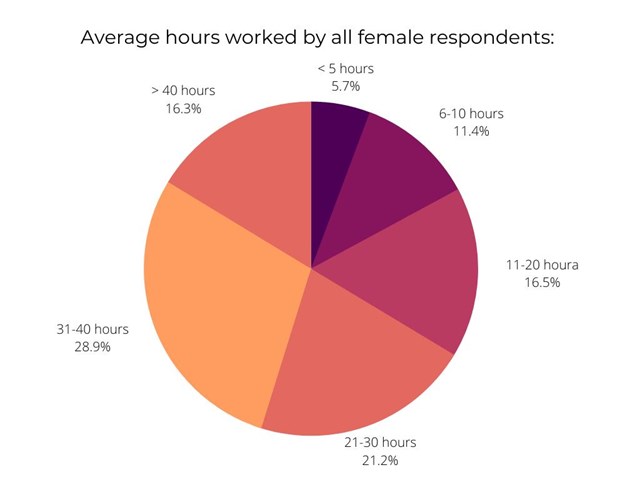 Nonetheless, a substantial one in ten unpaid female volunteers put in more than 40 hours a week for their organisation - which puts them on par with the average UK full-time worker.
Whether paid or unpaid, it's clear from these figures that women interacting with Neighbourly through their organisation are putting in significant hours and dedication to their local cause and community and it's important that this is recognised.
Mounting Pressure
Other community surveys carried out over the past year have shown that the Covid-19 pandemic has had a wide reaching impact on local good causes, leaving them short on funds and time.
For women responding to this latest survey, two thirds said the Covid crisis had led to them working more hours within their organisation than previously. For women who are unpaid, this increases to 73%. Women from a BAME background are most likely to have had to increase their hours due to Covid at 79%.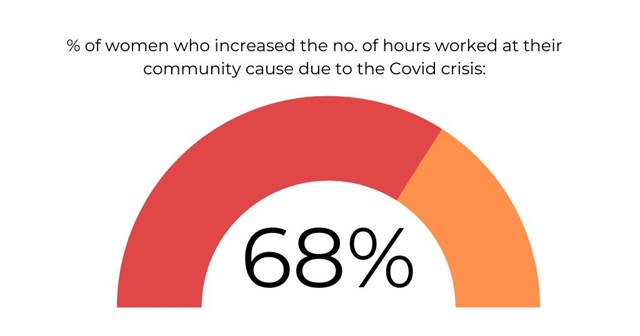 Whilst the main motivations for this work are noble and valid - with 84% saying their main reasons are to help people and to make a difference - the amount of unpaid work and increasing pressure put upon the groups supporting our communities is of great significance.
Communities challenging inequality
The UK Government estimated that the charitable sector's contribution to the country's economy is around £17 billion.
However, many of the groups registered on Neighbourly are not registered charities, they are small community groups that were formed by local people in direct response to local need. When these groups are taken into account, the impact is likely far greater.
More recently, a report by Pro Bono Economics revealed the charity sector's contribution to the economy could be as much as £200bn per year when taking the contribution of informal volunteers and wider economic spill-out into account.
Grassroots organisations may be small but they have understanding of and access to local communities at a representative shoulder-to-shoulder level - ultimately giving them the flexibility to deliver the kind of positive change that could unlock all types of inequality in the UK.
Women are leading the way when it comes to fixing structural inequalities within our society from the ground up, but this can't go on forever. Without support and funding, the positive strides made by women in community leadership positions will only begin to reinforce existing gender inequality and bias around what society deems to be valuable paid work that serves the economy.
We'll be sharing some broader findings from this survey across the next few weeks, so stay tuned to our blog for updates. You can also stay up to date by following us on Twitter, LinkedIn, Facebook or Instagram.