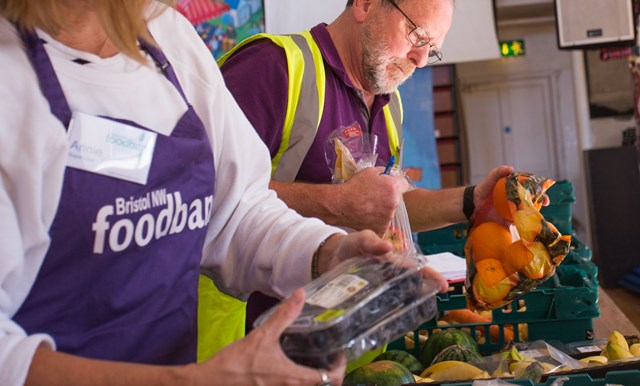 Here at Neighbourly we know now, more than ever, how important it is to support local communities.
With almost 12,000 local good causes on the Neighbourly platform, we're already hearing directly about the effects of Covid-19 on efforts to help those who are vulnerable – but also the amazing adaptability of organisations determined to keep these essential services running.
However, food banks are already running low on supplies and many parents are worried that they won't be able to afford to feed their children during school closures.
For the thousands of employee volunteers and fundraisers using the Neighbourly platform, the work environment has been rapidly changing too – with many now working remotely and others drafted in to work in hard hit departments – particularly across health and retail.
Despite this, communities are coming together in force to offer much needed local support to those in need.
So whilst we might not be able to run programmes in the usual way, we do have a few suggestions on how you can continue to stay neighbourly and support local communities over the next few weeks and months.
Donations
Do donate (or continue donating) to food bank collections at your local supermarket if you can. If you can't make it to the supermarket, consider making a food or financial donation online.
Click here to find Neighbourly good causes that accept online donations. If you're keen to donate locally, you can filter the results by postcode by using the search bar on the right-hand side.
If you're shopping online, check to see if your supermarket takes financial donations to food banks – this money can be used to purchase additional supplies as demand increases from those who are vulnerable during the pandemic.
Support
Get in touch with your local charities and food banks to see how you can support them. They're in the best place to let you know if they could do with additional volunteer help, cash or donations of supplies. You can find your nearest good causes and food banks via the Neighbourly platform.
People are also forming local groups across the country – often using social media platforms such as Facebook and WhatsApp to communicate and mobilise. Check to see if any groups have formed in your local area where they can help put you in touch with those in need.
If you're unsure where to start, try typing the beginning of your post code into the Facebook search bar to see if any local groups already exist.
You can also find local groups listed on the new Covid Mutual Aid website.
Alternatively, a woman in Falmouth has come up with an innovative solution for offering help to those self-isolating. Simply print and fill out these postcards and pop them through your neighbours' doors. You don't have to offer practical support, some of the people you reach may just want a friendly voice to chat to on the phone – particularly if they are forced to self-isolate alone.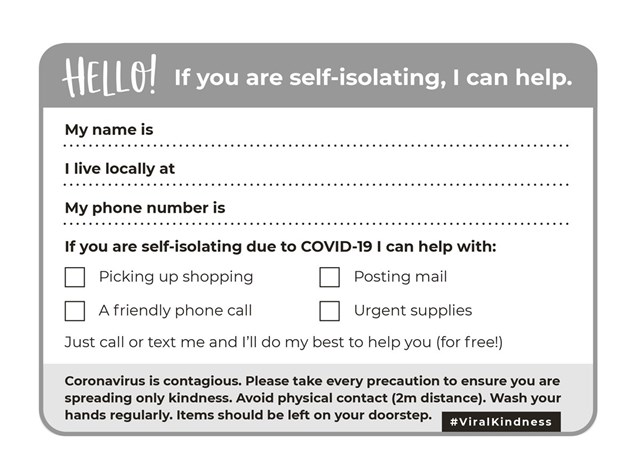 Advice and resources
For those that are concerned or worried about themselves or others, there are so many resources out there to help. Here are just a few that we think are particularly useful for local communities.
If you have concerns about the elderly and vulnerable, take a look at the advice from Age Concern.
If you are struggling with anxiety related to the pandemic, or have other mental health concerns for either yourself or others in your community, head over to Mind and their suggestions for 'Coronavirus and mental wellbeing'.
For those with links to local day centres and homeless shelters, the government has released specific advice for how to deal with the coronavirus.
Community response
Finally, we've been supporting efforts from a collaboration of community-focused organisations including Eden Project Communities and the Lottery Fund with their Community Covid 19 Action Response which has some easy but important suggestions for how to support your local community. You can see the top five in their illustration below.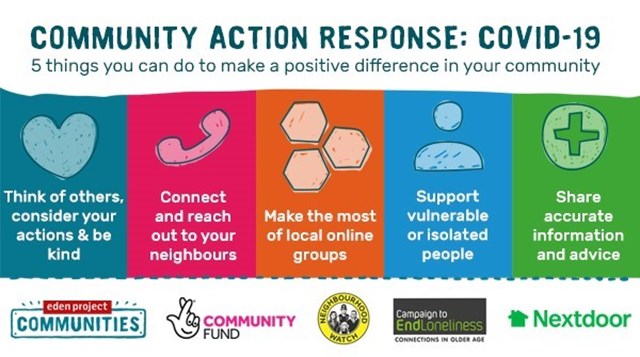 Please note, if you have any concerns for your health or the health of others, please refer to the government advice and NHS guidance.