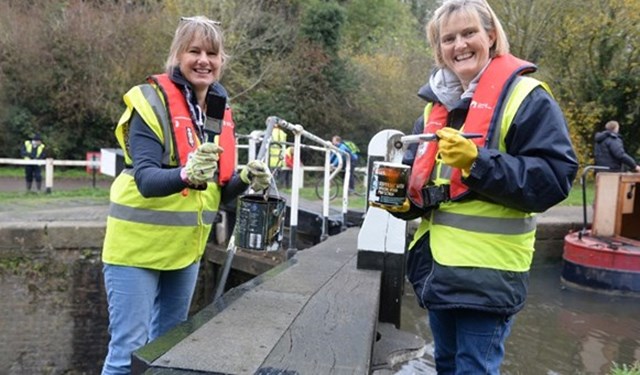 Everyone who has strolled past Hyde Park on a beautiful Spring day - passing gardeners wheeling barrows to the allotment - or taken a rejuvenating walk along the canal path, knows what a beautiful place Leeds is to live. And thanks to a lively movement of charity organisers, volunteers, creatives and gardeners, this city's communities are strengthening every day. This month, on the weekend of 19th-21st May, is your chance to spend a day in the fresh air making a difference alongside them.
During the 19th-21st May weekend, people across the city are gathering together to take part in community events in Leeds, one of four cities chosen to take part in The Body Shop's Enriching Communities weekend along with Birmingham, Glasgow and Manchester. The Body Shop is inspiring their employees, customers and neighbours to grab their wellies and paint-brushes for causes they believe in. Read on to learn how you can join the action – and feel for yourself the boost in energy and mental well-being that's getting people across Leeds hooked on environmental volunteering…
Hyde Park Source
It's a good bet you've spotted this group of hard-working gardeners in various green nooks and crannies around Leeds and wondered what they're all about. Well, your days of wondering are over! Hyde Park Source are committed to improving local people's well-being through enhancing their environment. Their mission is simple but essential: empowering communities to look after and develop their surroundings through workshops, training, activities and a fantastic tool library for everyone to use.
The Hyde Park Source team would love you to come along on 21st May and help transform their base into a motivational volunteer hub by putting up furniture, painting, and bringing the space to life with notice-boards and pictures.
Behla, the volunteer coordinator at Hyde Park Source, says it's important that newcomers feel a connection as soon as they arrive: "We would like to give visitors and volunteers an immediate sense of what we are all about as a group!"
The day will also be a great chance to try out your gardening skills. Nearby residents have asked for some help to enhance Rosebank Park, which is a lovely outdoor space used by the whole community. There's an "amphitheatre" in the park where live bands often play during the Summer and it will be fantastic to mount some mosaics on the walls to jazz up this al fresco venue.
The park is an important community asset that is in the hands of residents to look after, so every bit of help makes a real difference. And there's no better way to get some fresh air and recover from mental fatigue after a hard week at work or busy exam period… so go on, treat yourself!
Canal & River Trust - Leeds Towpath Taskforce
It's true that if you really want to feel close to Leeds as a city, you should get to know your local canal. And if the canals are the veins of this city's history, volunteers are its life-blood.
The Leeds-Liverpool canal flourished during the rise of industry and manufacturing in the North. Today, it's a beautiful oasis in the heart of Leeds where you can head down to see residents of all ages cycling, walking, fishing, visiting the museum at Armley Mills and simply enjoying being close to their local waterway away from the bustle of the centre. Yet if it weren't for a few dedicated waterway enthusiasts in the 1950s and 1960s working hard to save the canal, we may have lost it forever! The Canal & River Trust's Leeds team works hard to make sure this never happens.
If you've been looking for a way to get involved in your local canal then the Towpath Taskforce on 19th May is the perfect opportunity for you. Spend a few active hours in the great outdoors learning practical skills and having a laugh while improving your local waterway for humans and wildlife alike. Who knows… you may even get the bug to come back again.
Projects like these and the inspiring teams behind them are what makes Leeds such a wonderful place to live or study. Take a look at all the events taking place during the 19th-21st May weekend. Whether you're passionate about creating opportunities for young people, enjoy creating works of art or simply love cuddling animals, there's a way for you to be involved.
Don't worry if you can't sign up yourself; you can help by sharing the news across social to let your friends and family know they can sign up to join one of these brilliant events: #InOurHands.
About Neighbourly
Neighbourly matches charity and community projects with people and companies that can donate time, money or surplus food. Get support by creating and sharing a project or give support by following, donating or giving a day to volunteer.