How to join the Neighbourly surplus scheme : for charities & community groups
This guide will help you to join Neighbourly and get started with food collections.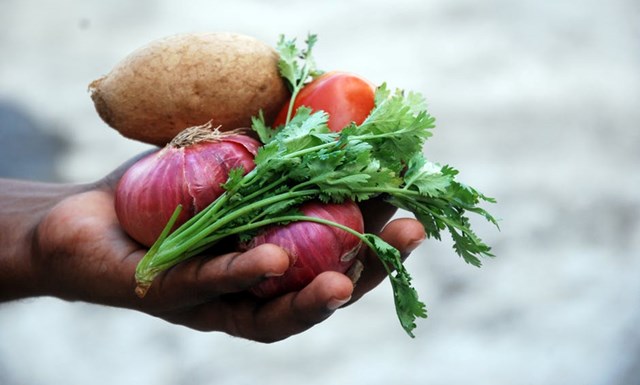 The Neighbourly website is a simple way of alerting charities and community groups to the availability of surplus food. It allows our retail partners to record the amount of surplus they are donating, and see how charities are making good use of the food. You can also use your Neighbourly project page to post volunteer opportunities, start fundraising campaigns and build up a group of followers that can support you in your activities.
This guide will help you to join Neighbourly and get started with food collections. A longer sign up guide with screen shots is available here.
Getting Started on Neighbourly
Firstly, you'll need to join Neighbourly and create your user profile.
Go to

www.neighbourly.com

and click

Sign Up

, top right of the page

Under the

Charities, Projects & Volunteers

heading click

Sign up here

Click on the envelope and register with your email address and charity's postcode

C

omplete the sections on the page and click

Sign up

. You'll then receive a confirmation e-mail. If you don't receive this e-mail, please check your spam folder

Once you've verified your e-mail address you'll be re-directed to your Neighbourly profile page. In the

Manage account

section you'll be able to update your biography to tell the community a little about yourself. Please also upload a profile picture
Create a project page
From your user dashboard click on

Create a project

Complete all o

f the fields in the form - it's a good idea to include the name of your organisation in your project name
In the project summary and description, explain what you do and who your project helps
You can add tags to your project that relate to your organisation
It's important that you fill in your registered charity number (if you have one)
Fill in the fields that show what your organisation needs and what you will do. This may include a fundraising goal or a volunteering goal
*By having a project page you are agreeing to the T&Cs and are therefore declaring you are OK to collect and handle the food items. You can find the T&Cs here.
Gaining approval for food donations
Whilst on the project form, tick the box 'I'd like to receive food donations' to request approval from us
When asked to enter a referral code you can enter the unique number associated with your retail partner. Neighbourly will provide this for you - don't worry if you don't have it yet, you can return and add it later
To finish, click Save to publish the project
Uploading an image
Adding a project image will make your project page a lot more interesting to potential supporters
To add an image, click the placeholder that says 'picture coming soon'
Click Add new image to upload a picture - one that includes your staff, volunteers, or service users is a good idea. If the image looks blurry, you may need to choose a larger one
When you're happy, click Save Image
Uploading a food hygiene certificate
To be approved for food donations and to start collecting food you'll need to upload a suitable food hygiene certificate to your Neighbourly page.
In your project page click on the Information tab then scroll to the bottom of the page and click Upload Document
The document will need to be in PDF or Word format
Or, if you have it as an image file, please upload to the Gallery tab instead
Creating a 'food alert'
You will need to be logged in to create an alert
Once you land on your dashboard, click on your In-kind tab
Click on My alerts
Click on Create alert
Enter an Alert name
Select 'Food and Produce' from the catalogue drop-down and Click the Add 'food & produce' to alert button
Enter a postcode (ideally of your local retail partner if you have it) and click search
Make sure that your partner store is located within the highlighted area. If not, you can drag the pins around to include it
Select your preferred method of alerts: Email or SMS (both if you wish)
Click Save alert
Non-collections
If you're ever not able to collect items you've been alerted about, please follow the steps below
From the e-mail you receive, click 'this link'
The link will take you to Neighbourly - sign in and you'll be taken to the donation page
Click 'View details', then 'I couldn't collect this donation'
FAQs
How do I know when to collect?
You will be able to agree a schedule with your store and Neighbourly for regular collections.
What items can I collect?
You'll be provided with a list of permitted items, please contact Neighbourly if you need a copy.
I am not receiving any food alerts?
Make sure that your alert is set to just Food and Produce and that your partnered store is covered within the highlighted area on the map.
Do I need to accept my donation alert?
All closed alerts are allocated to your project only, which means they are automatically accepted. You should click the link in the alert if you are unable to collect.
What if I can't access a computer?
You can receive alerts via text on your mobile, and Neighbourly is fully accessible on a mobile device.
What if I can't make the collection on the day?
Please contact the store directly so they are aware. They may be able to offer the items to another charity.
How do I change the arrangements for collections?
Please contact us if you need to change your arrangements.
How do I leave the scheme?
If you need to leave the scheme please let us know.
What if I do not wish to accept the Food Terms and Conditions?
Please let us know that you do not wish to accept the T&Cs and so can't participate in the scheme. If you have any questions about this please contact us.
Who do I contact if I have a query?
Please email food@neighbourly.com or call 0117 917 5311, stating your charity name and the partnered store you are collecting from and we can help!
---
Feb 21, 2018
food, food surplus, food redistribution, charity, Neighbourly