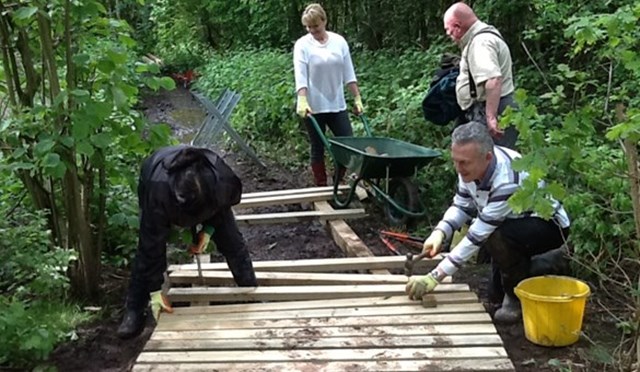 Birmingham is a homely city with a big heart – its industrial backdrop brightened by the diverse and multicultural communities that make this city such an inspiring place to be. Day after day, local people celebrate the spirit of Birmingham by making a positive difference for their fellow Brummies: park rangers who brave the elements to promote biodiversity; support workers helping young people to gain employment skills; your next-door neighbour popping round just to check you're ok. This month, on the weekend of 19th-21st May is your chance to spend a day getting stuck into fun, rewarding activities alongside them.
During the 19th-21st May weekend, people across Birmingham are gathering together to take part in community events in this friendly and fun-loving city, one of four cities chosen to take part in The Body Shop's Enriching Communities weekend along with Manchester, Glasgow and Leeds. The Body Shop is inspiring their employees, customers and neighbours to grab their wellies and paint-brushes for causes they believe in. Read on to hear more about two of the best loved community projects in Birmingham and learn how you can join the action…
Sport4Life
Birmingham owes a lot to the creativity, energy and talent of its young residents - yet side-by-side with its thriving business hubs this city has some of the most disadvantaged communities in the UK. Young people born into disadvantage face an uphill struggle from the start, but through Sport4Life they can gain employability and key life skills by taking part in sports-themed personal development programmes.
This year, Sport4Life launched their first female only employability programme in Washwood Heath. This incredible new programme is designed to empower and motivate young women to aspire to great things. As part of this, they want to create a welcoming, positive, and safe environment for the participants to come to for workshops, training, and meeting up with each other. The team at Sport4Life would love you to come and help transform the centre where this essential group meets.
As Saad at Sport4Life tells us; "Without the support of volunteers, transforming our centre for young people just wouldn't be possible. The valuable time and effort of volunteers will help us to create a brighter and better space for young women who take part in our programmes, and in turn, the positive experience they have from being on our programme will support them in achieving their future goals."
So, join Sport4Life for a day of painting on 21st May and help them bring about a level playing field where every young person is given the support to create a better future for themselves.
Plants Brook Nature Reserve
This vital green pocket of nature - tucked away within the residential area of Erdington - is dearly loved by all those in the know. Visitors to the park feel uplifted and renewed by the beautifully varied landscape with open water, wetland, woodland and wildflower meadows, perfect for adventuring through and discovering the green heart of Birmingham.
The heroes behind Plants Brook Nature Reserve are the dedicated team of park rangers who make it possible for people to experience and enjoy wildlife despite living and working in a busy urban area. Birmingham is one of the UK cities worst affected by air pollution and it's incredibly important that these green spaces continue to be cared for, in order to protect the health and well-being of residents and species alike.
Park rangers across the city play a vital role in making sure parks like Plants Brook are here for all to discover. With the busy summer season approaching, the rangers need your helping hands on May 20th to make the parkland and Kingfisher Pool even more welcoming for nesting wildfowl and nectar-feeding bugs and butterflies.
With all our lives becoming increasingly busy and fast-paced, volunteering is a brilliant way to get your heart pumping and spend a few hours in the fresh air. You'll be part of a historic line of nature-lovers who have shown Plants Brook Nature Reserve some love since it was first developed in the 1980s. So, go on - dig out your oldest, muddiest clothes and get ready to dive into the great outdoors.
Projects like these and the inspiring teams behind them are what makes Birmingham such a wonderful place to live. Take a look at all the events taking place during the 19th-21st May weekend. Whether you're passionate about creating opportunities for young people, enjoy creating works of art or simply love cuddling animals, there's a way for you to be involved.
Don't worry if you can't sign up yourself; you can help by sharing the news across social to let your friends and family know they can sign up to join one of these wonderful events: #InOurHands
About Neighbourly
Neighbourly matches charity and community projects with people and companies that can donate time, money or surplus food. Get support by creating and sharing a project or give support by following, donating or giving a day to volunteer.