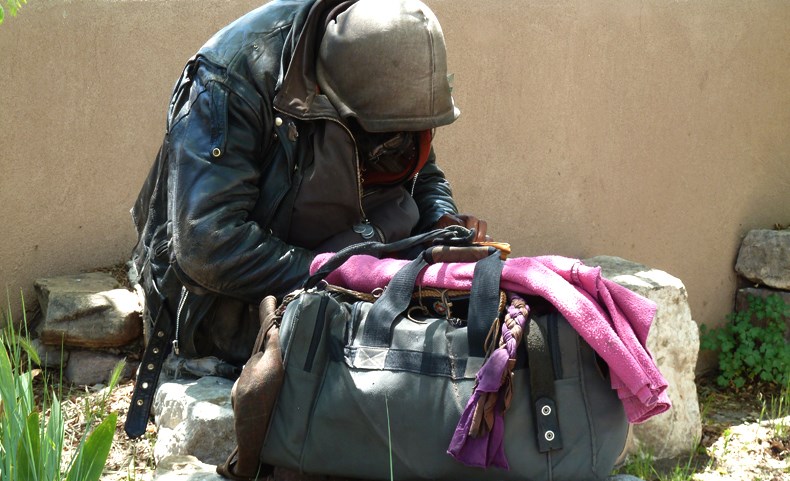 Could you help homeless people in Bath for a mere £1?
Imagine not knowing where you were going to sleep tonight, or rummaging through a bin to find your next meal. As a World Heritage Site, you don't expect Bath to have a homelessness problem, but five areas in the city are within the
most deprived 20% of the country.
What if there was a safe haven where you could get warm, socialise, and have a nice hot drink? Somewhere you could access emergency food, clothing, tents, a decent pair of boots – and even a haircut.
Lifeline is this place - a Bath-based drop-in centre for homeless and vulnerably housed adults (who could be "sofa surfing", living in local B&Bs or even the woods – hence the access to tents). Open five days a week, it's a place for people in hardship to have their basic needs met, along with a listening ear - with one-to-one advice from a supportive team on issues from benefits to rehab services. It's one of ten projects run by the Genesis Trust, which has been working to alleviate poverty and hardship for local people in Bath since 1995.
Over 40 people use Lifeline daily, receiving a friendly welcome and a homely space to relax in for a few hours. A small team of three staff and 10 volunteers frequently go the extra mile for these vulnerable people, especially when they've been turned away by other agencies or have very complex problems. Here are a couple of first hand experiences:
"There's always a sympathetic ear here, you don't get judged - you get accepted at face value. Life Line has kept me alive and helped me out" Ellis, 48.
"I visited Genesis when I arrived in the city homeless and my shoes were worn out. I was given new boots and a rucksack and sleeping bag and a much needed cup of tea!" Pete, 29.
Lifeline has to move from its current base in Bath Abbey - by Christmas - to make way for building work. The Quakers have offered new premises at the Friend's Meeting House, but the space requires substantial renovation and modernisation, which will cost £10,000 before it can become useable by visitors. Bath Abbey has been a fantastic base for this project and Lifeline wants its new centre to be equally welcoming.
Luckily, Lifeline has set up a three-month
fundraising campaign
right here on Neighbourly, to get in front of lovely, generous people like you!
With the funds, Lifeline will create:


New toilets to accommodate the potential 40 people who use the service on a daily basis.


An office/counselling room to provide one-to-one help.


A clothing store for the city's homeless to access outdoor wear, sleeping bags and tents


Changes to the entrance/fire escape to bring it up to current safety standards.


So, how can you help? Follow the project, share on your social channels and
donate
, if you can – Lifeline are offering the chance to make a difference for one, gold £1 coin. Large or small, your donation will enable Lifeline to ensure it can continue making a huge difference to the lives of those living on the streets of Bath.
Victoria Knowles
|
Susty Girl
Neighbourly connects charity and community projects with people and companies that can lend a hand. Get support by creating and sharing a project or give support by following, sharing or giving a day to volunteer.