'It's fab to be a volunteer, darling' – beautifully put by Joanna Lumley who joined Marks and Spencer's Spark Something Good initiative with Neighbourly recently. Joanna was volunteering at the
Oxgangs Community Centre in Edinburgh
, a vital resource, providing activities that respond to social needs, creating opportunities for relationship, friendship and personal growth. The Centre's lifeblood is its volunteers; without whom it would not be able to operate.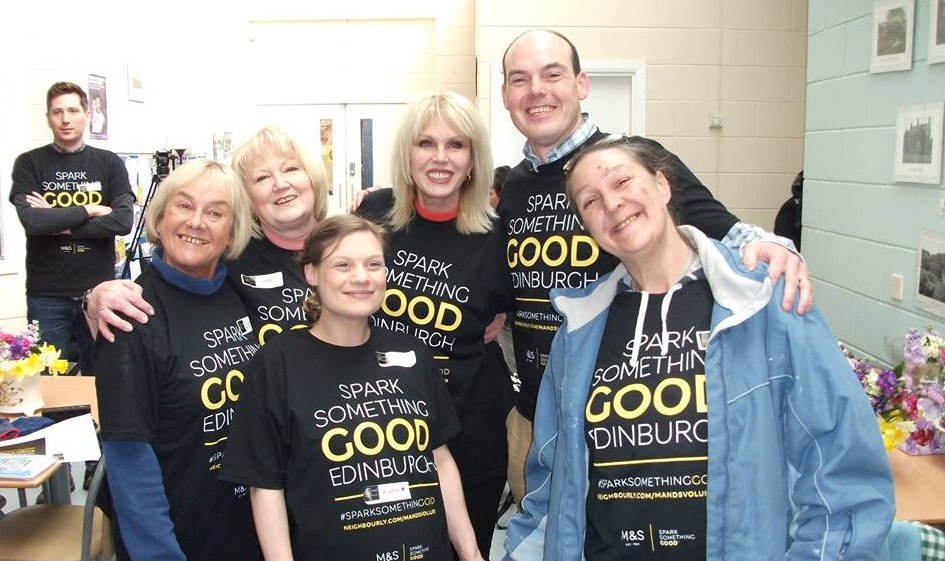 The contribution of volunteers to our communities is astounding. In a recent
BBC programme
, the Chief Economist of the Bank of England, Andrew Haldane, set out some astonishing numbers about volunteering. An estimated 15 million people volunteer on a regular basis, as many as 30 million people when you include those who give their time and effort in more sporadic ways over the course of a year, offering 4.4 billion hours of work per year. The economic value of volunteering is estimated to be around £50bn per year – equivalent to around 3.5 per cent of annual UK GDP. We owe a huge debt to those who give their time. Think about it, vital roles like lifeboat crews, first aiders and school governing bodies are almost entirely dependent on volunteers.
Yet the potential is much greater. I joined a panel of volunteering experts from
Macmillan Cancer Support
and the
National Trust
to attempt an answer to the question of how charities can connect with more, higher-skilled volunteers from the business community.  It's a question many of us are working on. And the good news is we have perfect conditions to make this happen: more businesses are seeing the value in engaging with their communities, a new generation want to work for companies that make a positive social impact, and many thousands of charities and community projects who need these higher skills to do more good.
But there are barriers too. Understandably, companies need to feel sure that giving the time of an employee who would otherwise be doing their day job is contributing to the business bottom line. There's a big information gap for employees in knowing what the opportunities to volunteer in their community are and for charities to know what help might be available. This can lead to an opportunity missed - as Andrew Haldane notes, economists are by and large not very good at digging ditches, but are pretty nifty with a spreadsheet, so why not get them volunteering to help charities with their budgets instead?
So what can we do to tackle these barriers? These are some of the things we're thinking about, and trying to do something about at
Neighbourly
.
First, on the practical side, we need charities and companies to be clearer on their needs and employers to be clearer on their offer. We need much better data, so that we know who's volunteering and what they're doing, and we need to use this data better, to assess if they are making the most of their experience. We need to be creative too; at the National Trust seminar, I heard a great example of an employer putting a requirement into their leadership programme that the employee became a volunteer mentor to a local charity.
Second, to engage many more people in volunteering, we need to understand and promote the case for volunteering, making it as attractive a prospect to spend time in your community as hiking Kilimanjaro to raise money for a charity. We need to create campaigns, like
Spark Something Good
, that connects volunteers to a wider movement, and builds this amazing content into how a company tells its story. And perhaps most importantly we need to foster, long term, valued relationships between companies, community projects and charities, so that they feed each other in a virtuous circle.
- Steve
Head of Community Engagement