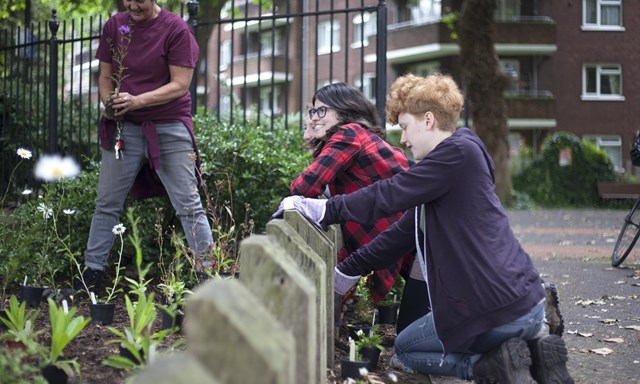 Neighbourly has joined forces with Grow Wild to change lives and transform spaces with UK native wildflowers. It is the biggest initiative of its kind and you can be a part of it!
You're invited to find an urban space and turn it into a colourful wildflower haven for the whole community to enjoy and benefit from.
You don't need growing experience - just enthusiasm, a shared space to transform and a group of people to help make it happen!
Apply now using their online form. Or visit the Grow Wild website to find out more.
Making an even bigger difference in 2018
This year, Grow Wild is asking people to share the 'before' pictures of their space: to see and celebrate how UK native wildflowers can turn grey into green, red, blue and all the colours of nature.
Bringing people together, getting active and growing as a group, giving back through volunteering: all of these things can improve health and wellbeing. And by creating these pockets of wild beauty for your neighbours and friends, you will be contributing to their wellbeing too.
What's in the Grow Wild seed kit?
Successful applicants will all receive an 'essential' seed kit, which has extra help and guidance on planning and realising your transformation project.

Successful applicants will also receive one, two or three 'participant' kits, depending on how many people you expect to be part of the project. These kits have extra seeds and other resources to engage more people.

Wildflower seeds native to England, Scotland, Wales and Northern Ireland that have been tested by the scientists at the Royal Botanic Gardens, Kew.

Lots of ideas on how to involve people in your transformation project and keep them engaged.
Applications close on 11th March 2018, and Grow Wild will let you know if your application is successful a few days later in time for the sowing season. We look forward to seeing your spaces!