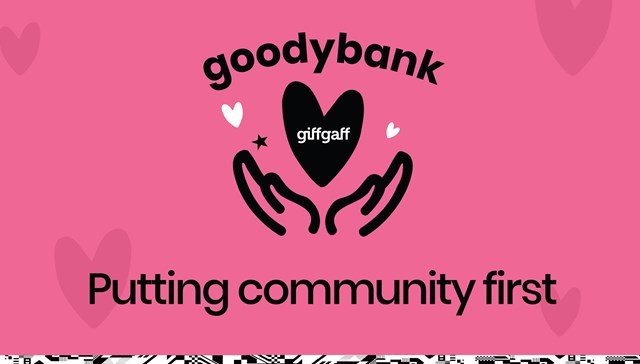 We're delighted with the news that giffgaff has launched 'goodybank' - a brand new initiative to help local communities in Britain and members of the giffgaff community facing hardship during this difficult time.
Founded on giffgaff's principles of community and choice, the goodybank allows their members to help in two distinct ways - the first being a hardship fund for giffgaff members. Over the past few weeks, giffgaff has been supporting vulnerable members, many of whom have contacted the mobile phone network as a result of the current crisis. Acknowledging that its members are passionate about supporting each other, the goodybank will now allow members to purchase additional credit in the form of minutes, texts or data that will then be donated directly to other members facing hardship and giffgaff has committed to matching donations made by members. As phones become increasingly important throughout COVID-19 and for many the only means of communication with the outside world, giffgaff and its members want to ensure that everyone stays connected.
Ash Schofield, CEO of giffgaff said, "At giffgaff we have always had community at our heart and never has a sense of community been more important. We are already helping vulnerable members, many of whom contacted us as a result of the current crisis and will continue to do so. However, our members are an altruistic bunch, and the goodybank allows them to get involved should they be able to help. Even if we're far apart, we want people to know they can ask for help and someone will always be there to offer that help and keep them connected."
The second exciting option within goodybank is for members to make a donation directly to the Neighbourly Community Fund, into which giffgaff has already pledged £75,000. Through the partnership with Neighbourly giffgaff hope to maximise the amount of people it can help at a local level and guarantees that the right people in communities will be given the help and support they need. In our recent study we found that many of the charities in our network were worried about the closure of normal services like lunch clubs for the elderly and emergency food parcels, whilst at the same time needing to support an average of 180 people per week in the community with emergency provisions. The fund is giving micro-grants of £400 to these frontline groups so that services can continue.
Alongside goodybank, giffgaff has also made access to NHS websites free of charge free for every giffgaff member.