This recipe was shared us by
The Real Junk Food Project Doncaster
. This is great for using up any fruit that may not have lasted as long as hoped, the riper the better. You could make a granola topping that will also double as a healthy breakfast cereal or dessert the next day.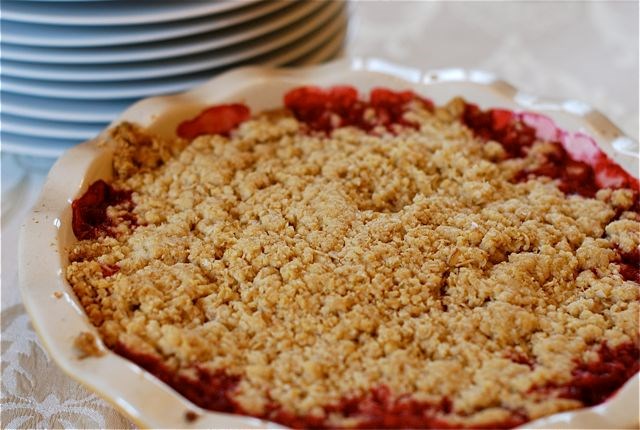 Ingredients:


Enough fruit to fill your dish (any fruit)


100-200g sugar, depending on the sweetness of the fruit (none my be needed)


1-3 teaspoons of lemon juice, to taste


1-3 tablespoons of cornstarch, depending on the juiciness of the fruit (optional)


1 teaspoon spice, such as cinnamon, ginger or nutmeg (optional)


125g self-raising flour


125g brown sugar


1/2 teaspoon cinnamon (optional)


50g unsalted butter, softened (more or less may be required)


Method:


Heat oven to 190 degrees.


If necessary slice the fruit into bite-sized pieces.


Mix with the sugar, lemon juice, cornstarch and any spices. Use more sugar and less lemon with tart fruits like rhubarb and blackberries. Use less sugar and more lemon with sweet fruits like peaches and plums. Use more cornstarch with very juicy fruit like plums, and less with firm fruits like apples.


Pour the fruit mixture into a baking dish.


Prepare the crumble topping: mix together the flour, sugar and cinnamon. Cut the butter into a few large pieces and work into the dry ingredients until heavy crumbs are formed.


Poor the crumble topping evenly over the fruit.


Bake for 30-35 minutes until bubbling around the edges and firm on top.


Cool for at least 15 mins before serving.


It will keep, covered, in the fridge for up to 1 week and can be served cold, room temperature, or re-warmed in the oven.


Tip: to make a crisp topping, add 1/2 cup old-fashioned rolled oats or chopped nuts (or both) to the topping. If you add honey and oil to this before baking on a sheet of greaseproof paper you will make granola!
With thanks to
The Real Junk Food Project Doncaster
Got a recipe that makes great use of food surplus? Please email it to food@neighbourly.com