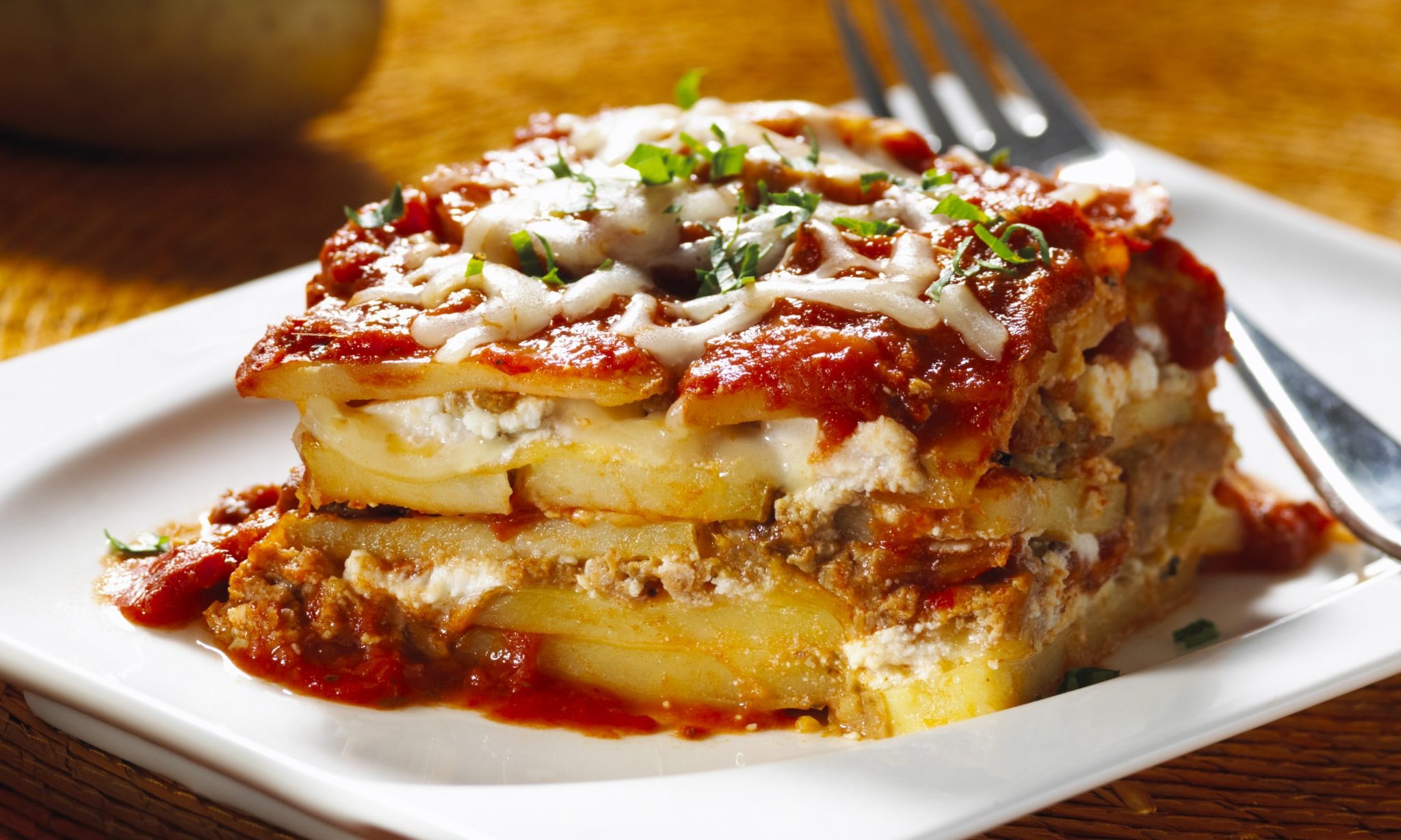 Ah, lasagna – the hearty staple that we love. This Italian dish is extremely versatile and you'll probably find that everyone you know has a different take on it (all equally delicious!) The great news is that it naturally incorporates some of the ingredients we waste the most, and can easily be adapted to chuck in a few more.
According to River Cottage, milk and cheese are two of the top five most wasted foods, with us Brits pouring 5.9 million glasses of milk down the drain each year, along with more than three million slices of cheese a day! These two ingredients happen to be perfect for a tasty cheese sauce.
Why not trade an extra trip to the supermarket to pick up fresh pasta sheets for the potatoes you have already? We chuck 5.8 million spuds each year – they feature in the top five, and I bet you have some lurking in your fridge. The great thing about veggie lasagnas is that you can please your meat-free friends while chucking in whatever lonely veg you've got lying around. Feel free to substitute to suit.
We also throw away an eye-watering one billion tomatoes every year. Why not make a fresh sauce rather than reaching for the can? Perfect if you grow them, or are overrun with them!
Altogether, it's a perfect waste-busting dish. This recipe uses basic ingredients that you're more likely to have around than having to buy in specially.
Ingredients
2 aubergines, cut into chunks
1 large courgette, cut into chunks
1 yellow or red pepper, cut into chunks
1 tbsp olive oil
1.4kg of potatoes, thinly sliced
Salt and pepper
Tomato Sauce:
1 tbsp of olive oil
1 medium onion, chopped
4 cloves garlic, chopped
Salt and pepper
1 tbsp dried basil
1 dried bay leaf
1.8kg red tomatoes, chopped
Cheese sauce:
300ml semi skimmed milk
25g plain flour
15g unsalted butter
75g cheese, grated
Preheat the oven to 200°C (gas mark 6), or 180°C for a fan oven. Put the aubergine, courgette and pepper into a large roasting tin and coat in olive oil. Roast until tender, or for about 25 minutes.
Meanwhile, heat the olive oil in a medium saucepan and cook the onions and garlic, stirring often. Once soft, add the basil, bay leaves and tomatoes. Simmer for 20 minutes, then add salt and pepper to taste. Remove the bay leaf. Turn off the heat.
Stir the veg into the pasta sauce. Tip a third of the mixture into a large rectangular baking dish. Arrange a layer of sliced potatoes on top, Repeat the layers, finishing with potatoes.
Heat the milk, flour and butter in a saucepan. Whisk constantly until the sauce boils and thickens. Remove from the hob and stir in half the cheese until melted. Add salt and pepper to taste. Pour the cheese sauce over your lasagna and sprinkle the remaining cheese on top. Bake until golden brown, or for about 30-35 minutes.
Bon appetit!
Lasagna recipe adapted from:
https://recipes.sainsburys.co.uk/recipes/vegetarian/five-a-day-veggie-cheddar-lasagne
Tomato sauce recipe from:
http://www.foodnetwork.com/recipes/alexandra-guarnaschelli/old-school-lasagna-with-bolognese-sauce-recipe.html
About Neighbourly
Neighbourly matches charity and community projects with people and companies that can donate time, money or surplus. Get support by creating and sharing a project or give support by following, donating or giving a day to volunteer.