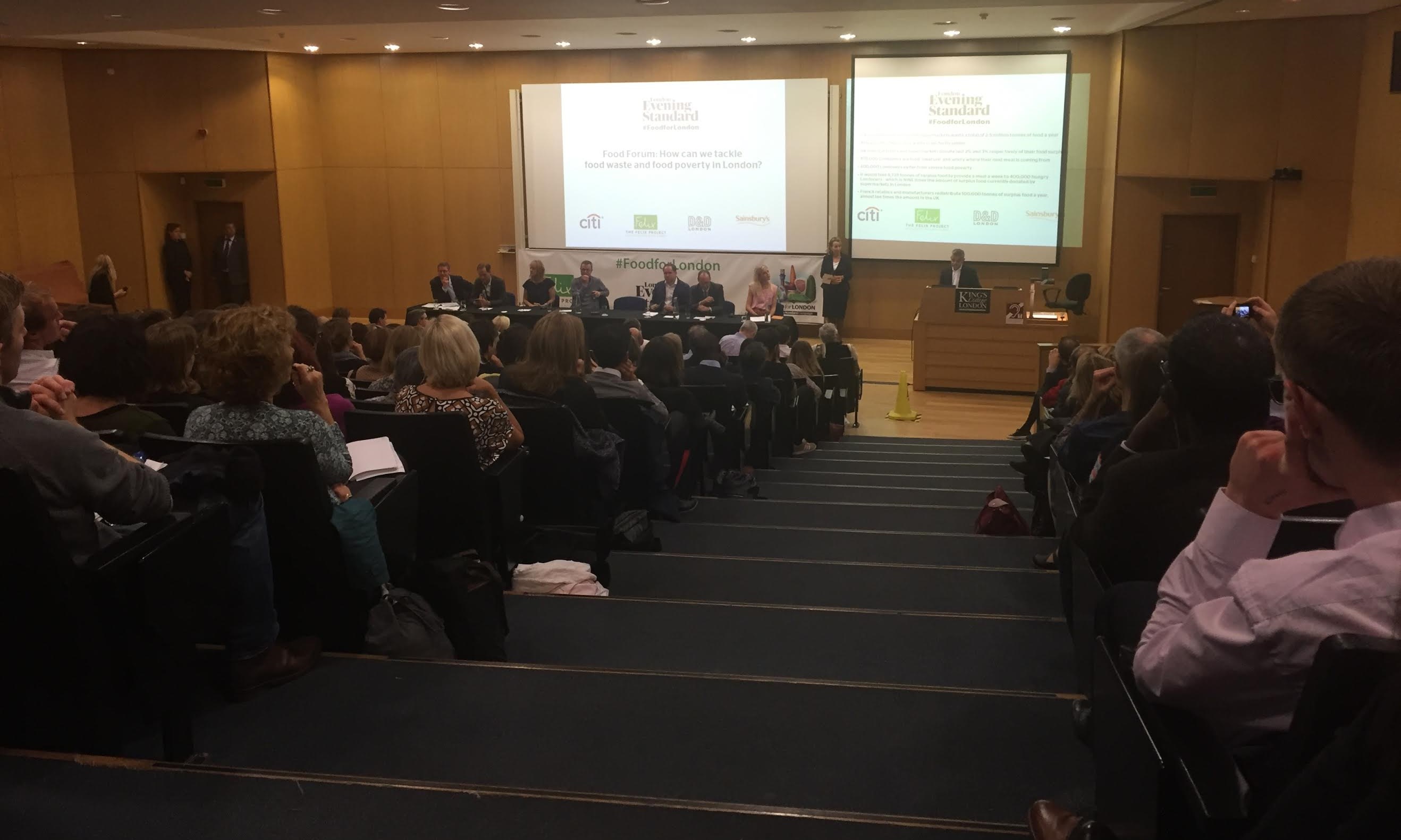 Feeding London has stepped up a gear. Introduced by The Mayor of London, The Evening Standard convened a debate as part of its #FoodforLondon campaign last night, with the leading lights in the fight against food waste and redistributing surplus to reduce food poverty and bring communities together.
Delivered to a packed auditorium at King's College, made up of hundreds of people passionate about a better way of producing, selling and consuming food, the stage was set for a revolution in the way London eats. I, and our CEO Luke, were fortunate to be among them.
For campaigners and advocates of a more sustainable food system like WRAP's Richard Swannell and Feedback's Tristram Stuart it has been a lonely journey, fighting the good fight for years – even Hugh Fearnley-Whittingstall, known to many of us for his War On Waste, described himself as a Johnny-Come-Lately.
But a critical point for me raised in the discussion was that the issue is beyond waste. It's about how all of us value the food we eat. As Richard pointed out, we use an area the size of China to grow the food we waste every year – that can't be how we value our food and the people who grow and prepare it, let alone the people who will go hungry tonight.
Major retailers and producers must reduce waste across their supply chain. This will mean radical transparency, publishing their food waste figures, in detail. There are still only two retailers who do this – including Sainsbury's, whose CEO, Mike Coupe took some flack on the panel, but credit to him for putting his head above the parapet. We still have no data standards here that could allow us to know who is doing the most.
Home grown solutions will be needed too, like Rubies in the Rubble, which uses food surplus to make delicious jams and chutneys. Their Founder Jenny spoke eloquently about how she grew up in Scotland surrounded by this more practical, seasonal, way of cooking. The speakers agreed we'll also need digital technology like Olio, Foodcloud and Neighbourly to facilitate and measure what's happening with surplus.
And we need more ways of bringing together those who prepare the food we eat, like Henry Dimbleby from Leon who has helped create London Union, which brings together Britain's best street food providers to night markets around London.
But ultimately it is about all of us - the consumers who can guide this. As Ruth Rogers from the River Café pointed out, we need a mindset change on how we choose what we eat, actively making choices for seasonal produce.
I've spoken to WRAP and retailers previously about labelling food - in the same way we do with nutrition statistics - about how likely the product is to go to waste. A small gesture, but it may make all of us think a little more about what we buy and what we throw away. Best before dates came up again – an issue I put together a session on with the Food Standards Agency earlier this year, with retailers, manufacturers and charities.To paraphrase Richard Swannell last night, ignore best before dates - 'best' is a matter of taste, the only critical date is Use By, and that means use by midnight on the date shown.
Our research with the Food Foundation showed the work of thousands of tireless community projects, like The Felix Project, who are getting food to where it is needed most, but the daily battles they face to get the support and practical tools, like fridges and transport, they need. It's not just a matter of supply.
I am really proud of the food redistribution we're managing at Neighbourly – this year alone more than half a million meals have been made for people who need it, from food that would have otherwise gone to waste. But I want us to do much, much, more - getting volunteers, funding and way more surplus food to the incredible charities in London and beyond. A solution needs to be simple, quick and transparent for retailers and it needs to support overall waste reduction.
There is so much to do to bring us all together to collaborate, innovate and deliver. I want to see #FoodforLondon become Food for the UK and beyond – it's a global problem, with an everyday solution. I hope tonight was a spur to the movement to end food waste, make sure that everyone is able to enjoy a regular nutritious meal, and support the people who produce, prepare and share food to flourish in London and beyond.
About Neighbourly
Neighbourly matches charity and community projects with people and companies that can lend a hand. Get support by creating and sharing a project or give support by following, donating or giving a day to volunteer.