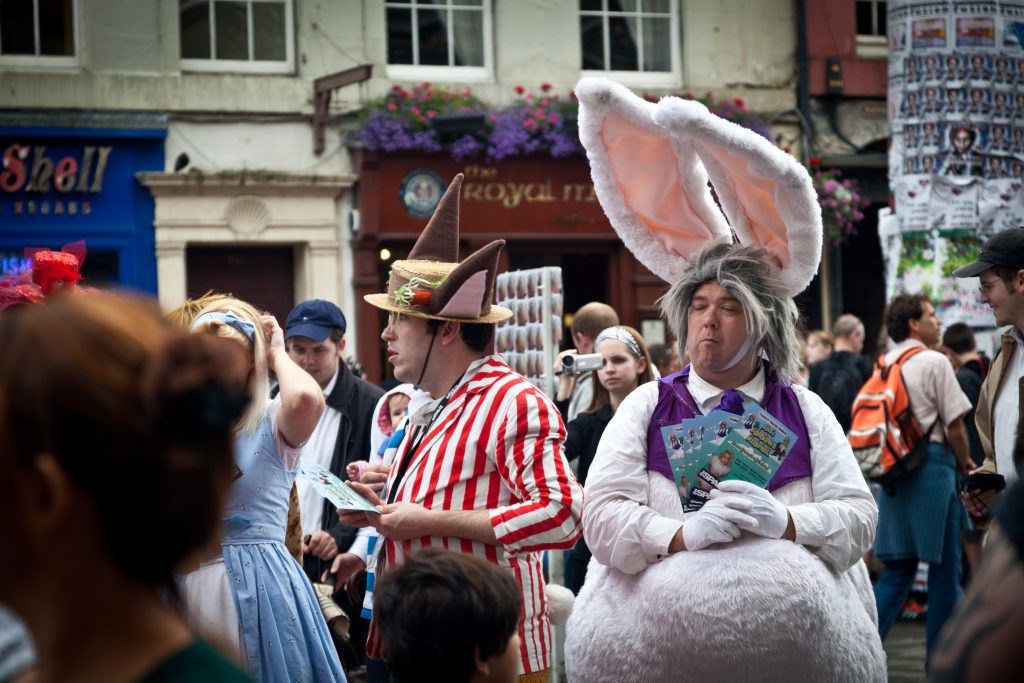 If you live in Edinburgh there's a good chance you've heard of the Caledonian Brewery. It's one of HEINEKEN's many breweries in the UK and is a welcome and solid part of the community. You may also have heard the term #BrewingGood, this is the term being used for HEINEKEN's efforts to support their local communities and it's going pretty well. So well in fact, that the Caledonian Brewery in Edinburgh has taken on their very own initiative to support their community even further!
Volunteers from the brewery will join Edinburgh Festival Fringe performers, festival-goers, and local people for a day of painting, gardening and DIY at a group of fantastic local projects. Afterwards, volunteers will celebrate together with exclusive performances from Edinburgh Fringe artists. Maybe a new trend in festivals? Who knows, but one thing's for sure, it's going to make a huge difference to the community!
Here's a list of the projects being supported by the Caledonian Brewery on 24th August, during Edinburgh Fringe Festival:
1. Brighten up the Broomhouse Centre at the heart of the community!
When: 24th August Where: The Broomhouse Centre
Join the Broomhouse Centre for a creative and rewarding volunteering experience. Work together to turn the centre into an eye-catching community space that will bring anyone involved a huge feeling of pride. Bring the Edinburgh Fringe Festival into Broomhouse and achieve something fantastic for our local community!
2. Share your digital marketing skills with the Broomhouse Centre team!
When: 24th August Where: The Broomhouse Centre
Some of you may help run a friendly digital skills training session for the Broomhouse team members. They will be able to then use the skills you give them to grow and welcome more people across the community!
3. Revitalise the garden and gathering rooms at St David's Church Hall!
When: 24th August Where: St. David's Church Hall
Fancy yourself as a keen DIYer? Make over the church hall, a central gathering place within the Broomhouse community and turn it in to a wondrous place to meet and enjoy. The garden and the gathering rooms in the church need you and your paint brush (or trowel) to make it the haven the community deserves!
4. Add some sparkle to the woodwork at a Community Café!
When: 24th August Where: The Broomhouse Centre
The Broomhouse Community Café are looking for handy DIY types who enjoy varnishing, painting and putting in some good old-fashioned elbow grease for a good cause! Spend a rewarding morning bringing a fresh new feel to the café.
5. Create bunting and cakes for a vintage VIP tea party!
When: 24th August Where: St David's Church
Fancy a blether? Here's your chance to spend a day baking, crafting and hosting a tea party for older members of the local communities and their friends. Vintage Vibes puts together people with shared interests, tackling loneliness by creating long-lasting friendships. This volunteering project will give them the kit they need to start holding regular tea parties for the wonderful VIPs and volunteers.
6. Help run our exciting Broomhouse community celebration!
When: 24th August Where: St David's Church
Are you looking to gain valuable experience in the arts and events worlds? Here's a chance to help bring people from across your local community together - all while enjoying an exclusive performance from Edinburgh Fringe Festival performers!
As part of the volunteer event team, you'll spend the evening meeting and greeting people, serving refreshments and celebrating alongside all the other fantastic volunteers involved in this exciting community driven event. Afterwards, we'll clear everything away together and make sure that the church hall is left looking lovely.
7. Join the exciting river clean up near Broomhouse!
When: 24th August Where: River of Leith Visitor Centre
Join a fun and dramatic experience at Broomhouse's nearest stretch of river bank. Together, you'll clean up a lovely local landscape. Then, after keeping the environment spick and span, you'll be meeting back at Broomhouse to enjoy an exclusive Edinburgh Festival Fringe show. Sounds good to me!
8. Craft sensory lap blankets for people living with dementia!
When: 24th August Where: St David's Church Hall
Would you call yourself a sewist? Or just good with a needle and thread? Sew interesting fabrics, ribbons, buttons and other crafty items onto sensory dementia lap blankets! They will then be donated to local charities who work hard in enhancing life for people with dementia.
9. Give nature a home in Broomhouse with RSPB Scotland.
When: 24th August Where: St David's Church, Marquee
With the city abuzz in the midst of Edinburgh Festival Fringe, you'll be making some lovely, easy to build bird boxes. Afterwards, everyone will walk around Broomhouse giving out the bird boxes as gifts, talking to local people and spreading the word about this exciting opportunity to give nature a home! A great day out!
10. The Big Broomhouse Community Garden Make Over!
When: 24th August Where: Broomhouse Park
If you choose, you could be volunteering with people from across the city to make over two important outdoor community spaces near Broomhouse Park. You and others will garden, tidy and spend enjoyable time together improving the shared environment!
I highly recommend finding a project and getting involved, I am a new-comer to the volunteering world and all I can say is, there is no better way to enjoy your day!
Matt Aldus | Social Media Manager