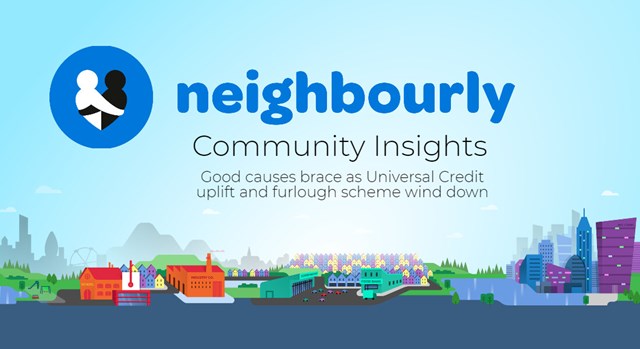 Neighbourly's latest Community Survey of over 1,100 local good causes cites major concerns ahead as the removal of the Government's Universal Credit uplift and the end of the furlough scheme looms over many of the country's most vulnerable citizens.
While covid cases may be showing signs of levelling off, the number of people in need is not. Being at the heart of communities, local charitable organisations and their volunteers are addressing specific social and environmental problems at a hyper local level. But concerns and needs must be recognised to ensure that adequate support goes to those struggling the most.
Removal of government safety nets
Since March 2020, the average number of people a local good cause supports each week has risen by 187% to a record 417 - a number that has increased consistently every quarter.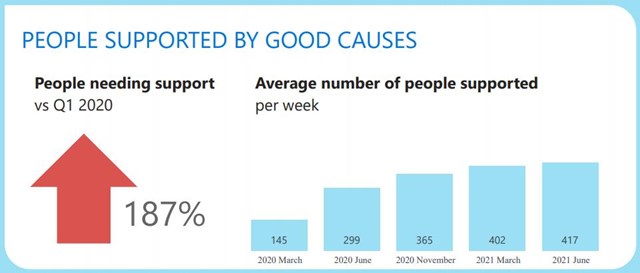 During this time, many of those most in need have been supported by a temporary £20 a week uplift in Universal Credit, whilst millions have kept their jobs and 80% of their salary through the Government's Furlough scheme.
With both of these support systems set to be removed at the end of September, it's predicted that a huge number of people will fall through these financial safety nets, plunging thousands of adults and children into poverty and exacerbating existing social issues, food insecurity and mental health problems.
For good causes on the ground this is a massive concern, with 63% seeing the removal of the Universal Credit top up and ceasing of the furlough scheme as the top reasons for an increase in future demand.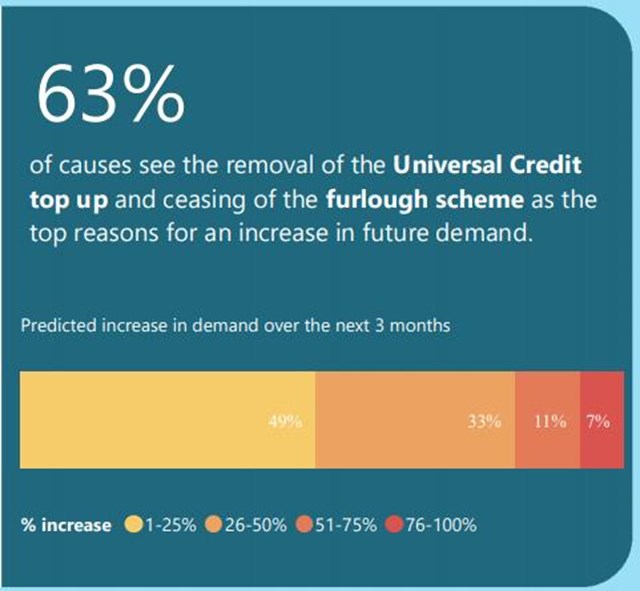 On average, groups expect these factors, plus the end of covid restrictions, to increase demand for their services by 33%.This could equate to an additional 140 people per good cause needing support every week.
Applied to Neighbourly's entire network of charities and community groups across the UK and Ireland, this could mean the equivalent of over 2.3 million people needing additional support in the next three months.
Regional differences
Whilst these changes will impact people across the country, our Community Survey data suggests that some areas may be impacted more than others.
Of the groups that responded to the survey, the majority based in Wales (80%) and Northern Ireland (75%) predict that the removal of the Universal Credit top up will lead to an increase in demand for services, the highest prediction of all regions, when compared to 43% of good causes in the South West.
These regions were also the most and least likely (respectively) to report concern for an increase in need due to the furlough scheme coming to an end.
Local good causes are unique in that they can respond to the exact needs of their communities. As this data shows, certain issues and concerns are more prevalent in certain regions over others, giving us the opportunity to respond to the exact needs of individual communities and having the biggest possible impact.
The domino effect
With all of these changes, respondents have told us where their greatest concerns lie. For the second time in six months, the mental health of service users is right at the top of the list with 97% citing at least some concern and 60% rating it as something they were either very or extremely concerned about.
Along with mental health concerns, half of good causes told us they are very or extremely concerned about income streams and lack of government support for underprivileged children during the school holidays. Just under half are concerned about financial struggles and physical health issues amongst those they support, along with rising Covid-19 virus rates causing disruption to vital services.
Understanding the data
We know a great deal of positive impact can be had at scale with the right funding. We've seen this with unrestricted Neighbourly Community Fund grants that supported the delivery of vital services and aid during the Covid-19 pandemic - and then again with funds from our partners through the Neighbourly Foundation which has reached almost £3M in the last 12 months.
Funds that have gone through the Neighbourly Foundation since the start of this year include Aldi's Hunger Monster campaign, which has raised funding specifically for groups looking after children and families experiencing food poverty. This came after survey data from organisations in Neighbourly's network at the end of last year estimated that 96% of children supported with food provision were missing a meal every single week.
Our insights also show that, financially, there has been some recovery for some types of charities. For example, 8% of respondents told us they have seen an increase in funds in the last 3 months, with almost a quarter saying their income remained stable. Food banks have seen the best recovery when compared to other types of good cause, with just under 40% telling us that their income has remained stable or risen.That said, with the consistent rise in demand taken into account, this income in many cases is being stretched further than it ever has before.
Moreover, the majority of good causes have still seen consistent reductions in funding in the last year. Almost half (49%) have reported a drop in income in the last 3 months, with nearly 1 in 10 saying the drop had been as much as 75% or more.
The worst affected include community centres, elderly care centres and youth clubs of which almost a quarter have seen a drop in income of at least 50% in the last 3 months.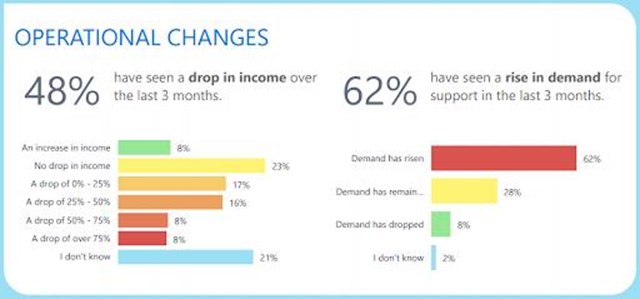 Creating local impact at scale
To help us understand broadly what these charities and community groups need to tackle their biggest concerns, we asked them to rank needs in order of importance.
Unrestricted and targeted grants are number one on the list for all types of good cause as they look to prepare for an anticipated rise in demand and respond to more complex needs in the community such as growing mental health concerns and those impacted by poor physical health.
Grants and funding is crucial in that it can provide immediate and targeted relief through a huge range of different impact themes. However the breadth of positive change that can be achieved doesn't just come from funding.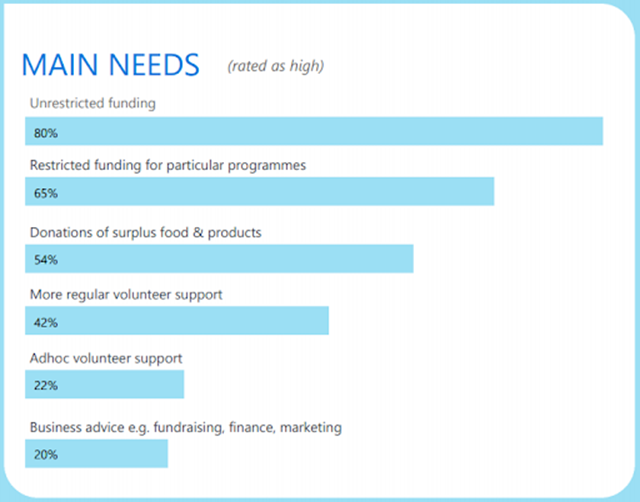 Over half of respondents rate donations of food and products as one of their highest needs. For the 35% of good causes that began some sort of food provision within their local community as a direct result of the Covid-19 pandemic, the ability to collect and redistribute surplus food means they can react quickly and locally to the growing problem of food insecurity.
Equally, a third told us that they are providing food parcels for children during the school holiday with 18% providing holiday clubs and 15% providing lunch clubs.
For these kinds of organisations, surplus food and the provision of good nutrition is critical to maintaining the health and wellbeing of their service users. Not needing to purchase food often has the additional benefit of freeing up funds for complimentary services that support people struggling in other areas of their lives.
Impact at scale
It's not just food that makes a difference either. Surplus products such as the hundreds of refurbished laptops RSA insurance donated when they had a tech refresh has given those most in need a means to connect with others, access education and find work.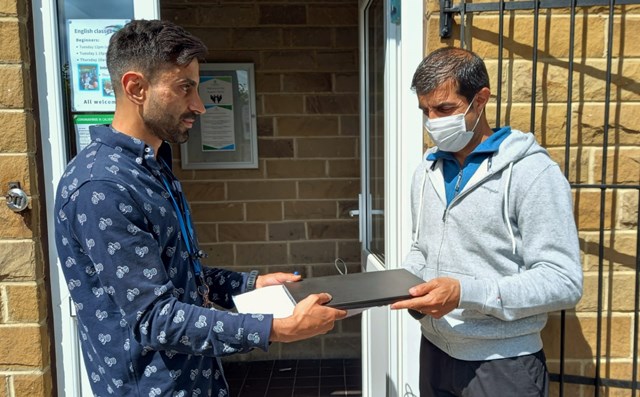 Volunteering remains a vital resource, with a vast number of small charities and community groups relying either heavily or completely on volunteer support. As well as enabling them to reach more people in need, volunteer support can help these organisations to grow, access funding and more.
With our latest research showing that employer-led volunteer programmes lead to a happier workforce, there's a huge opportunity for employers to bridge this gap in volunteer numbers whilst connecting with local communities and boosting employee wellbeing at the same time.
Whilst the situation might look incredibly challenging on paper, with seemingly impossible situations on the horizon for both local good causes and the millions of people they support, there is clear data that shows exactly what is needed, where it is needed and how it can most effectively be delivered.
The good news is that much of this data is a prediction ahead of time and there is still time to respond. The knock on effects of the Covid-19 pandemic have been huge and we're not out of the woods yet. Whilst funding and grants programmes have continued throughout this crisis, they need to be continually scaled up and scaled out, with more businesses investing in their communities - be that through volunteers, funds or surplus - to deliver impact at scale.
If you're a business that wants to deliver positive impact at scale by donating volunteer time, money or surplus food or products, tell us your challenges or ask us a question by getting in touch - just click the blue button below. You can also follow us on Twitter and LinkedIn for regular news and insights.