Our latest neighbourly hero is Chris Kent from Ely in Cambridgeshire. Here she tells us a bit about the k9 project - a truly inspiring tale of how ex-shelter dogs and vulnerable people can come together to create better futures. Read on...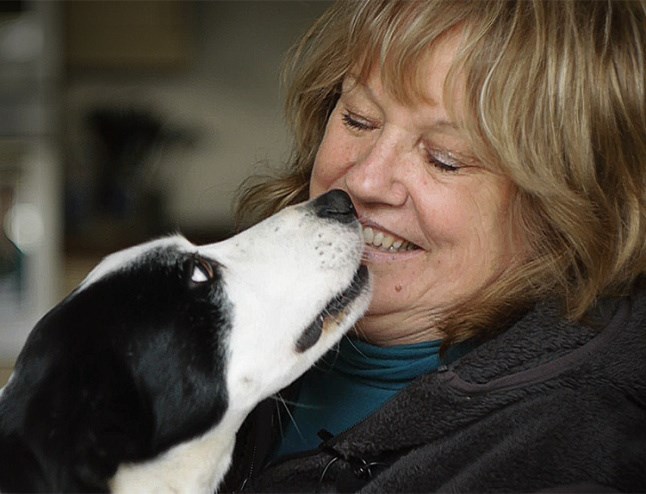 1. Tell us a bit about yourself
I am a qualified social worker and have worked with vulnerable and disadvantaged families and teenagers all my working life – 44 years now!  In addition I am passionate about animal welfare and our programmes educate and encourage responsible dog ownership. When not working on the project (
more on that below
) I like to read, walk my dogs, ride my horses and spend time with family and friends. I have just written a book about our experiences on the k9 project which is being launched on
world mental health day – October 10th
. I love the people and dogs side of the work but hate all the paperwork and business administration!
2. Tell us a bit about your project
I started the
k9 project
 with my husband as I wanted to create opportunities for dogs and people to help each other – to make the world a better place for both. I always knew dogs could help people in so many ways and the project is my attempt to do just that.I have been running the project as a non-profit organisation since 2010 and we have grown and developed so much so that we now run projects for children and young people, adults with social anxiety or mental health problems, children who are dog phobic, young people on court orders for offending behaviour and children experiencing bullying at school, who are young carers, or who have special needs.
3. What channels do you use to keep the local community up to date on what you're doing?
We use the local press, Facebook, word of mouth, newsletters, presentations – and neighbourly!
4. How do you raise funds for the project and what's your target?
We have lots of different targets for lots of different projects. I guess our overall target would be to have enough funding to at least give people a permanent job rather than people just working sessional hours. This is hard for people in the current economic climate and I lose good staff as they have to go and get more permanent work elsewhere. If we had an administration worker and some permanent staff this would help us to develop our team of volunteers who we help engage in their local communities and undertake a range of activities that not only benefits the local community and dogs, but also the volunteers as they gain confidence and learn new skills, or re-find old ones.We fundraise through searching for local grants, holding bric-a-brac or cd/dvd/sales, giving talk and organising doggy fun days and dog shows. I hope my book will also raise much-needed funds too. Fundraising is an ongoing challenge – most of the people we support do not have any money of their own so we have to be creative about what they can do to raise funds.
5. Advice for other people inspired by what you're doing?
Find people you can trust to do the bits you aren't able to manage. It can be soul destroying to spend your time hunting for money and dealing with the bureaucracy of funding grants, which can wear you out and distract you from your core values and mission!
6. Most helpful person/organisation?
Truly I couldn't pick just one – we wouldn't be operational without help from a whole host of people.
7. Most useful organisation, tool or website?
The
video
from
neighbourly.com
has been the single most successful promotional tool we have ever had, which got us out to the widest audience, made people cry and understand what we are doing. Ryan (
the film guy from neighbourly
) was awesome on the day and so very respectful of the people he interviewed.
Watch the film here.
8. The dream?
We'd love our own venue, a little van, enough funding to give a few people real jobs (including me!!), a constantly evolving team of volunteers, the chance to take on some homeless dogs and use volunteers on the project to help rehabilitate and rehome them! Not much to ask hey?!
Follow the k9 project on neighbourly to show your support.