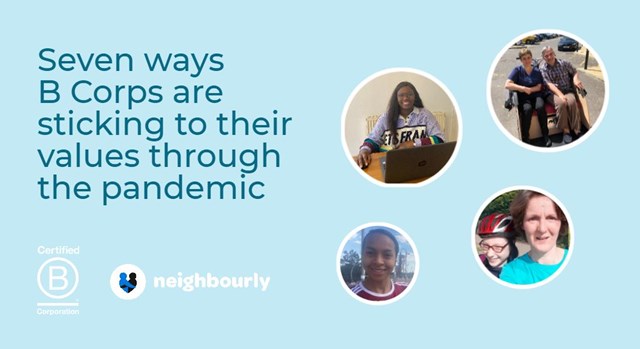 Back in 2015, Neighbourly became one of the founding UK B Corps. A certification with roots in the US that champions better business - with well known B Corp brands including the likes of Ben and Jerry's, Danone, Innocent, Etsy and Patagonia.
Becoming a B Corp however is no mean feat. Companies who certify make a legally binding commitment to consider the impact of their decisions on their workers, customers, suppliers, community, and the environment.
This year has been an incredibly tough year for all types of businesses, but in wanting to stay true to their values, many have come up with creative ways to ensure their staff, customers and environment remains a priority.
To celebrate B Corp's 5th birthday in the UK, we caught up with fellow B Corp's Danone UK and Ireland* and Forster Communications to find out what they, and other 'good' businesses, have been doing to honour their values and support people through the pandemic.
Time for volunteering
At Neighbourly, we see and hear about the incredible impact volunteers have on their local communities every day - and through the pandemic, the charities and community groups that rely on them have struggled at times to get the help they need to keep running.
Since launching our remote volunteering programme in the summer, staff across Danone UK and Ireland have embraced a new way of supporting small charities through the Neighbourly platform. You can read about their team remote volunteering and how they've tackled loneliness through befriending opportunities on the Neighbourly blog.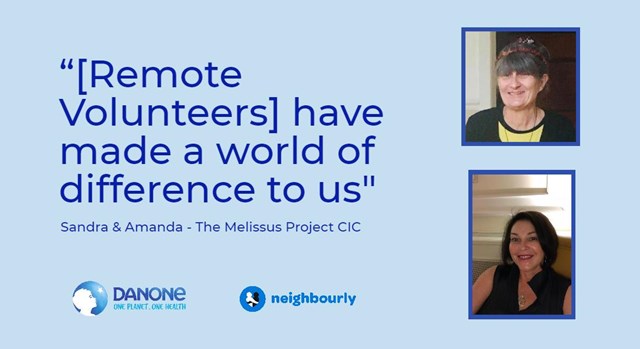 So far this year, Danone UK and Ireland's volunteering has contributed an incredible 13,000+ hours of support to 65 different charities.
They're not the only ones though. Forster ensures staff have the flexibility to volunteer alongside their work - with Director Peter Gilheany volunteering with a community rickshaw setup in his hometown (pictured below), to safely ferry his neighbours around during the pandemic.
Similarly, staff at Neighbourly have access to unlimited volunteering days, with some of the team looking forward to spreading some festive cheer via phone calls to older people through Age UK this Christmas.
Openness to change
For many thousands of office workers across the UK, the move to home working in March was somewhat abrupt, with some facing months sat on sofas or at cramped kitchen tables.
Embracing the change and supporting staff has been key to B Corps around the world - but it's translated in many different ways.
Providing desks and chairs to those that need them and allowing staff to be more flexible than ever in their working hours, particularly when they have children at home, has been important to factor in for many businesses.
For developer Jake, who had nowhere quiet at home to work, Neighbourly was able to help fund insulation in his office 'shed' to allow him to stay warm whilst home working.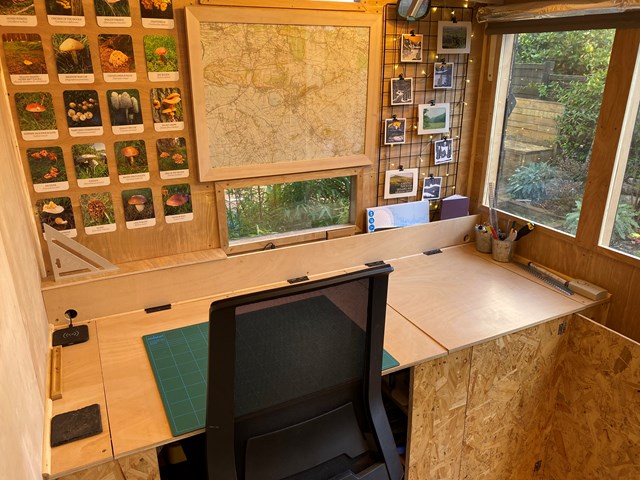 Jake told us: "A huge part of what makes a company a good company during this pandemic is truly listening to the challenges their employees face as individuals, and being proactively helpful and flexible in adapting to the way that person works to get the best out of them. Not just in terms of their productivity, but also in terms of their happiness and wellbeing."
At the same time, moving to home working has allowed businesses to see just how happy and productive their staff can continue to be. For Neighbourly this realisation has led to retaining a valued member of staff who moved thousands of miles away and allowing other team members to be with family - even if that meant them being temporarily abroad.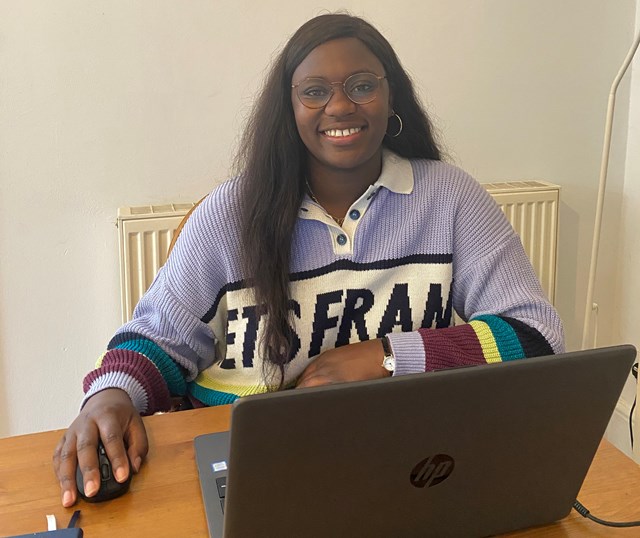 With the right culture, new staff can feel supported and welcomed - even in the middle of a pandemic. Mischa Afedzie-Hayford (pictured above), who started working as Neighbourly's Legal & Compliance Manager back in the midst of the first lockdown, said: "To me, a good business is a one that takes care of its employees. Being part of a business such as Neighbourly where the team is supported and genuinely cared for is wonderful."
For every business, supporting teams through continued home working will look a little bit different. But being open to individual needs and staying flexible during times of chaos has been, and will continue to be, key to the wellbeing of staff and business alike for the foreseeable future.
Honouring commitments
Whilst it could've been easy for businesses to lose track of their environmental impact or goals this year, B Corps have made a legally binding pledge to stay true to their commitments.
"It has never been clearer that businesses need to act for the communities we work in"
At Danone UK and Ireland, this hasn't been about an obligation, it's about doing what's right and continuing to fight for better business.
As Danone UK and Ireland is part of a multinational corporation and home to different business entities and brands, its global target to become fully B Corp certified by 2025 is a significant undertaking.
Its Danone Waters UK and Ireland business has recently certified as a B Corp, whilst its Danone Essential Dairy and Plant-based UK business has also recertified this year with an improved score.
Adam Grant, regional VP of Danone Essential Dairy and Plant-based UK & Ireland, said: "This reaccreditation demonstrates our ongoing commitment to social and environmental progress. It has never been clearer that businesses need to act for the communities we work in and support, and the B Corp status helps us to focus on areas where we can keep doing more and challenging ourselves to be better.
"Having previously been the first UK dairy company to achieve accreditation, we are determined to keep innovating to be ahead of the curve. The fact that we've improved on our previous B Corp score is testament to that. We know we must continue to strive for positive change – and collaborating, sharing and learning with the B Corp community plays a key part in this."
Danone now has around 45% of its global businesses accredited with the B Corp status - marking major progress towards its 2025 ambition.
Staying connected
Despite the initial excitement of Zoom and other video chat tools wearing off somewhat, companies have recognised the need for everyone to stay connected.
For both Neighbourly and Forster, daily coffee chats are commonplace with virtual socials bringing together employees for a cheeky post-work drink on the odd occasion too.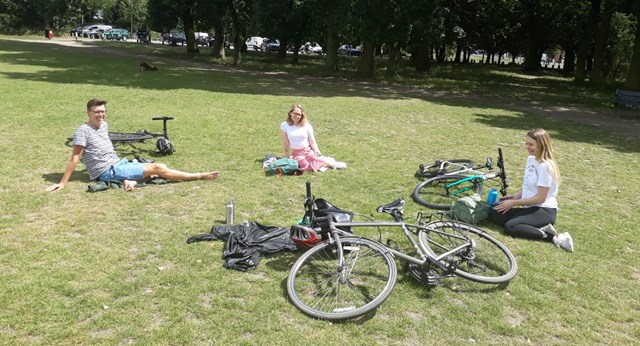 Where lockdown measures have allowed, Forster teams have been given dedicated time out to go for a 10k challenge walk, cycle or run, culminating in a socially distanced park catchup (pictured above).
It's opportunities like this that keeps teams feeling connected to each other, the business and its purpose of doing good.
Holiday from the screen
Until this year, many wouldn't consider taking annual leave unless they were actually going away on holiday. But encouraging staff to take time away from their desks and get some headspace is more important now than ever before.
Particularly for employees in businesses that have been busier than usual during the pandemic, taking a break is integral for both mental wellbeing and to prevent burnout.
In recognition of this, the team at Neighbourly were given an extra day off this year, that had to be taken off during the month of May, to ensure staff were getting time away from their screens.
Forster also recognises the benefits of having a day of 'just because' - offering its staff an annual 'You Day' which can be taken without reason.
Giving
At the start of the pandemic, we were in awe of the incredible businesses that made donations to the Neighbourly Community Fund - providing emergency grants to over 3,000 good causes.
The total fund topped an astounding £1.2M with donations coming from Danone UK & Ireland, M&S, Lidl, Aldi, Coca-Cola European Partners, giffgaff, Southern Coop and HEINEKEN.
We've also seen many other businesses and their staff work tirelessly to fundraise for the charities that mean the most to them too, like employees at Cadent who continued to find creative ways to fundraise despite the lockdowns (pictured below).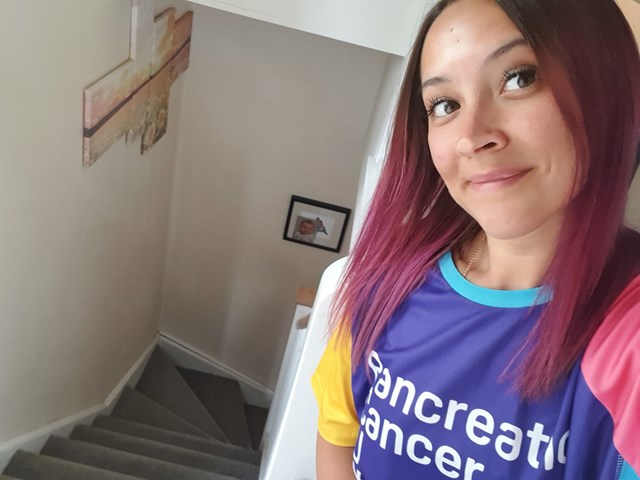 Now that we've set up the Neighbourly Foundation we're excited to pave the way for businesses, however big or small, to be able to support their local communities through thick and thin.
Supporting mental wellbeing
No matter the perks for staff, or the purpose of the business, mental health is something that affects us all. Being a good business therefore, is about recognising this both formally in the provision of support for those who need it and informally to encourage a culture of employees who know it's ok to not be ok.
Through business insurance, Forster staff can access one to one counselling when it's needed. Whilst staff at Neighbourly have access to an online CBT course.
B-Corp certified or not, being a company that cares is becoming increasingly important in today's society and its meaning can vary wildly from business to business. Supporting staff and creating better businesses doesn't have to be fancy or expensive, and we hope that some of the examples in this blog inspires other businesses to make a positive change.
Seeing that businesses have continued to stick to their values in their own unique ways through a year as challenging as 2020 gives us real hope that the future of business will be a better one and of benefit to all.
Thanks to the Neighbourly team, Danone UK and Ireland and Forster for sharing some of their experiences this year. Find out more about the B Corp accreditation on the B Corp UK website.
* In Danone UK & Ireland, Danone Essential Dairy & Plant-based achieved B Corp certification in the UK in 2017 and in Ireland in 2018. Danone Waters UK & Ireland has recently announced its B Corp certification.