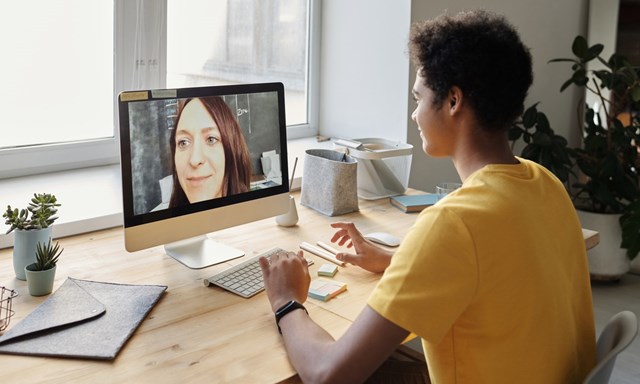 For the past few weeks, our team has been matching Danone employees with local charities and community groups as part of our brand new Remote Volunteering programme.
One of the first to volunteer was Sales Lead, Miriam Tellis. After a great first experience and keen to encourage other employees to take up volunteering from home, she's shared her experience of running a workshop for the IGD Feeding Britain's Future schools programme.
"I can't recommend remote volunteering highly enough – it offers a safe and flexible way to make a big difference"
Here's what she had to say:
"As part of our dual project for business success and social progress, Danone is committed to supporting communities across the UK and Ireland throughout and beyond these challenging times.
"As part of this, we're adapting our volunteering schemes so that employees can volunteer from home, to support charities and people across the UK and Ireland. Through our partnership with Neighbourly, employees' skills and availability are being matched with community needs.
"With many young people facing an uncertain time and contending with anxieties and challenges around future unemployment, I volunteered at an IGD Feeding Britain's Future school workshop to help inspire and educate students about the world of work in the food and grocery industry. These workshops are a great initiative to connect industry professionals with young people and to share guidance on the skills needed in the workplace.
"I participated in a quiz and panel discussion to share my insights into the varied roles available in the industry, and how we are adapting our ways of working during COVID-19.
Speaking with over 50 secondary school students from different schools it was heartening to see pupils so engaged and interested about the role our industry has played during the pandemic.
"We all have a role to play as we collectively rebuild from the crisis, and I can't recommend remote volunteering highly enough – it offers a safe and flexible way to make a big difference:
It was hugely rewarding to contribute something practical for young people during a difficult time

The process is really simple – Neighbourly found me a volunteering match and within a few days

You can support people wherever they might be based, all while at home, fitting around other time commitments – I could fit the workshop into my usual workday
"I connected with the wider community which felt great to speak to a different audience and make a difference.
"I'm already looking forward to getting involved again, and encourage others to do the same."
Thanks to Miriam for flying the flag for employee volunteering and taking the time to share her experience.
To find out how Neighbourly matches businesses' volunteer skills with its network of vetted good causes, head to our Volunteering page. If you're a charity that's looking to recruit some volunteers, create a volunteer event on your Neighbourly project page. You can get in touch if you have any questions by emailing hello@neighbourly.com.