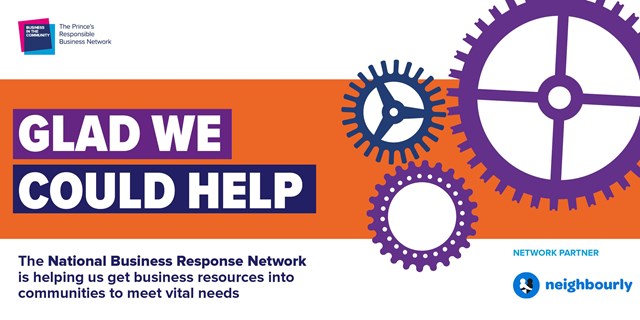 In response to the UK's Covid-19 pandemic and subsequent lockdown in March, the National Business Response Network (NBRN) was launched by Business in the Community - a non-profit business-led membership organisation dedicated to responsible business.
Here at Neighbourly, with a platform of over 14,000 vetted local charities and community groups, we know the amazing impact businesses can make with their available funds, employee time, and surplus food and products, right the way across the country.
A response to need
The NBRN offers a way for charities to seek specific, often on-off, resources from businesses who are able to respond directly to charity requests. So far, more than 2,000 matches have been made across the UK through the network and we're excited to share some of our success stories from the past few months.
Image credit: Cubbit Community House (https://twitter.com/CubittComHouse)
In June, Neighbourly worked with the NBRN to deliver Juicy Water from Innocent Drinks to Community Food Enterprise (CFE) in London with the logistics support of Brakes / Foodbuy.
In just 4 days, CFE worked with other charities and community organisations to distribute nearly 36,000 smoothie bottles to vulnerable people in East London. Recipients included foodbanks, schools, homeless hostels, sheltered housing, churches and many voluntary and community organisations that provide food bags to struggling communities as a response to Covid-19.
In response, CFE told us: "We truly appreciated your help in delivering this produce to us, allowing us to help residents in one of the poorest communities in England."
In addition, when United Utilities posted a surplus of bottled water through the National Business Response Network, we were able to match them up with a number of local small charities and community groups who were able to use and distribute it to those in need.
A force for good
Business in the Community's Chief Executive, Amanda Mackenzie told us: "The contribution that businesses are making to support our most vulnerable communities is magnificent. Their offers of support through our National Business Response Network magnifies the impact of business giving – bringing the scale of a national business network to the doorsteps of our local communities. We could not get these resources where they need to be without the brilliant work of Neighbourly."
"We know what local communities need as they battle the impact of Covid-19 on their towns and cities and we're calling on businesses who want to offer support to contact us to make sure their support gets to the right place at the right time."
Neighbourly CEO Steve Butterworth added: "As an organisation that's worked with a number of community focused businesses and global brands over several years, we know that relationships like those cultivated by NBRN have the power to transform local communities in the long term - so we're excited to see the kindling of these new connections light the fire for ongoing charitable impact in our local communities."