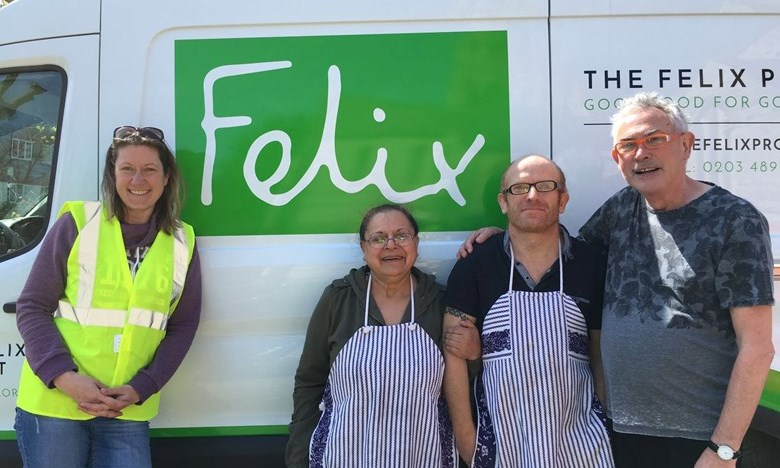 We've recently been lucky enough to meet a great charity that goes by the name of The Felix Project (TFP) and I wanted to explain a little bit about what they do and why it's so important. We've been working with them for a few weeks now on provision of supermarket food donations, and they have recently made the headlines with support from the Evening Standard's Food For London campaign which is gathering great pace.
The Felix Project was set up by Justin Byam Shaw whose son, Felix, sadly lost his life to Meningitis in 2014, at just 14. The tragedy led Justin on a mission to find charitable projects so he could commemorate his son. He explains Felix's compassion for others in this memory;
"Felix was full of compassion for those who didn't have his advantages, and what stuck in my memory was an incident at a boys' football tournament six years ago, when Felix had been upset to discover that almost none of the opposing team of 10-year-old boys from South London had had anything to eat that day. When a friend told me about the Oxford Food Bank, I realised that children not adults were the most obvious casualties of food poverty"
It was this story that led to The Felix Project and Justin's journey to battle food poverty. To help you understand how they work, it goes a little something like this:
1. Suppliers, like supermarkets, that have unsold food let them know they have surplus to donate
2. The Felix Project pick up the food and take it to one of their depots
3. Volunteers then sort through the food to make sure the quality is still good
4. The Felix Project then deliver the food to charities all over London
It's an idea that they originally set up in 2009 in the shape of the Oxford Food Bank which started collecting food from supermarkets and giving it to charities. The organisation, which now has over 100 volunteers, has grown year on year and in 2015 gave food worth £1.5 million to charities. With The Felix Project they plan to do in London what the Oxford Food Bank has achieved in its home city. It's a big job and they're going to need the help of many volunteers to drive vans and make collections and deliveries – but the prize is a fairer London where more people get a decent diet and less good food gets thrown away.
Food poverty means that an individual or household isn't able to obtain healthy, nutritious food, or can't get the food they want to eat. In London alone it's estimated that at least 100,000 people live in food poverty, which is bad for health and can result in malnutrition or obesity, as well as a host of associated problems. That's where the Felix Project is planning to make an impact - among the people who suffer the very worst diets are those who rely on the support of charities; the homeless, people suffering from mental illness, women in refuges, children, and the elderly. Because of The Felix Project, charities are able to get healthy fresh food whilst at the same time saving money and what's more impressive is that for every £1 donation these guys get, they deliver £5 of food - pretty efficient if you ask me.
The next bit is where you come in… to get the food organised and delivered The Felix Project need volunteers! Every Friday in October they are asking for 8 helpers - 4 in their depots sorting the food and 4 out and about delivering and collecting the food. The best part is you can easily volunteer through Neighbourly by clicking here.
If you're not in London, but still want to help out, you can! Simply by sharing this article with your friends you could be helping in a much bigger way than you think. Just go to the bottom of this article and hit one of the social icons to share this article.
Just think, what would Felix do?