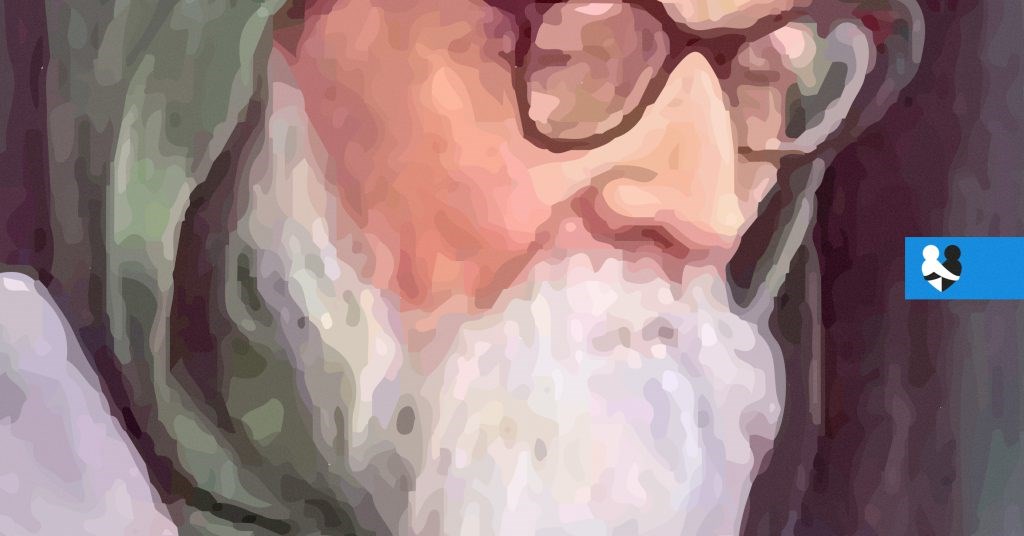 Life can sometimes feel like we're swimming circles in a fish bowl, but every now and then we read, see or hear something that blows us out of the water and inspires us. People do amazing things every day and it's important to remember that there are people out there dedicating their lives to some truly amazing causes, and we don't even know their names. With this in mind, I decided to do a little digging in order to compile a list of a few inspiring people I'd never heard of. Have you?
Jorge Munoz
Mr Munoz is a bus driver by day and feeds the hungry by night. Cooking on his own stove he has fed over 70,000 people in the Queens area of New York. Since 2010 Jorge has moved swiftly into politics to further combat hunger, he has been a candidate for Independent Movement of Absolute Renovation to the Chamber of Representatives of Columbia and was appointed temporary Congressman between September and December in 2015. Munoz has helped thousands of people and continues in the fight for reform. Not too bad for a school bus driver eh?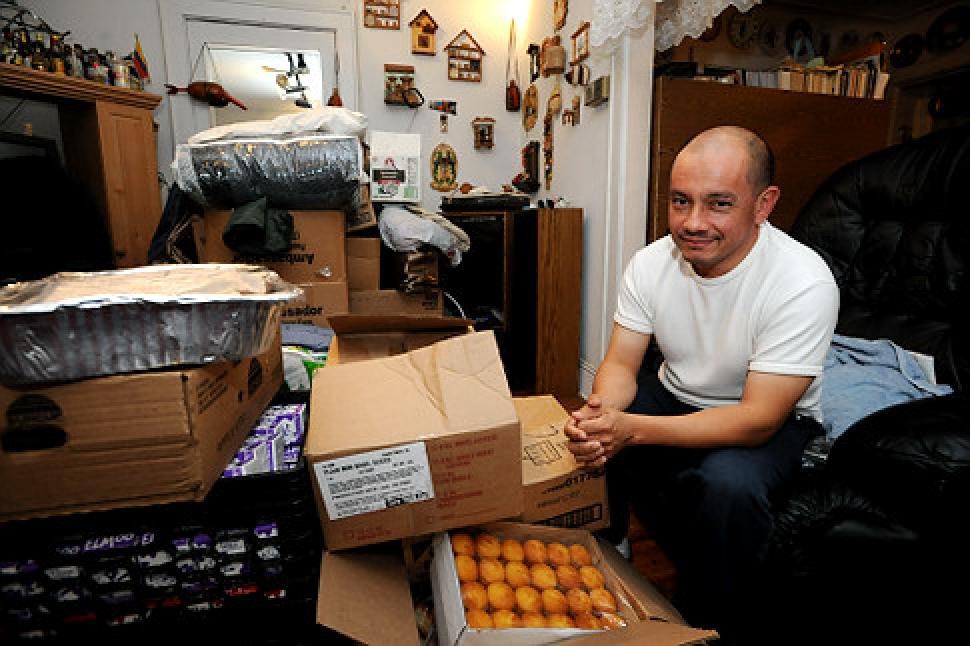 Image credit: http://jorgemunozangel.blogspot.co.uk/
Vinayak Narahari "Vinoba" Bhave
Vinayak Narahari "Vinoba" Bhave was an advocate of non-violence and human rights, his life spanned from 1895 to 1982. Somewhere in amongst the 1950s, Vinoba could see a great amount of inequity across India and decided he would not just sit idle and do nothing. He embarked on a walking pilgrimage, travelling from village to village, asking the richest landowners to donate 1/6 of their land to the poor landowners, solely for the purpose of kindness and generosity.
By the time his journey was over, Vinoba had walked around 70,000 km and had successfully instigated more than 5 million acres of land being donated. To put that into perspective that's an area around 38 times larger than Wales and to date is the largest peaceful transfer of land in human history.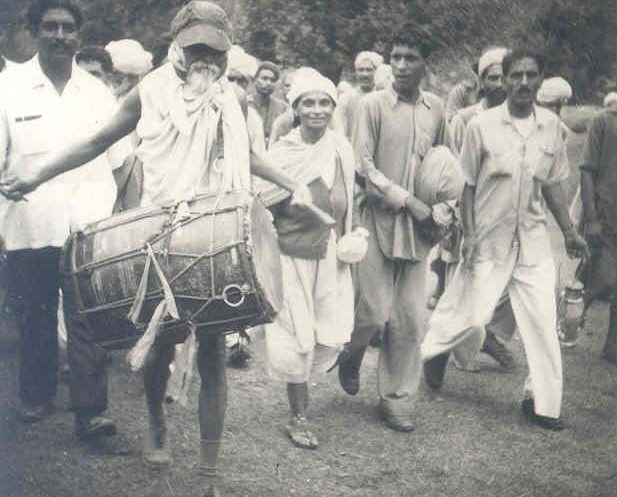 Image credit: http://onlinemirrors.blogspot.co.uk/2014/06/acharya-vinoba-bhave.html
Thomas Weller
Otherwise known as the "San Diego Highwayman" Thomas Weller is the definition of a good Samaritan. He and his truck have been rescuing people stranded on roadsides for... wait for it... 48 years!
When the "Highwayman" was just 16 years old he drove his car into a ditch. Luckily, a stranger came to his aid and asked only that he 'pay it forward' one day. Since then, Weller has done just that, rescuing thousands of people who were stranded in one way or another. His business card simply reads "You don't owe me a thing. I've been there too. Someone once helped me out, just the way I'm helping you. If you really want to pay me back, here's what you do: don't let the chain of love end with you".
He's an amazing man. You can watch him talk about his quest and his beloved rescue vehicle in this video:
Austin Shirley
This is a man that didn't wait for purpose to find him but rather he found 'it'. After returning from service, this ex US Navy veteran wanted to find a way to give back even more. Focusing on helping wounded veterans around the country, Shirley raised $62,500 by walking a 2,500 mile route with his dog Archer and his best friend John. It took them 9 and a half months, took them from Jacksonville to San Diego and he had to trade in all of his possessions to supply himself with the equipment and food he would need for the trip.
If you ask me, that's a pretty big way to help others and this guy deserves as much appreciation as he can fit in his backpack! A very worthwhile cause indeed.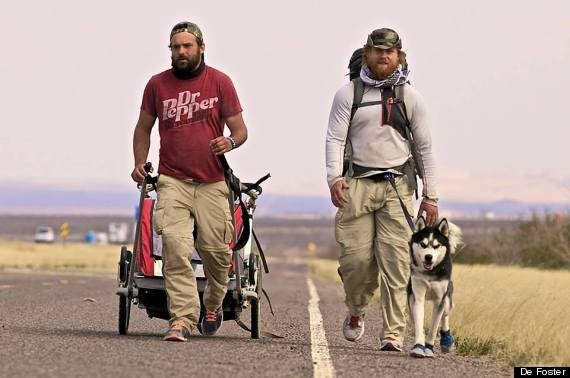 Image credit: http://www.huffingtonpost.com/2014/06/05/austin-shirley_n_5440537.html
Cheryl Haggard and Sandy Puc'
Cheryl and Sandy set up the non-profit nowilaymedowntosleep.org after a tragedy that Cheryl, her husband and their son went through back in 2005. Cheryl gave birth to her son Maddux who was born with myotubular myopathy. This prevented him from breathing, swallowing and moving on his own. After six days of being on life support Cheryl and her Husband made the decision to free Maddux from the tubes and wires that were keeping him alive. But before they did this, they gave photographer Sandy Puc' a call and asked if she would take some portrait photos so they had a reminder of their beautiful family.
After this devastating loss, Cheryl and Sandy went on to create nowilaymedowntosleep.org which matches families going through this type of loss, with photographers who can provide portraiture photographs for them. It's both one of the most heartbreaking yet inspiringly selfless causes I've ever discovered.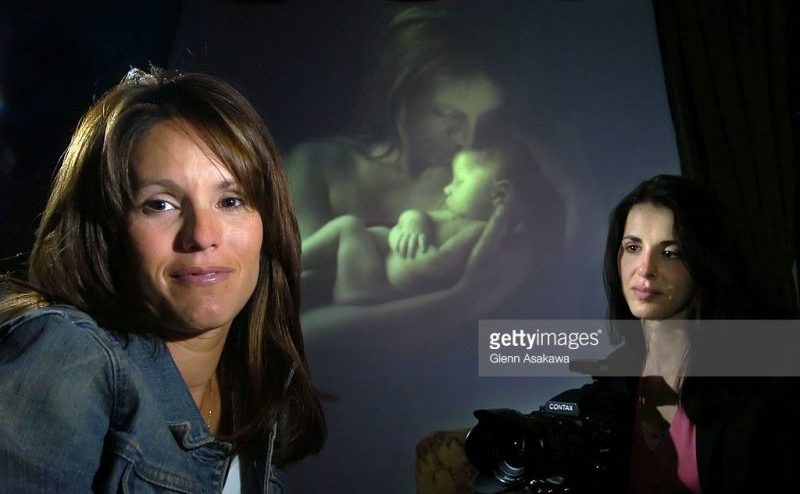 Image credit: http://www.gettyimages.co.uk/detail/news-photo/cheryl-cq-haggard-cq-left-was-photographed-with-her-news-photo/161351055
Nick Vujicic
Nick is an inspiring man. Nowadays he's in the public speaking sector, but at the age of 21 he graduated from college with a double major in Accounting and Financial Planning. Something else you may or may not need to know about Mr Vujicic is that he has no limbs. As a motivational speaker with a focus on living with a disability, hope and finding meaning in life, Nick is a really inspiring character. Having addressed over 3 million people in over 44 countries on five continents, you may have seen his YouTube video that went viral a few years back. A little more recently he gave a speech for TEDx, check it out, it's pretty amazing.
Betty Anne Waters
Now Betty Anne Waters is something else, I discovered this person through watching a brilliant film called 'Conviction'. It's the story of Kenny Waters who was convicted of a murder and a robbery he didn't commit, and his sister Betty knew this. After Kenny made a failed suicide attempt, Betty made a promise that if Kenny did not try to take his life again, she would get him out. No matter how long it took.
Betty enrolled in community college and began a 13 year journey to becoming an attorney. She was a single mother and unfortunately there were some casualties along the way, her marriage suffered as a consequence of the promise she made to her brother. After more than a decade, Betty Anne Waters made good on her promise. She passed the Bar, became Kenny's Attorney and found evidence which resulted in the release of Kenny Waters. That is one seriously committed lady!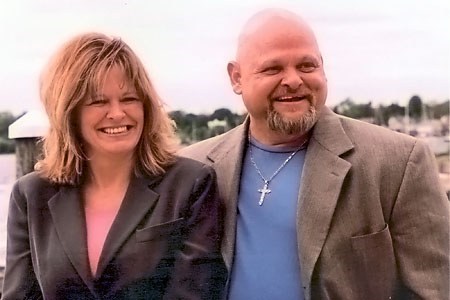 Image credit: http://www.innocenceproject.org/cases/kenny-waters/
--
Maybe you've heard some of these names before, maybe you've read some of their stories, but hopefully this post has shone a light on a few unsung heroes that deserve their efforts and achievements to be known. Before starting this article, I hadn't heard of any of these people and I'm glad I've found them. Everyone has something they believe in and we should find and share the great things that others have done and are doing to redefine hope. Like the late great Milton Berle said, "If opportunity doesn't knock, build a door". 
- Matt