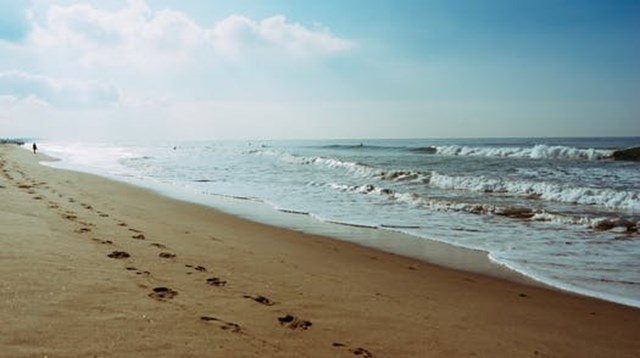 As humans, we leave our footprints wherever we go. Be it our carbon or ecological footprint - everything we do on this planet has a consequence. Sadly, plastic pollution is one of them. And it's a big problem, especially for our oceans.
Plastic is everywhere. If you're reading this on your phone - chances are your phone is protected by a plastic phone case. Reading this on a laptop? Your keyboard, track pad and mouse are probably plastic. As well as your headphones, your monitor, your glasses and sunglasses, parts of your clothing, your shoes and the container you're eating out of. It's everywhere and it's unavoidable. But what happens when we don't want it anymore and throw it away? While we hope most of it is sent off for recycling or even upcycling, a lot of it ends up in landfill where it will take hundreds of years to degrade. Then a lot of it ends up loose in the world, and ultimately in our waterways and our oceans.
So how can you help reduce the amount of plastic polluting our oceans? Here's our 6 easy steps:
But hey! Here's an even better suggestion: why not take part in a beach clean? It's a great excuse to take your friends, family or dog down to the coast for a day out. Along with your picnic and windbreakers, bring along a few rubbish bags and collect any rubbish you find. Do be careful though and wear some protective gloves as some plastic debris can be dangerous, they can have sharp edges and it's not uncommon to find used needles mixed in with a pile of old seaweed and sweet wrappers.
The local wildlife will definitely thank you. They're most at risk from plastic waste which often ends up being washed onto our beaches. According to research, 700 marine species are threatened by plastic debris. Fish mistake small pieces of plastic as food. Sea birds will scavenge for food along shorelines and eat almost everything. Whales have been killed from eating plastic bags and turtles have been found to inhaled plastic straws - it's horrible to think about but it's a very real problem.
You can also join a group of likeminded people for a Great British Beach clean! Marine Conservation Society are passionate about protecting marine wildlife and our beaches with their Beach Watch programme. We teamed up with MCS to clean one of our nearest beaches in Portishead but you can find your nearest beach clean event here.


About Neighbourly
Neighbourly matches charity and community projects with people and companies that can lend a hand. Get support by creating and sharing a project or give support by following, donating or giving a day to volunteer.